By Grant Zeng, CFA
Oncotype DX for Breast Cancer is Growth Engine

Genomic Health Inc. (NASDAQ:GHDX) is an oncology-based biotech company focused on the development and commercialization of genomic-based clinical diagnostic tests for cancer that allow physicians and patients to make individualized treatment decisions. The company's first product, Oncotype DX, is used for early stage breast cancer patients to predict the likelihood of cancer recurrence, the likelihood of patient survival within 10 years of diagnosis and the likelihood of chemotherapy benefit.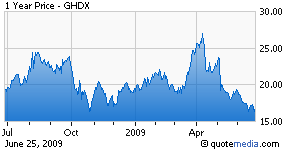 Oncotype DX breast cancer assay, launched in January 2004, is the first and only multi-gene expression test commercially available that has clinical evidence validating its ability to predict the likelihood of chemotherapy benefit as well as recurrence in early-stage breast cancer. The assay is intended for newly diagnosed patients whose breast cancer is stage I or II, node-negative, estrogen receptor-positive, and who will be treated with tamoxifen.

In addition to predicting distant disease recurrence, Oncotype DX also assesses the benefit from certain types of chemotherapy. The assay is performed using formalin-fixed, paraffin-embedded tumor tissue, analyzes the expression of a panel of 21 genes and the results are provided as a Recurrence Score (0-100). The gene panel was selected and the Recurrence Score calculation was derived through extensive laboratory testing and multiple independent clinical development studies.

In late May 2009, GHDX announced that more than 100,000 test results have been delivered since the commercial launch of Oncotype DX. The company delivered over 14,500 test results in 2006, 24,450 in 2007 and more than 39,600 in 2008. Further, the company delivered 11,210 test results in the first quarter of 2009 compared to 9,150 test results in the comparable quarter of 2008. This reflected a 23% year-over-year increase. In December 2008, GHDX launched an online physician portal which allows physicians to order, see status, and receive Oncotype DX results online.

In order to meet the increased demand for its Oncotype product, management successfully expanded its domestic sales team by 33% to 80 sales representatives in January 2009. Sales of Oncotype DX are also benefiting from inclusion of the test in both the American Society of Oncology (ASCO) and the National Comprehensive Cancer Network (NCCN) guidelines for breast cancer tumor markers.

Total revenue for the first quarter of 2009 was $33.9 million, compared to $23.4 million in the first quarter of 2008, which reflected a 45% year-over-year increase. In the first quarter of 2009, product revenue from the Oncotype DX breast cancer assay increased by 43% to $33.4 million from $23.3 million in the comparable quarter of 2008.

Label Expansion Necessary for Further Growth

The company is also developing a genetic test to determine the correlation between gene expression and colon cancer recurrence in patients. The company announced its QUASAR validation study of Oncotype DX for colon cancer in April 2009. More than 1,800 colon cancer patients and 760 candidate genes were evaluated in four clinical studies to select the genes for the Oncotype DX colon cancer assay. The resulting genes were then studied in more than 1,200 stage II colon cancer tumor samples from the landmark QUASAR study. The QUASAR study got mixed results.

On the positive side, the study met its primary endpoint to predict the likelihood of recurrence for stage II colon cancer patients following surgery, and the colon cancer Recurrence Score® provided additional independent clinical value beyond standard measures of risk. Based on these results, Genomic Health is initiating the necessary work in its Clinical Reference Laboratory and proceeding with commercialization plans to make the Oncotype DX colon cancer Recurrence Score available to physicians and patients in early 2010.

However, the study did not meet its second endpoint evaluating a separate score, with a distinct set of genes, designed to predict which patients experience greater relative benefit of 5-fluorouracil/leucovorin (5FU/LV) following surgery.

Although sales of Oncotype DX for breast cancer have been strong, we have long been concerned about the company's weak pipeline. Product diversification is a must to gain sustainable long-term growth.

We maintain our Hold rating on Genomic Health.