While the S&P 500 has been speeding toward new highs, the Dow Jones Transportation ETF (NYSEARCA:IYT) is really burning up the fast lane. So is it still a good bet? A Thomson Reuters StarMine model analysis shows that the Dow Transports don't seem to be hitting any big stop signs in the near future, especially when it comes to the latest analyst earnings growth forecasts.
Check out the chart below. Through May 15, the S&P 500 (blue line) climbed 17%; the S&P 400 midcap index (orange line) jumped 19% -- and the Dow Jones Transports ETF (red line) beat them both, recording a 24% gain in total return.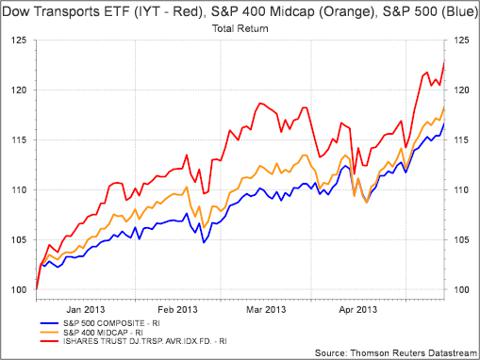 As we approach the Memorial Day weekend, investors seem torn between fear and greed -- fear that these lofty heights augur a correction… and the lure of potential further gains. Not everyone's bullish in the short run. Some analysts have cautious growth forecasts for the transport sector.
Looking Ahead
Where are transports headed? For about the same forward 12-month P/E ratio, the IYT offers 83% higher expected growth in the next 12-month period and 36% higher growth in the next five years.

Transports compared to peers, all U.S. stocks
Looking at individual stocks, the Thomson Reuters StarMine model analysis shows that truck leasing company Ryder Systems (NYSE:R) and airlines Southwest (NYSE:LUV), Delta (NYSE:DAL) and Alaska Air (NYSE:ALK) rank highly among both transportation peers and all U.S. companies.
Note that two companies make up 46% of the IYT: United Parcel Service (UPS - almost 25% weight) and Union Pacific Corp (UNP - almost 22%). The StarMine analyst five-year EPS compound annual growth rate (OTCPK:CAGR) remains above the S&P 500's 7.6%: UPS at 8.6% and Union Pacific at 10.0%.
Market-weighted five-year EPS CAGR stands at 10.1%, also well above the S&P 500's 7.6%. The top five stocks by this measure are dominated by airlines. They are United Continental (NYSE:UAL) at 29%, Southwest Airlines at 22%, JetBlue Airlines (NASDAQ:JBLU) at 15%, Delta Air Lines at 14% and Kansas City Southern (NYSE:KSU) at 13%. A fifth airline, Alaska Air Group shows the same 10.1% as the IYT.
Looking at forward 12-month P/Es for the stocks in the ETF, the cheapest (lowest) ratios lie with five of the six names directly above. Ryder Systems replaces KSU on the list below. Ryder's truck leasing business is being helped by companies that need more transport resources now, but are uncertain about the longer term. In order of lowest to highest they are: Delta (P/E ratio of 7), UAL (8), Alaska Air (11), JetBlue (11), Southwest (12) and Ryder Systems (12). The broader IYT market-cap weighted P/E stands at 15.4 -- a 6% premium to the S&P 500's 14.5.
Moderate fuel costs such as crude oil and abundant shale gas (for their industrial customers who require it as part of the manufacturing process) remain favorable for these firms, but this variable cost may work as a two-edged sword when prices rise. In the meantime, inflation in general remains subdued in a market with low growth expectations.
Summary
The transport ETF has outperformed the market year to date and analyst forecasts used as inputs for various StarMine models show reasonable to favorable conditions for these individual companies. In a market that seems to be focusing more attention on stock picking, the equities mentioned above may be attractive to fundamental investors. The key factor holding back investors may be skepticism of analyst estimates.
Disclosure: I have no positions in any stocks mentioned, and no plans to initiate any positions within the next 72 hours. I wrote this article myself, and it expresses my own opinions. I am not receiving compensation for it. I have no business relationship with any company whose stock is mentioned in this article.