Volkswagen AG (OTCPK:VLKAY) is one of the world's largest automobile manufacturers and the largest in Europe. Given its large size and global footprint, it faces competition virtually from almost every carmaker in the world. However, its closest competitors are other global carmakers, such as Toyota (NYSE:TM), Ford (NYSE:F), General Motors (NYSE:GM), or Hyundai (OTC:HYMLF).
The company was founded in 1904 and is based in Germany. VW's largest shareholder is Porsche Automobile Holding SE with an equity stake of 50.7 percent, followed by the State of Lower Saxony with 20 percent of the company's capital, and Qatar Holding with 17 percent. Volkswagen has a market capitalization of $100.8 billion and its primary listing is in Frankfurt. It also trades in the U.S. as American Depositary Receipts (ADR's), in the over-the-counter (OTC) market.
Company Overview
Volkswagen group is structured in three divisions: passenger cars; commercial vehicles, power, and engineering; and, financial services. Light vehicles account for 77 percent of the group's sales, with commercial vehicles representing around 11 percent and financial services about 10 percent. The Group is made up of twelve brands, including automobiles, trucks, and motorcycles: Volkswagen, Audi, Porsche, SEAT, Skoda, Bentley, Bugatti, Lamborghini, Ducati, VW Commercial Vehicles, Scania, and MAN. Each brand has its own character and operates as an independent entity on the market. Since August 2012, Volkswagen has started to full consolidate Porsche AG (OTCPK:POAHY).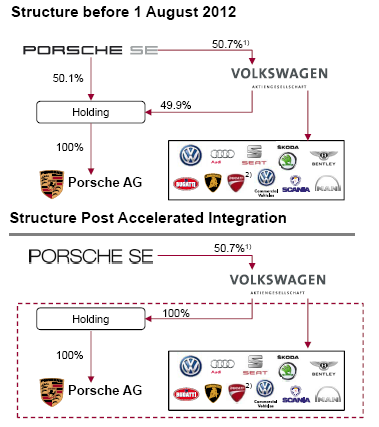 Source: Volkswagen
The product spectrum extends from low-consumption small cars to luxury class vehicles. In addition, it also offers a wide range of financial services such as dealer and customer financing, or leasing services. In 2012, the Volkswagen group increased the number of vehicles delivered to customers to almost 9.3 million, corresponding to 12.8 percent of the world passenger car market. In Europe, its market share is even higher at around 24.4 percent. However, VW's market share in the U.S. was much lower at only 4.1 percent in 2012, but the company wants to increase its market share to over 6 percent in 2018.
From 2007 to 2012, the company's geographic deliveries mix changed considerably. Western Europe weight within the group has declined considerably and represented only 33 percent of deliveries in 2012. On the other hand, Asia-Pacific doubled its weight during this period to 35 percent in the last year. This is mainly explained by China's auto market growth during this period, which was a major growth driver for German car makers, such as Volkswagen, over the last few years.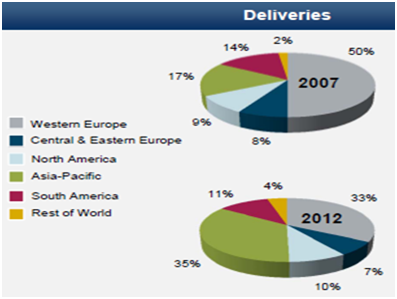 Source: Volkswagen
Financial Overview
VW was able to achieve increased sales over the past few years, which is a very good performance given that Europe is the company's biggest market and has experienced a sluggish macroeconomic environment during this period. In 2012, Volkswagen's sales totaled €193 billion ($251 billion) an impressive increase of 21 percent from the previous year. However, given that since last August VW started to consolidate Porsche in its accounts, the organic growth is lower. Its profitability has also remained at good levels for a group that is considerably exposed to low-end demand.
Its margins are moving much closer to those of premium brands than mass-market car makers, reflecting its pricing power across its entire brand portfolio. Also note that VW has two joint-ventures in China, which are equity-accounted. In this way, these operations contribute to VW's profits but are not reflected on its operating earnings.
Source data: Bloomberg and Volkswagen
VW's high profitability is justified by its luxury brands, such as Audi or Bentley, but also because the brand Volkswagen achieves a price premium compared to some of its mass market peers, such as Renault (OTC:RNSDF), Fiat (FIATY.PK), or Ford. The group's profit margin will also increase in the short term due to Porsche's contribution, which has an 18 percent operating margin and is clearly above all of the other group brands' operating margins.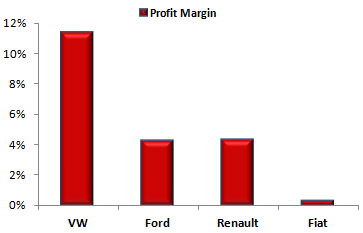 Source data: YahooFinance
The company's first quarter earnings were negatively impacted by the difficult economic environment, especially in Europe. Its operating profit declined by 26 percent compared to the same quarter of 2012, but it was impacted by extraordinary factors and should mark the low point for the year. Despite this weak operating environment in Europe, the company's guidance is to achieve in 2103 the same results as in the previous year. VW expects to pick up speed in the next quarters and by strong results in China. In the first quarter, the company's share of its Chinese joint-ventures operating income was €1.2 billion ($1.6 billion), an increase of 36 percent year-on-year and setting a new record high.
Strategy and Competitive Advantage
Volkswagen has a hugely global client base spanning almost all countries in the world, giving the company an edge in terms of volumes. VW's strategic plan, called Strategy 2018, aims to make the VW Group a worldwide leader in 2018. Over the next few years, VW aims to increase unit sales to more than 10 million vehicles a year and intends to increase its return on sales before tax to at least 8 percent. To achieve these goals, the Modular Longitudinal Matrix (MLB) and the more recent Modular Transverse Matrix -- the German acronym is MQB -- platforms play an important role. MLB was designed for application on larger vehicles and launched in 2007, being VW's premium brand, Audi was the division that showed the most immediate results. Audi currently has higher margins than BMW or Mercedes-Benz, and the MLB platform should have been one key factor behind this achievement.
VW recently launched the new VW Golf and Audi A3, two of the group's most sold cars, with the MQB platform. This platform will be shared by a larger number of models within the Volkswagen's group in relation to current platforms. VW is planning a further 40 models based on the same MQB platform across all the group volume brands. It's an important enhancement in automotive production representing a turning point in the design and production of future automobiles. VW expects to cut costs, production time and cars' weight with the MQB platform, increasing even further its profitability. For more insights on this subject, see my previous article "Volkswagen is leading auto innovation with the MQB platform".
When fully deployed, the savings derived from the MQB platform are expected to be at least €3 billion ($3.9 billion) per year, which is quite an ambitious goal. For instance, General Motors plans to cut the number of platforms from 30 in 2010 to 14 in 2018, expecting to save around $1 billion per year. If Volkswagen can achieve these savings, it would increase the group's profitability even further, leading its margins closer to those of the premium brands.
Moreover, VW group announced in November 2012 that it will spend €50.2 billion ($65 billion) through 2015, or €16 billion ($20.8 billion) per annum, on plants, vehicles and research & development. Adding the planned investments from its Chinese joint-ventures, this figure increases to €60 billion from 2013 to 2015. VW already spends significantly more than any of its European peers, while still generating significant industrial free cash flow. VW's higher capex and R&D is likely to widen the competitive gap that is already visible with its French and Italian competitors. VW invests more than its competitors mainly because it does not suffer from the chronic overcapacity that plagues most of its volume European peers. From 2013 to 2015, the company aims to achieve a six to seven percent capex to sales ratio.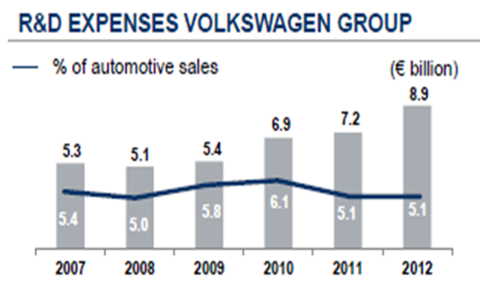 Source: Volkswagen
Market Landscape
Global light vehicle sales continue to recover after the huge drop seen in 2008 and reached more than 80 million units in 2012, a 5 percent increase over the previous year. Sales in China and the U.S. are strong, offsetting the poor environment in Europe. In 2013, the market is expected to grow at a slower pace, and should rise by 3 percent to 83 million units, according to LMC Automotive. As a global manufacturer, Volkswagen is well poised to benefit from this global increasing demand.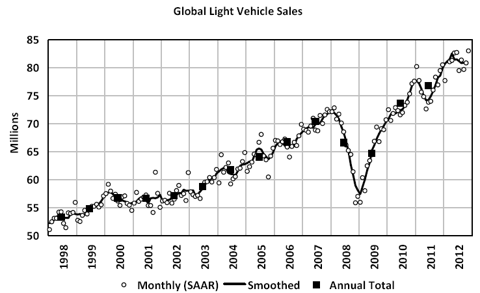 Source: LMC Automotive
In 2012, Volkswagen's deliveries increased 11% from the previous year. This was higher than the global market growth rate of 7%. Despite Volkswagen being heavily exposed to European markets, North America (+26%) and Asia (+23%) more than compensated for lower deliveries in Europe.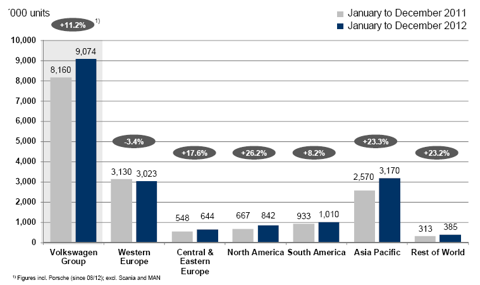 Source: Volkswagen
The European automotive market has registered weak demand since 2009 due to a weak macroeconomic environment throughout the continent and low consumer confidence given the sovereign debt crisis. Currently, economic growth remains sluggish and car sales in Europe aren't expected to recover to 2007 levels for the next few years. Furthermore, European governments are in the middle of spending cuts, reflecting the impact of austerity policies and therefore, cannot afford to support car sales through programs like "cash for clunkers" schemes. According to LMC Automotive, the European market looks set to fall in the 2-5 percent range in 2013 to about 13 million units. However, regional performances may vary strongly due to different levels of economic activity throughout Europe. For instance, in Germany the automotive market has been more resilient, which gives some support for VW's sales in Europe as the company is still heavily exposed to its domestic market. Despite this resilience, the recent Cyprus experience led to a significant fall in German car sales, due to deteriorating consumer confidence. This may be a temporary effect, but it shows the risks car makers face in Europe, if the debt crisis returns over the next few months.
In the U.S., car sales have recovered faster to 2008 levels, reaching around 14.5 million units last year, up by 13.5 percent. The average age of light vehicles has risen recently to almost 11 years, which is above its long-term average. Thus, the replacement of hold vehicles should support car sales over the next few years. For this year, the market is expected to increase but at a slower rate of 4.1 percent from the previous year. Volkswagen has been able to increase its sales in the U.S. at higher rates than the market's average over the past three years. This achievement should continue in the short term due to the new plant in Chattanooga, where local production of the Passat boosted the product's competitiveness compared to its closest competitors.
With booming economies and low vehicle penetration rates, the emerging markets are the key source of growth for today's automotive industry and remain as key to balance the problems at developed markets. China and Brazil have been the major source of growth for European carmakers. Although these markets should continue to achieve higher growth than developed markets, the slowdown in both countries growth could have the biggest impact for premium carmakers earnings. In 2012, the China's car sales reached 19.1 million units, an increase of 6.2 percent from the previous year, but it wasn't an impressive growth rate. However, this is already the world's largest car market so it is difficult to achieve strong growth going forward, but as China's car penetration rates are still below developed markets, it should continue to post steady sales growth over the next few years.
Valuation
Volkswagen is currently trading at low multiples compared to its peers, which means it appears to be undervalued by investors. This may be justified by its still relatively high exposure to Europe and mass markets, through its Skoda and Seat brands. Currently, Volkswagen is trading at only about 8x 2013 estimated earnings, a 19 percent discount to its peers. Its enterprise value to EBITDA is 6.7x, in line with its peers' average despite its higher profitability. On average, Volkswagen trades at a 21 percent discount to its peers on the most important multiples ratios. Only Peugeot appears to be cheaper than VW, but this is most likely to be a value trap because the company is heavily exposed to very weak markets in Europe and its earnings are expected to be negative this year.

Source data: Bloomberg and Yahoo Finance
Over the medium to long term, as Volkswagen benefits from its MQB platform and if it is able to achieve profitability levels closer to premium brands, such as BMW or Daimler, its multiples should expand. Therefore, if VW's strategy proves successful over the next few years, it currently offers good value for long-term investors.
Dividend
Although Volkswagen's dividend yield is not very high at 2.1 percent, the company has steadily increased its dividend payments over the last few years. Only in 2009 did it cut the dividend, but this is better than for most of its peers that canceled the dividend at the time. The payout ratio is considerably low, given that in 2012 it was only 17.8 percent of net income. Volkswagen is aiming to achieve a distribution ratio of 30 percent in the medium term, so further dividend growth is expected for the next few years.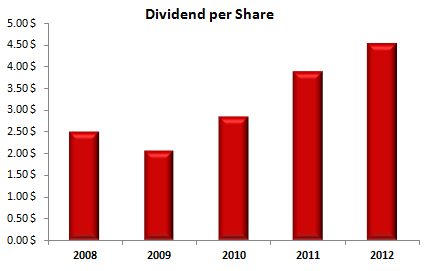 Source data: Volkswagen
Moreover, VW has a very strong balance sheet excluding the financial services division, which is also supportive for dividend growth. The company's automotive net liquidity remained at a very high level of $10.6 billion as of March 31, 2013.
Conclusion
Given VW's global exposure, higher innovation (MLB and MQB platforms), and investment than its peers, the company enjoys strong competitive advantages that can make the group a winner within the automotive industry over the long term. VW is clearly on the right track to become the world's leading carmaker. Its valuation is currently undemanding, justified by weak markets across Europe. Nevertheless, VW has shown resilient operating trends in these markets and if they do not deteriorate much further, it can make VW a compelling investment opportunity.
Disclosure: I have no positions in any stocks mentioned, and no plans to initiate any positions within the next 72 hours. I wrote this article myself, and it expresses my own opinions. I am not receiving compensation for it (other than from Seeking Alpha). I have no business relationship with any company whose stock is mentioned in this article.