By: Ken Nagy, CFA
Hubbell (HUB.B) has a significant presence in the electrical markets for lighting fixtures, wiring devices and outlet boxes. The company launched its residential wiring systems product line in the September quarter of 2006. Management stated that this was the largest product launch in the company's history.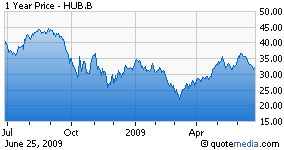 HUB.B is currently the market leader in both industrial and commercial wiring systems. With its next product launch, the company will gain a foothold in residential wiring systems as well. The new products (over 1700 SKUs) have been divided into the Home Select and Net Select wiring and data communication categories. The company has built the sales team and completed its promotional program.

Management stated that the success of a product launch becomes evident on the completion of around three years from the date of launch. Therefore, the wiring products launch was originally expected to have a significant impact in September 2009. It now appears that the recession in the U.S. and weakness in the residential market in particular could further push out significant revenues. However, the long-term potential remains.

Other new products have also been received positively. The metal raceway product line has been in production for awhile now, although the realization of benefits from this new product could also be tempered by the recession.

The Power Systems business is strong, with revenue up strongly from the year-ago period

Higher volumes, the PCORE acquisition, a good storm season and pricing realization combined to generate continued year-over-year growth in the power systems business. However, the current recessionary conditions led to caution at distributors, which was the main reason for the sequential decline.

Regular maintenance and repair activity remains sluggish. However, this is the area that is likely to be relatively steady, even as new construction activity drops to all-time lows.

The real catalyst for growth in the Power Systems business is still expected to be new large-scale power grid projects, as the U.S. upgrades the power transmission and distribution infrastructure. With private construction activity tapering off and the government also conserving expenses, this growth may be pushed out.

Acquisitions are a key strategy, and help to round out the product portfolio

Hubbell acquired four companies and three product lines in 2008. In January, it acquired Kurt Versen, a manufacturer of premium specification-grade lighting fixtures for office, commercial, retail, government, entertainment, hospitality and institutional application. In August, it acquired USCO, a producer of high quality transmission line and substation disconnect switches and accessories for electric utilities.

CDR Systems Corp was acquired in September. CDR is a manufacturer of polymer concrete and fiberglass enclosures used by electric, gas and water utilities, as well as in the cable TV and telecom industries.

The most recent acquisition was that of Varon Lighting Group in December. Varon offers energy-efficient lighting fixtures and controls for indoor, commercial and industrial markets, with particular focus on the retrofit market.

Sejuti Banerjea contributed to this post.