With Tuesday's dovish duo Bullard and Dudley to set expectations, the S&P 500 rallied in anticipation of Chairman Bernanke's congressional testimony and soared to its all-time intraday high, up 1.07% during his prepared remarks. But the Q&A deflated the balloon, and the 2 PM release of the latest Fed Minutes accelerated the decline. It seems that the possibility of tapering QE in the near term is not entirely off the table. The index hit its -1.23% intraday low about 30 minutes before the final bell. It then trimmed its loss to close down 0.83%. The 10-year yield jumped 9 bps to close at 2.03%, just off the 2013 interim high of 2.07% on March 11th and 37 bps off its 2013 low set 14 sessions back.
Here is a 15-minute look at the week so far.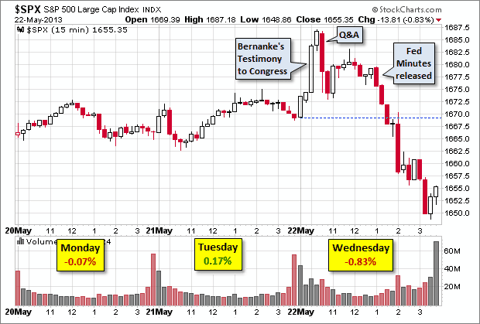 Click to enlarge
Not surprisingly the volume on yesterday's 2.32% high-low intraday range was 24% above its 50-day moving average.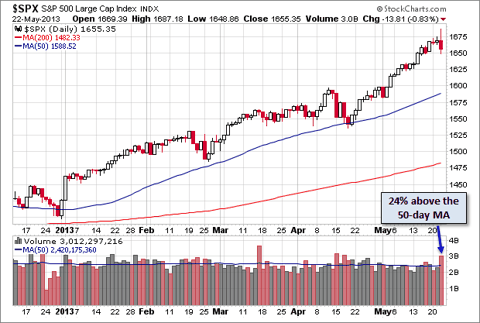 Click to enlarge
The S&P 500 is now up 16.07% for 2013 and 0.83% below the all-time closing high set Tuesday.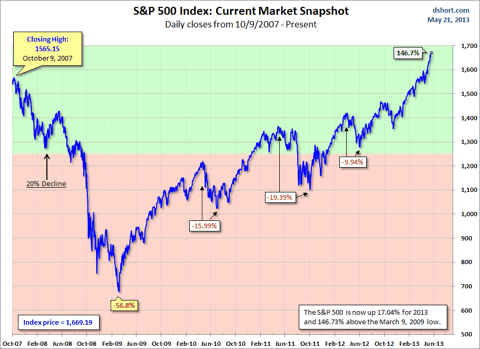 Click to enlarge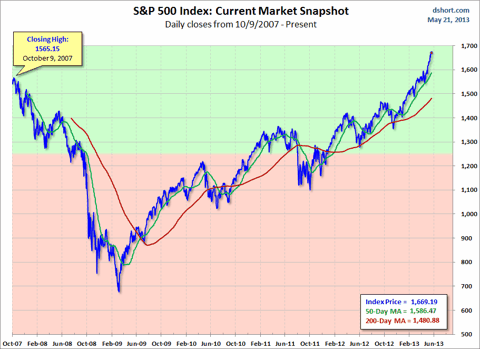 Click to enlarge
For a better sense of how these declines figure into a larger historical context, here's a long-term view of secular bull and bear markets in the S&P Composite since 1871.