Intel's (NASDAQ:INTC) Atom line of products is, in my view, set to dramatically revolutionize the way that Intel does business going forward. While many of the arguments/observations that I will make in this piece are equally applicable to the "Core" line of micro-processors, I am confident that the trend will be most evident in the new market segments that Intel targets with products based on its "Atom" core. Intel, after many years of being a hardcore, high performance CPU design company, is about to become the world's premier system-on-chip design firm.
Some Background
Intel primarily develops two lines of CPU cores. The first is the "big Core," development of which happens at two main locations: Haifa, Israel and Hillsboro, Oregon. The Oregon team is responsible for this year's "Haswell," and next year's "Broadwell," and the Israel team is responsible for "Sky Lake" and its 10nm "tick" successor (apparently it's not actually called Skymont as rumors suggest, so I don't have a codename for it).
These cores are generally laid out by hand, performance and power efficient designs that are very aggressive and can hit very high clock speeds. The teams are responsible for not only producing designs that are efficient in the highest end data-centers, but also for trying to get that same core to perform well and consume very little battery in tablet/portable PC form factors. These two teams have historically been Intel's rockstars, and since Intel's cash cow is in PC and server chips, they could afford plenty of resources while maintaining high ROI.
But what of Atom? The very first Atom core - codenamed "Bonnell" - was clearly designed to be cheap, and the techniques to develop it weren't particularly modern. While, surprisingly enough, this 5-year-old core is in the same ballpark as ARM's (NASDAQ:ARMH) Cortex A9, Qualcomm's (NASDAQ:QCOM) Krait, and even Apple's (NASDAQ:AAPL) Swift, Intel could have had a decisive lead even at the 32nm node had it decided to go all in and do a 32nm "tock" rather than stick with the same design for 5 years. Instead, "Medfield" and "Clover Trail" at best trade blows with its competitors - and that's not enough to gain market share.
Luckily for Intel and its investors, things have changed.
Intel Puts Its Money Behind Atom
I have been very diligent in watching the Investor presentations from Intel - I think I've seen/heard every one from the last year. In particular, I would like to draw your attention to this slide from the 2012 Investor Meeting: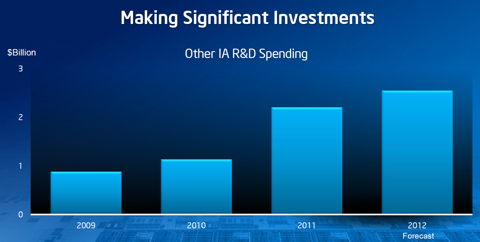 In 2009, the "Other IA" (which includes Atom, Infineon, etc.) spent less than $1B in R&D, while in 2012, the amount spent topped $2B. This does not include spending on process technology development, related software and services, and all of the leverage that the company gets from the R&D and knowledge base from the "Core" development. It is very clear to me from this chart that it wasn't until 2010 - when the iPad came out - that Intel decided to really go full throttle on mobile development, and why previous showings that the Intel bears routinely point out as having failed in the past.
But see, Intel very certainly realizes that the investments that it's making in Atom and its successors is not going to be wasted; on the contrary, the Atom opportunity is in my view even greater than the "Core" opportunity.
The Atom Opportunity: Chips In Everything
It's no secret that the PC chip business and the server chip business have been extremely good to Intel. Recent microprocessor unit revenue share from IC Insights shows that Intel commanded 65% with $35.6B in 2012 with its nearest competitor, Qualcomm, coming in at 9.4%: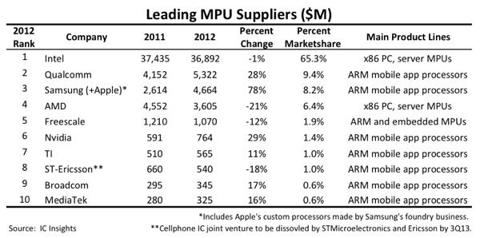 However, in addition to riding the mobile chip wave and gaining share there, there is still plenty of opportunity in new segments going forward such as in-vehicle infotainment, micro-servers (which Intel actually dominates), communications infrastructure, cheaper PCs/hybrids, and so on: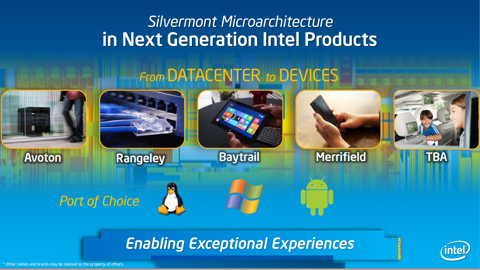 This broad opportunity not only means that Intel will actually be able to get into the mobile game, but it also means that plenty more revenue streams open right up, and the company diversifies from just being a PC chip company to being an SoC company. But there's still so much more...
Intel Will Become A Custom SoC Development House
The real takeaway from Intel's new strategy is that going forward, it will be a custom system-on-chip design house. With the Atom cores and with the experience that the company is developing multiple, different versions of its chips to suit different market segments, Intel will be able to respond much more quickly to any new markets and trends that emerge. With a solid low power processor in Atom and a really good high performance, but still efficient processor core with Core, the company will have all of the bases covered.
This means no more "missing the boat" like what happened with smartphones and tablets, and this will hopefully mean that the fabs stay very full with a diverse range of Intel-designed parts. This is truly a brand new chapter for Intel as this is radically different from how the company previously conducted operations.
Conclusion
Investing is about trying to see the future, not about staring in the rear view mirror about what could have been. Yes, Intel was late to phones and tablets, but so what? The company has developed the right IP and has the right strategy going forward, and I believe that on any dips, the long-term opportunity is quite frankly ultra compelling. This is a revolution in how Intel does business, and with the diversification and dramatically larger TAM that has become available to the company, things should get a lot better over the next 12 months, and the stock should be well north of $30 by the time 2014 winds to a close, if not by the end of 2013.
I can't wait.
Disclosure: I am long INTC, QCOM. I wrote this article myself, and it expresses my own opinions. I am not receiving compensation for it (other than from Seeking Alpha). I have no business relationship with any company whose stock is mentioned in this article.
Additional disclosure: I am short ARMH.