In preparation for sales of the new anti-obesity drug Belviq on June 7th, Arena (NASDAQ:ARNA) scheduled six events in six weeks including two post-launch. The launch will usher in a $65 million milestone payment from Eisai (OTCPK:ESALY), more than many movies make and 16-times more than Vivus' (NASDAQ:VVUS) first quarter's revenue. This may justify red-carpet treatment since evidence suggests Arena will ultimately market an array of anti-obesity and anti-diabetic medicine. Last week, at the Bank of America Merrill Lynch 2013 Health Care Conference (BofA), Arena's CFO gave an energizing talk while addressing many of my lingering questions. I was left convinced that sales of Belviq will easily exceed $520 million in the first year, which is more than recent estimates.
"Bel-Phen" Could Elicit a Craze
At both the conference call and at BofA, Arena noted a planned meeting with the FDA this quarter to design experiments to address any concerns the FDA may have about a formulation of Belviq and phentermine, which I call "Bel-Phen" due to its similarity to Fen-Phen. Upon this news shares of Vivus fell as much as 8%.
Belviq is safer than fenfluramine ("Fen"), which was used in combination with phentermine ("phen") in the 1990s to create the paragon of anti-obesity drugs, Fen-Phen. It also created a craze that PBS called "Fen Phen Nation" to describe a period when people were obsessed with pills to trim bodies that were previously expanding. In 1996, Fen-Phen (Redux) even made the cover of the era's most popular news magazine, Time.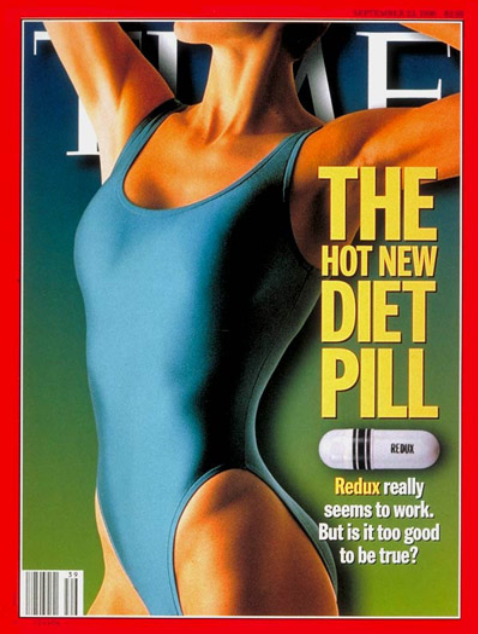 While some fear that anti-obesity drugs as powerful as Fen-Phen will be equally dangerous, a safer version would offer investors ample rewards, as well as saving the nation billions of dollars in obesity-related costs. History has shown that people want a safe and effective anti-obesity drug, obesity rates have increased since it was last believed one existed, and analysts predict that if one is found, anti-obesity drug sales could triple by 2017 from $1.4 billion in 2009. I believe we found it.
In contrast, the short thesis believes Belviq is unsafe, that its high cost and expected high drop-out rate will result in fewer sales than even Qsymia's pathetic results. It also argues that people are comfortable with being fat and unhealthy. Finally, it argues that Eisai cannot be a good company since it partnered with Arena, has lousy sales reps, and Eisai will fumble its quarter-billion dollar launch of Belviq this year.
Fortunately, the rest of us know that feelings are not facts. I have shown that Qsymia has a failed business model that it cannot escape. Others have shown it no chance of success until it can compete with the generic drugs from which it is made. Bears also apparently failed to consider sales from an FDA approved Bel-Phen, sales from off-label Belviq, or sales from "cocktails" resulting from combining Belviq with other drugs (including, phen, anti-diabetics, and anti-psychotics) that make it more powerful. I believe doctors will sell Bel-Phen and other cocktials before Arena finishes the first trials for FDA approved combination drugs. Finally, bears do not seem to understand history or simple math.
History of Fen-Phen
Fen-Phen's fat-shedding properties were discovered in 1979 and the results were belatedly published in 1992. That spawned strip mall clinics selling generic Fen-Phen (Pondimin+Phen) that seemed to "multiply like cockroaches." The FDA approved a new formulation called Redux (dexfenfluramine) in 1996. However, Wyeth, the manufacturer, withdrew Fen in September 1997 when some Fen-Phen patients were discovered with severe heart damage.
About 18 million prescriptions of Fen-Phen were written in the USA and 77 million worldwide. At its peak 200,000 prescriptions were written per week and one doctor admitted prescribing Fen-Phen to 8,000 people. Six million Americans took Fen-Phen.
| | |
| --- | --- |
| Four million Americans took Pondimin | Two million took Redux |
| | Click to enlarge |
Although some believed annual Fen-Phen sales exceeded one billion dollars, Seeking Alpha author John Tucker gave evidence in a comment for why Wyeth's 1997 sales of Redux were only $360-433 million ($538-648 million in 2013 dollars). This seems a bit low since it is equal to about $20-24 per prescription ($29-$35 today) and equivalent to many over-the-counter and generic weight loss drugs. Others, including some lawyers, claim that in 1994, Fen-Phen sales were several billion dollars, but that seems far too high even if we include a double dose of phen. We do know that Fen ultimately cost Wyeth more than $3.75 billion in legal settlements.
Potential Benefit of Bel-Phen
Bel-Phen will combine phentermine, a generic metabolic stimulant that is part of Qsymia, with the eating suppressant, satiety-producing Belviq. Bel-Phen has supra additive effects that greatly reduce food consumption in mice as shown in a figure from Arena's patent that identifies Belviq as Compound C (below).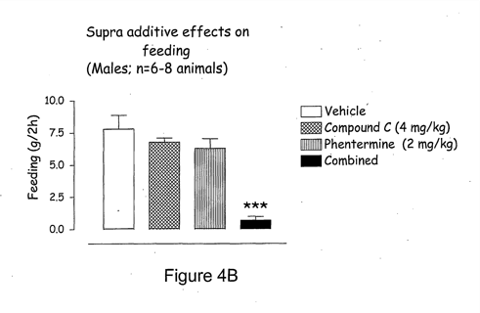 Click to enlarge
Belviq Is Much Safer Than Fen
Fen was dangerous because it is a potent agonist of 5-HT2B receptors in heart valves resulting in overstimulation and regurgitation (valvulopathy), thickening of valves, and damage that sometimes required surgery. Belviq is similar to Fen since both bind to the same receptor in the brain that suppresses appetite (5-HT2C) and promotes satiety, but it differs from Fen by having 100 times less affinity to the 5-HT2B receptor in the heart. Although, the FDA approved Belviq, some are concerned about a statistically insignificant increase in valvulopathy early in the study. However, that decreased with time until those on Belviq had fewer instances than those on the placebo (1.4% and 2%, respectively). It appeared that Belviq even helped people with preexisting heart valvulopathy since they had 19% fewer instances than the placebo group (~11.6% and 30.6%, respectively).
Ensuring Anti-Obesity Drugs Are Safe as We Enter the Bel-Phen Era
Belviq's association with Fen-Phen is due to its mode of action and the rare occurrences of valvulopathy in trials. Doctors are concerned about Qsymia since it contains phen and many of the Fen-induced valvulopathy cases occurred in combination with phen. The FDA currently believes additional studies are necessary to exonerate phen as a causative agent. It is likely that phen only enhanced the negative effects of Fen since phen is an amphetamine (stimulant). This is supported by a study finding valvulopathy in 4.1%, 8.9%, and 13.7% of patients who were untreated, on Fen and on Fen-Phen, respectively. Phen has additional known risks, including amphetamine-related morbidity (heart attacks, arrhythmias, pulmonary hypertension, and strokes).
When a new drug elicits a serious side effect, it is a cause of concern regardless of how infrequent the occurrence. This is shown by drug labels that generally include a dozen or more common and infrequent side effects. Rare side effects are not listed because someone will get some or all of them, but because we do not know if rare events in trials are statistical anomalies unrelated to the drug, minor but real problems, or serious problems that will occur more frequently under real-world situations.
Thus, both Arena and Vivus are required to conduct post-marketing cardiovascular outcome trials on their drugs to ensure safety. This requirement reveals one of the many significant differences between them: Vivus must shoulder all of the estimated $150-250 million cost of the trials, whereas Eisai pays 90% of Arena's costs.
Expect Pre-FDA Trial Usage of Bel-Phen and Bel-Met
In addition to Bel-Phen, Arena plans to test formulations of Belviq with the anti-diabetic drug metformin, as well as anti-psychotic drugs. Some believe that until formulations become FDA approved, it is unethical to prescribe such medicinal cocktails, and doing so creates legal liability for doctors.
Similarly there is a debate over off-label use of Belviq, meaning, prescribing it "in a manner different from that approved by the FDA." Belviq is indicated (approved) "as an adjunct to a reduced-calorie diet and increased physical activity for chronic weight management in adult patients with an initial body mass index (BMI) of 30 kg/m² or greater (obese), or 27 kg/m² or greater (overweight) in the presence of at least one weight related comorbid condition (e.g., hypertension, dyslipidemia, type 2 diabetes)." Thus, prescribing Belviq to anyone else would be off-label.
Contrary to common belief, off-label use of medicine is very common, 21% on average, 46% for cardiac medicine, and 50% for cancer medicine. Sixty-two percent of visits to pediatricians result in off-label prescriptions. Can we expect less in treating obesity? Apparently not, since 65% of obesity specialists commonly prescribe cocktails unapproved by the FDA. They often over-prescribe drugs and ignore FDA dosage recommendations (see table below). Seeking Alpha author KLLJ Investments found that obesity clinic patients regularly prescribe mixtures of phen and topiramate.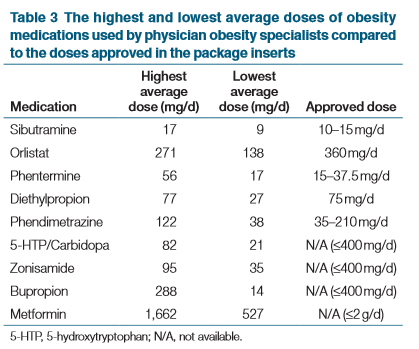 We can also expect fringe use of Belviq. It is discussed in fitness and bodybuilding magazines as an appetite suppressant. This market consists of thousands of athletes involved in sports where individuals must "make weight" to compete in weight-lifting, wrestling, boxing, martial arts, and as jockeys. I know of some in these sports who used bulimic behavior to lose weight while partially satiating their bodies craving for food. Belviq will obviously be a welcome alternative.
Should we be concerned about Bel-Phen or fringe markets? Caution is always advisable with new drugs in high demand. If next year, we find problems with Bel-Phen, it could drastically hurt sales of Belviq and drop shares considerably. However, most primary care physicians (PCPs) are cautious. In a March 2013 survey, 61% of PCPs are "somewhat unlikely" to "very unlikely" to prescribe Belviq off-label (see figure below). But that reluctance is likely to decrease with time if Belviq proves successful and safe.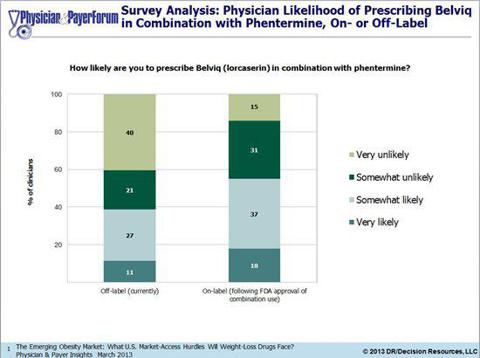 Click to enlarge
Legality
When a drug is approved for one purpose, physicians are free to prescribe it for any purpose they believe is safe and effective in their professional judgment. Courts are generally reluctant to judge discretionary professional judgment believing they are unqualified to do so. The Department of Health and Human Services stated that the "FDA generally does not regulate how, and for what uses, physicians prescribe" drugs. An attempt to control the writing of off-label prescriptions was replaced with non-binding guidance. While that increased the potential for litigation by removing safe-harbor protections found in the prior rule, doctors may believe peer-reviewed research is sufficient protection.
Insurance Coverage for Off-Label and Cocktail Prescriptions
Insurance companies, Medicare, and Medicaid require doctors to submit evidence to support off-label use of drugs when seeking reimbursement. Doctors can use peer-reviewed medical literature which they will get from sales reps and Belviq's label which incorporates its diabetes study. Federal and state laws also require insurance coverage for off-label drugs used to treat life-threatening diseases. Finally, if only one part of Bel-Phen is covered, it will be Belviq and not the $14 bottle of phentermine.
AACE Endorses Belviq for Treatment of Diabetes and Cardiometabolic Diseases
The American Association of Clinical Endocrinologists (AACE) guidelines recently added anti-obesity drugs as a first-line of therapy against chronic cardiometabolic diseases (prediabetes, diabetes, dyslipidemia, and hypertension). AACE specifically listed Belviq and Qsymia as first-line therapies (see figure below that seemingly favors Belviq). That recommendation acts as an advertisement circulated in 91 countries and sent to about 6,000 AACE members.
Belviq's beneficial effect on dropping HbA1c and blood glucose levels is noted in the Bloom-DM results incorporated into Belviq's label and other results are in the New England Journal of Medicine. This makes it easy for doctors to get insurance reimbursement when Belviq is used off-label.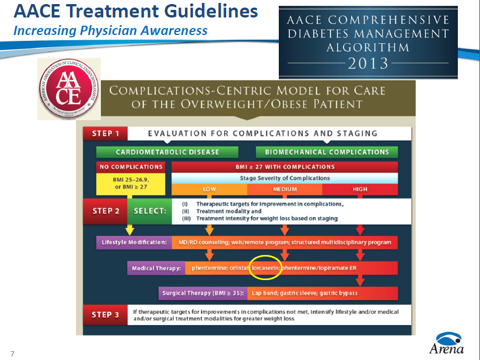 Click to enlarge
Arena is Becoming a Cash Cow
Within weeks of June 7th, Eisai's 200 sales reps are expected to reach 26,000 "targets" (endocrinologists, cardiologists, obesity specialist, and some high-value PCPs) in regions where levels of obesity are the highest. As they saturate those markets, the sales force will expand. Eisai's 50 market specialist and three health economist are working proactively with insurance companies and estimate one-third of patients will have insurance coverage for anti-obesity drugs, while others will probably be offered some form of rebate or incentive.
Since the average sales rep is paid about $105,000 per year, Eisai's 2,000 reps cost it about $210 million a year. It is unlikely a company would make such an investment if it did not expect to make several times that amount in sales. Eisai's prediction of $200 million in first-year sales thus seems to be a conservative estimate.
Assuming Eisai offers a 50% rebate to the 67% of patients who are uninsured, a bottle of Belviq will generate about $133.40 in income. Assuming the worst, that Eisai's sales reps only convince the initial targets, and no one else, to write one new prescription per weekday (20 per month), also assume doctors drop 50% of new patients after three months for being non-responders or due to side effects. This results in 3.9 million prescriptions and $520.26 million in sales.
That was simplistic, but we know Eisai will contact far more than the initial 26,000 doctors. Others will independently learn of Belviq and prescribe it in the next year. We also know that many doctors will have hundreds of obese and cardiometabolic patients. Add Mexico, Canada, South Korea, off-label prescriptions, Bel-Phen (which may reduce dropout rates), some fringe use, some smuggling to other countries, opening of new markets and the sky is the limit.
Arena is also debt-free, has $136 million in cash and cash equivalents at the end of Q1, and a 10-year tax holiday in Switzerland where it manufactures Belivq. With Belviq's launch, Arena gets a $65 million milestone payment from Eisai. There will soon be applications for Belviq in Canada, Brazil and South Korea each resulting in a $500,000 payment to Arena (roughly one quarter of Vivus' Q4 2012 revenue or one eighth of its Q1 2013 revenue). In total, Eisai plans to market Belviq in 20 countries. On April 1 Eisai applied to Mexico, which has a growing middle and upper class and obesity rates higher than the USA.
Beginning June 7, Belviq sales will give Arena a continuous stream of cash since it sells Belviq to Eisai for 31.5% to 36.5% of the wholesale price. The figure below shows how price adjustments ultimately give Arena $1.16 billion.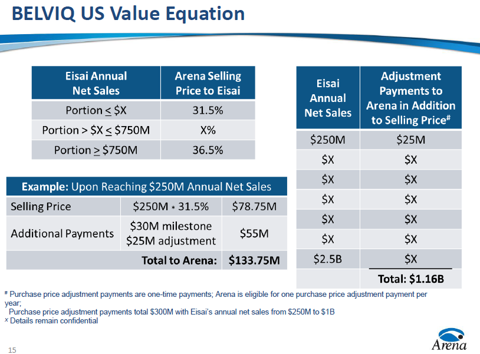 Click to enlarge
Pipeline
Arena also has drugs in phase 1 trials for treatment of pulmonary arterial hypertension, thrombotic diseases and autoimmune disease. The autoimmune candidate could potentially compete with Gilenya, Novartis' (NYSE:NOV) multiple sclerosis drug, which generated $500 million in 2012 sales despite its many side effects. Arena also has another drug for pain relief in the preclinical stage.
Conclusion
Those who predict poor sales of Belviq, apparently fail to consider Bel-Phen entering the market before FDA approval, if at all. Belviq and Bel-Phen will be patients' and doctors' first therapy of choice because they appear to be the safest anti-obesity drugs on the market. I think the efficacy of Bel-Phen will reinvigorate the entire anti-obesity sector and spur sales of Qsymia, GlaxoSmithKline's (NYSE:GSK) Orlistat (Alli or Xenical), and maybe someday Orexigen's (NASDAQ:OREX) Contrave.
The country needs Bel-Phen to create a leaner nation. Since Belviq reduces cravings, its effects could ultimately be widespread. Companies such as DaVita HealthCare Partners (NYSE:DVA), which operates one third of the USA's dialysis centers, McDonald's (NYSE:MCD) and Coca-Cola (NASDAQ:COKE) may all have to thin-down.
Scientifically or emotionally we may prefer that doctors limit writing cocktail and off-label prescriptions until we know more about their safety. However, we are dealing with matters of life and death and should leave such issues to doctors until we get results from FDA approved trials. In the meantime, sit back, hope Belviq reaches enough people to help them and our country, and maybe grab a few shares while it is being held at $8 per share.
Disclosure: I am long ARNA. I wrote this article myself, and it expresses my own opinions. I am not receiving compensation for it (other than from Seeking Alpha). I have no business relationship with any company whose stock is mentioned in this article.
Additional disclosure: I am not a registered investment advisor and do not provide specific investment advice. The information contained herein is for informational purposes only. Nothing in this article should be taken as a solicitation to purchase or sell securities. Before buying or selling any stock you should do your own research and reach your own conclusion. It is up to investors to make the correct decision after necessary research. Investing includes risks, including loss of principal.