"Sell on the rumor, buy on the news"; professional investors often buy a stock when a company reports poor earnings because the bad news is out and earnings and cash flows will only get better. This is NOT the case when Aegean Marine Petroleum Network (NYSE:ANW) reported its first quarter earnings on May 16; I am using the 25% appreciation over the last few days to aggressively short the stock.
Review of the quarter
Aegean's revenues decreased 12.8% to $1.563B and gross profit decreased by 7.5% to $70.7m mainly due to lower volumes with some help from an increased gross spread. According to management, revenues were light because of seasonal factors (weather) and also increased credit risk management. Aegean's revenues missed estimates of $1.734B by $174m and earnings of $0.13 missed consensus estimates of $0.135.
A deeper dive into the results tells a much different story. I looked up the last four years to see if I can identify a seasonal trend in volumes. From the figures, I don't see seasonality being a clear reason for the 13% decrease in volumes in the first quarter.

Operating expenses decreased $4.6m year-over-year to $51m. Management has mentioned selling older vessels will reduce the company's cost structure. Actually, the decrease in operating expenses was mostly from a $3.1m decrease in the provision for doubtful accounts. Given how bad conditions are in the shipping industry, it seems to be a strange time for a decrease in bad debt expense. Even worse, ANW actually booked a reversal of $532k for bad debt expense versus an expense of $2.6m in the year ago quarter (see table below). If I normalize the provision to an expense of $732K (the average over the last four quarters), which equates to an increase of $1.26m (-532-732=1.26m), earnings per share would have been $.03 lower.
The company paid down $51m in long-term debt in the quarter unfortunately not from free cash flow. Management did this by not paying its suppliers (payables to third parties increased by $31m) and selling assets.
In the quarter, the company sold one older vessel, a floating storage tanker and its 55% ownership in a Panama storage facility netting the company $11.2m (after taking into account the $2.7m paid the non-controlling owner). In total, the company has sold 10 vessels and estimates the company will save $20m per year in operating expenses. According to Chairman Peter Georgiopoulos, this savings will show up in decreased vessel operating expenses. From the figures below, I do not see the costs savings.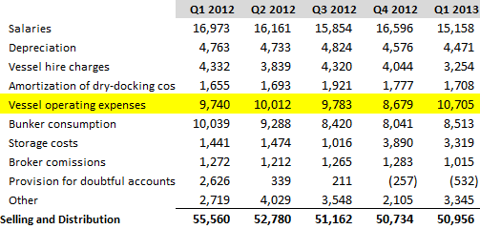 Lack of quality demand is the REAL problem
Management also gave investors an update on the new global credit facility announcing the company has received subscriptions for $800m with potential to increase the number of participating banks and the size of the facility. This is still below the $1B that management had guided to almost 6 months ago. Unfortunately, constrained working capital is only part of Aegean's problem; a lack of quality demand is the real problem.
Management has not been able to show the market that it is able to find additional high quality demand by expanding to additional ports. For example, Aegean opened a new port in Hong Kong in the third quarter of last year and total volumes are still decreasing. In addition, other bunkering companies like World Fuel Services (WFS) and Chemoil are mentioning lackluster demand as well as a strategy to target only high quality companies. Going forward gross spreads for these companies should tighten as competition increases. At the same time, larger spreads can be earned by taking additional credit risk from selling to lower quality companies. Since Aegean's gross spread is increasing, this means the company is lowering credit standards to make up for decreasing volumes.
According to the company, Aegean earns a larger gross spread per ton than its competitors because it operates in different, less competitive markets. If vessels are mobile and they can be moved to where underserved demand is, one can argue that gross spreads should contract in the future. Even Aegean discloses it themselves on page 43 of the 2012 20-F:
We believe that for any new service centers that we may establish, gross spread on marine petroleum products may be lower than for our existing service centers.
Further, the company is selling its floating storage tankers and moving to more permanent on-land storage, making the company less flexible in the future to move with demand.
In 2012, the company sold $761m in trade receivables. The fact that Aegean has relied on this source of off-balance sheet financing to skate around leverage covenants should worry investors. According to the sales agreement, Deutsche Bank will only purchase trade receivables from a short list of high quality companies like Maersk, Exxon, Hanwa and WFS. This means Aegean keeps the receivables of lower quality, over levered shipping companies on its balance sheet leaving the company exposed to large losses as the shipping downturn continues. It is true there hasn't been a problem "yet" but WFS has been saying for a few quarters that credit risk is a high priority and it is erring on the side of low margin/ low risk business. It will only take one large customer to not pay or even delay paying to put a monkey wrench in Aegean's thinly stretched working capital.
More debt is not the solution
Aegean continues to successfully move money from one credit facility to another like a game of "hot potato" and the banks seem to participate. This game is not sustainable. Since 2011, Aegean's lenders granted the company numerous waivers for violation of debt covenants. According to page 9 of ANW's 6-K, the company was in violation of covenants on $420m of its debt ($168m short-term and $252m long-term.) In 2012, Aegean was in violation of the leverage ratio (Long-Term Debt/Total Assets), which the banks permanently raised from .65-to-1 to .75-to-1. The violation this time is the current ratio and banks have only temporarily reduced the current ratio covenant from 1.15-to-1 to 1.05-to-1 until June 30, 2013 when it reverts back to 1.15-to-1. As of March 31, 2013, the current ratio was 1.07-to-1.
In addition, Aegean reported a violation of minimum working capital. During the first quarter conference call, management said the closing of the new global facility will provide the company $170m in additional working capital, bringing working capital up to $220m. It is pretty amazing a company that is in violation of its covenants, specifically its liquidity covenants, is able to negotiate more debt at a cheaper rate. The details of this facility should be closely watched as every time the company has negotiated a waiver, it has given up more flexibility. For example, during the third quarter of 2012, Aegean's lenders agreed to permanently increase the leverage ratio but it was done at an expense of raising the minimum book value covenant from $175m to $410m. Tighter covenants leave less room for intangible asset impairment and credit losses.
The new $73.5m facility from ABN AMRO
Aegean has bought itself some time by mortgaging the new Fujairah facility which the company hasn't even finished building. Management told investors on the fourth quarter conference call that it obtained the new credit facility from ABN AMRO and intends to use the proceeds to repay short-term debt. The facility matures in December 2017; therefore it will be considered long-term debt at the end of the second quarter and should help the covenant violations. Unfortunately, the facility is structured in such a way that the cash flow generated by the storage facility will go to pay down this debt and can't be used for other company debt or working capital. Moreover, Aegean can't reborrow against the facility so going forward this storage facility will not be a source of cash when needed in other areas of the business.
Aegean's strategy of using balance sheet leverage to grow has come to an end. On the conference call, management stated "The remaining debt in our books will be approximately $105 million, which is secured by 36 junk vessels or $2.9 million debt per vessel. As a result, we end up with unencumbered debt-free assets that include 24 owned [bunker] vessels, three floating storage facilities distributed across 20 countries and 60 ports worldwide." According to the excerpt below from the 2012 20-F, the company has leveraged all the assets that have any value. The unencumbered assets are too old to borrow against.
As of December 31, 2012, all of the Company's operational vessels, except for the Mediterranean, PT25, PT36, PT22 and the vessels Colorado, Vigo, Elbe, Ellen, Steindamm and Tapuit were mortgaged under the Company's various debt agreements.
I believe the low volumes in the first quarter were due more to lack of demand from credit worthy customers and a lack of working capital to maintain liquidity covenants than weather. The conditions in the shipping are only getting worse. Banks have announced a pull back in lending to the industry as a record number of loans to ship owners are not performing. As the headwinds continue to blow into the faces of ship owners, I don't see things getting better for Aegean anytime soon. Until next quarter…
Disclosure: I am short ANW. I wrote this article myself, and it expresses my own opinions. I am not receiving compensation for it (other than from Seeking Alpha). I have no business relationship with any company whose stock is mentioned in this article.