Last month, I questioned why one of my two favorite hedge fund managers owned Chesapeake Energy (NYSE:CHK). It wasn't so much that I questioned Chesapeake as an investment opportunity, but rather how Chesapeake fit with this particular manager's style of investing.
The hedge fund manager I'm referring to, of course, is Monish Pabrai who runs a very concentrated portfolio using an approach that he refers to as "Dhando Investing." A core part of that philosophy is focusing exclusively on investments where there is little chance of losing money.
With Chesapeake's high debt load relative to cash flow and exposure to commodity prices, losing money in some circumstances (protracted drop in natural gas prices) seems like a real (although not necessarily likely) possibility.
While I think I have a point, I have to admit it takes a bit of nerve on my part to question someone much smarter than I am.
To further make me wonder if it is me who isn't thinking correctly about Chesapeake, my second favorite hedge fund manager announced this quarter that he has also bought shares of Chesapeake!
This time I'm referring to Bruce Berkowitz who manages the Fairholme Fund.
I wrote about Berkowitz and his huge position in AIG back in September 2011 suggesting that investors would be smart to follow him and put a good chunk of their portfolio into the company.
I was right on that call (everyone gets lucky now and again):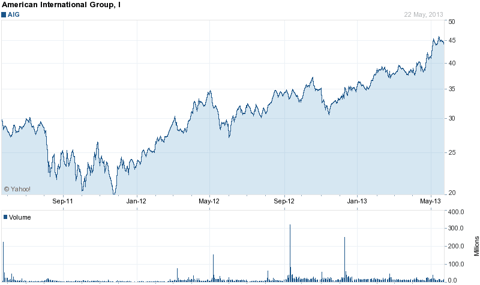 AIG has doubled since then over a period of about 18 months.
But I'm not so sure about Chesapeake.
Where Pabrai preaches focusing on downside risk in an investment and letting the upside take care of itself, Berkowitz employs a similar approach designed to avoid losing money.
Both men profess to be focused on not losing money first and foremost.
For Berkowitz he describes the approach as trying to "kill" the investment idea before committing money to it. A direct quote explaining that approach from Berkowitz himself is:
We look at companies, count the cash, and then try to kill the company… We spend a lot of time thinking about what could go wrong with a company… We try every which way to kill our best ideas. If we can't kill it, maybe we're on to something.
In other words, Berkowitz is only going to buy a stock if in virtually every plausible situation, the company is not going to be in financial danger and the value of the equity likely to be permanently decreased.
Now again, I feel foolish questioning someone who I have no doubt is much, much smarter than me, but can Berkowitz really not find a way that he can "kill" Chesapeake Energy?
I think I can.
Wouldn't a pretty simple scenario where Chesapeake gets in trouble another couple of years of low natural gas prices? Chesapeake's high debt load plus low commodity prices would not be a great combination.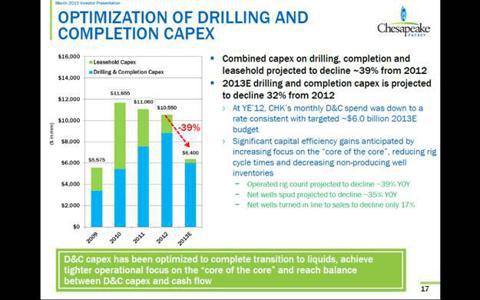 Chesapeake is a company that has been on a long-term spending spree, with annual cash outflows far in excess of the cash coming in.
In 2010, 2011 and 2012, Chesapeake spent over $10 billion each year while operating cash flow has been only $5.1 billion, $5.8 billion and $2.8 billion in those three years respectively.
Chesapeake has bridged a considerable chunk of that spending gap by selling off parts of its excellent unconventional asset portfolio, but it has also rung up a big debt bill.
All of that spending helped build a great set of assets, it also bit a bit of a wobbly balance sheet.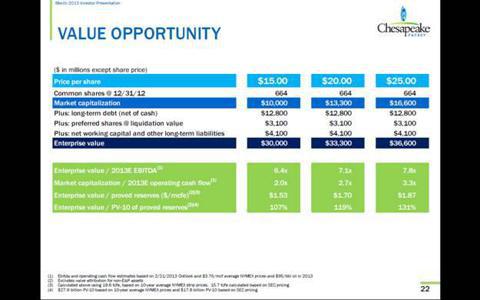 The slide above (from the Chesapeake investor presentation) shows Chesapeake's long-term debt and working capital deficit. Combined, they total almost $17 billion.
Last year's, with a seriously depressed natural gas price cash flow from operations, was all of $2.8 billion. That ratio of cash flow to debt makes the company incredibly leveraged.
Thankfully natural gas prices have improved from disastrous levels to something more manageable.
The slide below shows that cash flow for 2013 with a recovery in natural gas prices and production that is more weighted to liquids is expected to improve to the $5 billion range. That is better than 2012 to be sure but still very leveraged at more than 3 times cash flow.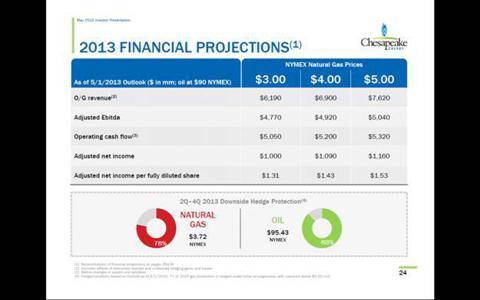 What this investment in Chesapeake really tells me is that Berkowitz has to be confident that natural gas prices are going to at least stay at the current level and likely rise.
To invest in a highly leveraged commodity producer and believe that you have little chance of losing money, you simply have to have a strong opinion about the underlying commodity.
It will be interesting in the coming months to see if we hear anything from Berkowitz about this Chesapeake position. I'd love to hear his comments about the high level of debt relative to current cash flows.
Berkowitz and Pabrai both run very concentrated portfolios which means they really do have to have a high level of conviction about a stock before buying it. With both of them owning Chesapeake, you have to think it might be worth another look.
Disclosure: I have no positions in any stocks mentioned, and no plans to initiate any positions within the next 72 hours. I wrote this article myself, and it expresses my own opinions. I am not receiving compensation for it (other than from Seeking Alpha). I have no business relationship with any company whose stock is mentioned in this article.