To Taper or Not to Taper
Ben Bernanke's testimony, in combination with the release of the Fed minutes - although neither contained anything we didn't already know and haven't already heard ad nauseam for months on end - were used as an excuse to sell U.S. stocks for a change (not only stocks, but hitherto stocks have been completely impervious to this stuff, so this is noteworthy).
That left the DJIA and the SPX with somewhat ominous looking daily candles, as the indexes had at first surged to new highs after Bernanke's prepared remarks were released (he mentioned that to withdraw stimulus 'too early' was risky in his view).
---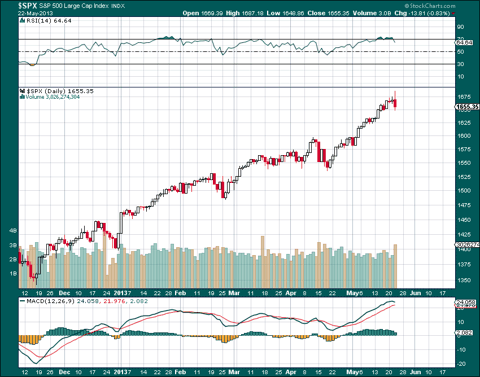 SPX daily - Wednesday's daily candle looks slightly ominous
---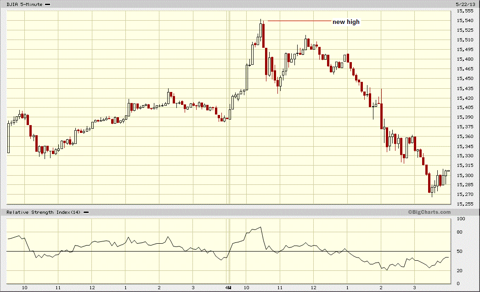 DJIA 5 minute chart, 2 days. A new high after Bernanke's prepared remarks were released, followed by a 270 point swoon
---
The Fed minutes contained the usual bla-bla (some committee members want to 'taper' QE, which they have been saying since it started - we know who they are and that they have de facto no influence on the policy; others want to continue or even increase the asset purchases). Later on, a John Hilsenrath article was released that contained the following 'clarification':
When the Fed ended a buying program in 2011, it shut it off all at once. When it shut off another bond buying program in 2009 and 2010, it did it in predetermined, predictable and "tapered" steps. When the Fed raised short-term interest rates from 2003 to 2006, it raised them in gradual and very predictable steps.

This time, when the Fed shuts off bond buying, it won't be abrupt and it won't be predictable. The term "tapering" - which implies a predictable gradual process - probably doesn't describe the plan very well any more, and you're unlikely to hear Fed officials describing it like that. Instead, the Fed will take a step and then see what happens. Officials also want to avoid the market blowup that happened in 1994, when it took one step and the market assumed that meant a succession of additional steps.

"A step to reduce the flow of purchases would not be an automatic, mechanistic process to end the program," Mr. Bernanke said. In other words, if the Fed takes a step to reduce the program and the economy falters, it could sit still for a while or even dial purchases back up.

The Fed effectively wants the markets to experience the same uncertainty it experiences about policy and the economy when officials walk into a meeting, and it wants to condition the market to avoid jumping to conclusions about what it will do next. As officials keep saying, it will depend on the economy.

And on the key question of when it will start, Mr. Bernanke said the first step could be "in the next few meetings," but that too will depend on how the economy performs.
As a friend of ours remarked: now we know there will be no tapering of the talk to taper the taper talk.
An Interesting OTC Options Anecdote
Incidentally, Barron's magazine had an interesting little article this week in which it was noted that a number of hedge funds have reportedly bought large amounts of SPX call options over the counter in order to 'catch up' with the market's rally. Barron's apparently believed this to be bullish:
Be bullish. That's the overarching message from the options market as it fills with talk of two major developments that suggest the stock market will keep rallying to new record highs.

Major hedge funds are reportedly buying, or have bought, massive amounts of Standard & Poor's 500 index calls in the over-the-counter options market. The calls would increase in value if the index, now at about 1,664, rises to 1,725 by year's end. The funds reportedly missed the stock market's rally and are playing a vicious game of catch-up.

Though it is difficult, if not impossible, to penetrate the veil of secrecy that surrounds the OTC markets, evidence in the listed options market suggests investors are clamoring to buy bullish calls. The CBOE Volatility Index (VIX), which should decline when stock prices rise, is increasing. Traders said the unusual behavior means that the banks selling OTC calls to big hedge funds are buying the VIX to hedge their positions.

Also, evidence suggests that big funds are not alone in making bullish bets in the options market. The implied volatility of August calls on the S&P 500 - essentially the options market's expectation that a security's price will change - has sharply increased since March.

At the end of the first quarter, investors could buy bullish S&P 500 calls without paying a greed premium because expectations were low that the stock market would advance. Now, the price of August calls on the S&P has surged by as much as 100% by some measurements, according to one strategist."
(emphasis added)
Admittedly in the current environment, with the Fed adding $85 billion in additional money to the economy every month, such risky bullish bets may well still work for a while. However, we have a more nuanced view of this than Barron's. While the markets are distorted by the Fed's interventions, the 'classical' interpretation of such activities and data is as follows: Normally when the premium of index calls rises over that of puts, it is actually high time to become very cautious. Higher priced puts are the norm, as index options are widely used to hedge portfolios. It is generally not bullish when fund managers who have been among the very few sitting out a big rally suddenly buy the riskiest instruments they can find at premiums that are 100% higher than two months ago in order to 'catch up'. It is a sign of capitulation.
Bonds Curiously Unimpressed
Interestingly, the U.S. Treasury bond market did not profit from the stock market's intra-day swoon. That is slightly unusual; it may be an indication that the swoon in stocks was seen as a temporary aberration, or it may be a further sign that well-worn correlations are one by one breaking down. In any case, it is something one will have to keep an eye on.
---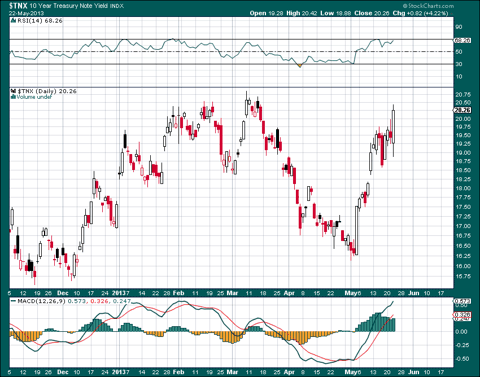 The yield on the 10-year Treasury note rose in spite of the stock market's swoon.
---
Conclusion:
A correction may finally be in the works. A one day swoon can of course easily turn out to be entirely meaningless - the main reason why it is worth paying attention to it is the action in the Nikkei overnight, which we discuss in Part Two. The Nikkei's decline was actually 'qualitatively different', as worries about central bank policy were not what triggered the selling.
The fact that hedge funds are clamoring to buy index calls and are paying up for them should certainly give one pause. It is at the very least a datum that is of medium-term concern and it joins the long list of other extremes in positioning and sentiment that could recently be observed.
As an aside, although gold sold off as well after the publication of the Fed minutes (which is probably the dumbest reason to sell gold ever), we were impressed by the fact that gold stocks held up quite well and managed to close slightly in positive territory. This is a strong sign that gold stocks are likely to continue to move inversely to all 'risk assets' once recent trends reverse. As we have often argued in these pages, this is as it actually should be. Gold mining happens to be one of the few economic activities that actually thrive in times of waning economic confidence. This is because gold mining margins tend to rise along with gold's real price during economic contractions.
Charts by: StockCharts, BigCharts