For such a hot sector, the 3D printing leaders are showing surprisingly low organic growth. Leader 3D Systems (NYSE:DDD) reported only 22.1% organic growth for the latest quarter while Stratasys Ltd (NASDAQ:SSYS) only managed 18% after merging with Objet. Those aren't exactly the growth rates expected of stocks with forward earnings multiples of over 35x estimates. The sector is very profitable and has huge potential, but several other sectors have higher growth rates.
For 3D Systems, the revenue growth numbers are even worse if you look at the revenue per share. That number only increased 9% year-over-year to $1.11 from $1.02 due to a higher share count. For an acquisitive company, this calculation takes out the impact of shares issued and such similar to earnings per share. For any shareholder, the more important fact isn't the actual top and bottom line growth, but the total growth per share.
For Stratasys, investors will be interested in seeing that the synergies from the major Objet merger are realized in the second half. Typically of a large merger, near-term results can be reduced, as in this case management was focused on closing the delayed deal.
Q1 2013 Highlights
The company provided the following highlights for Q1 2013:
Non-GAAP revenue of $98.2 million for the first quarter of 2013 represents an 18% organic increase over the $83.0 million pro forma revenue recorded for the same period last year after giving effect to our merger as though it closed on January 1, 2012.
Non-GAAP net income of $17.6 million for the first quarter, or $0.43 per diluted share, represents a 40% increase over the pro forma non-GAAP $12.6 million, or $0.32 per diluted share, reported for the same period last year.
Non-GAAP gross margins improved to 59% for the first quarter from a pro forma non-GAAP 56.7% in the first quarter last year.
Stratasys reported earnings of $0.43 a share that beat analyst estimates of only $0.38. Part of the benefit was lower taxes on higher net income that contributed over $0.02 on the earnings growth. One concerning part was that over $6M of revenue growth was contributed from demo units to the new channel partners from the combined entity. Excluding that demo revenue, revenue growth would've been substantially lower than the stated amount. Going forward, Stratasys doesn't expect any material sales from demo units.
2013 Guidance
The company provided the following numbers for 2013:
Revenue guidance of $430M to $445M
Non-GAAP earnings guidance of $1.80 to $1.95
Revenue growth is expected to be relatively stronger toward the end of the year as it realizes synergies from selling the combined product portfolio. Considering the limited organic growth in Q1, investors better hope this is true.
Stock Valuation
With long-term growth rates in the 30% range, 3D Systems and Stratasys aren't overly expensive at the current multiples if the companies can achieve those long-term growth rates. The companies though will need faster organic revenue growth in order to achieve those rates.
The below chart highlights the huge gains by the stocks over the last year: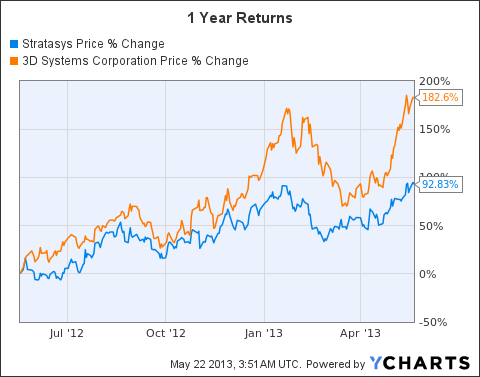 Conclusion
Stratasys probably provides the best investment option at this point as the company progresses on integrating the Objet merger to provide solid revenue growth later in the year. 3D Systems remains a more volatile stock with constant deals and share offerings such as the recent 7.1M shares sold by the company to raise net proceeds of $272M. Relatively small ExOne (NASDAQ:XONE) recently missed earnings keeping that stock on the sidelines for now.
The sector isn't one to chase at these valuations of relatively low organic revenue growth though Stratasys appears the best situated to buy on dips.
Disclosure: I have no positions in any stocks mentioned, and no plans to initiate any positions within the next 72 hours. I wrote this article myself, and it expresses my own opinions. I am not receiving compensation for it (other than from Seeking Alpha). I have no business relationship with any company whose stock is mentioned in this article.
Additional disclosure: The information contained herein is for informational purposes only. Nothing in this article should be taken as a solicitation to purchase or sell securities. Before buying or selling any stock you should do your own research and reach your own conclusion or consult a financial advisor. Investing includes risks, including loss of principal.