Yesterday we came across the chart of Japan's Nikkei we have included in the 'Chart of the Day' and wanted to include it in our article and went to the trouble to email it to ourselves so we would have it this morning. Our goal was to use it to point out that maybe we would be facing some resistance at these levels and to our surprise we woke up this morning with the risk-on trade in Japan seeming to have swung to a risk-off trade overnight.
We doubt a high has been put in simply because of the way this all happened. Markets hardly ever reach a top by falling off of a cliff one day. If North American futures markets are any indication, then the reaction in Japan to the news out of the US yesterday and China last night is in fact an overreaction.
Chart of the Day:
Notice this nearly 16-year downtrend line on Japan's Nikkei...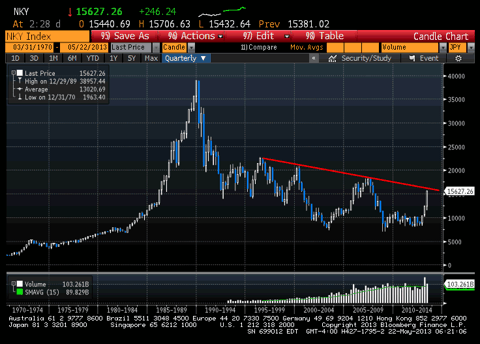 Chart courtesy of goanywhereinvesting.com
We have economic news due out today, and it is as follows:
Initial Claims (8:30 a.m. ET): 348k
Continuing Claims (8:30 a.m. ET): 3005k
FHFA Housing Price Index (9:00 a.m. ET): N/A
New Home Sales (10:00 a.m. ET): 425k
Natural Gas Inventories (10:30 a.m. ET): N/A
Asian markets finished lower today:
All Ordinaries -- down 1.97%
Shanghai Composite -- down 1.16%
Nikkei 225 -- down 7.32%
NZSE 50 -- down 0.47%
Seoul Composite -- down 1.24%
In Europe, markets are lower this morning:
CAC 40 -- down 2.20%
DAX -- down 2.64%
FTSE 100 -- down 1.94%
OSE -- down 1.49%
Retailers
A lot of the talking heads had recently gotten excited over Saks (NYSE:SKS) and pointed to it as one of the names in retail, which was gaining steam. Over the past two days the stock is up over 20% with volume coming in well above average. Shares rose $1.83 (13.39%) to close at $15.50/share with 23.5 million shares trading hands and the news pushing it higher was that the company had hired Goldman Sachs to shop the company around. We initially saw where KKR was a likely suitor but later saw where Leonard Green & Partners was another name. Interestingly enough Goldman could look to combine Saks with Neiman Marcus, which also hired advisors to explore strategic alternatives.
Today we will have housing numbers out and this shall have an impact upon those names with exposure to the housing market. Home Depot (NYSE:HD) is a name we want to watch because right now it really is priced to perfection after the earnings beat this week. Yesterday the shares hit a new all-time high of $81.56/share before pulling back to close at $79.69/share and finishing up only $0.98 (1.25%) on volume of 14.8 million shares. We love the name but at these levels we are starting to see better opportunities elsewhere, even if it will take longer for those names to pick up momentum.
There is nothing more beautiful to a market bull than a chart, which rises from the lower left to the upper right. One does have to pause and ask at times whether charts such as this indicate a stock priced to perfect though.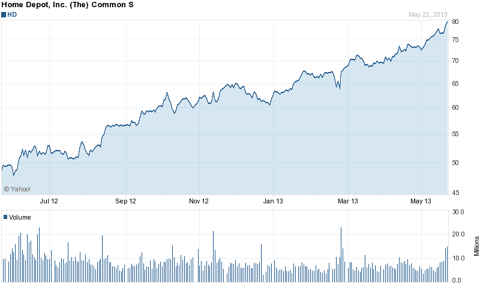 Chart courtesy of Yahoo Finance.
Homebuilders
Speaking of names, which the housing numbers will impact, Toll Brothers (NYSE:TOL) comes to mind. Yesterday shares hit a new 52-week high of $39.25/share before giving back much of its gains to finish higher by $1.06 (2.94%) and close at $37.07/share. The company was up on their quarterly earnings and outlook for the upscale housing market (see conference call transcript here). With this name having been one of the names investors were worried about not too long ago, we think that the housing data moving forward will be more important for Toll Brothers than others because investors will use it to verify what management is now saying. We are bullish all things housing and the improving story at Toll Brothers simply demonstrates why.
Toll Brothers has traded sideways for some time now as they faced headwinds other builders did not, but it appears that those headwinds may be abating.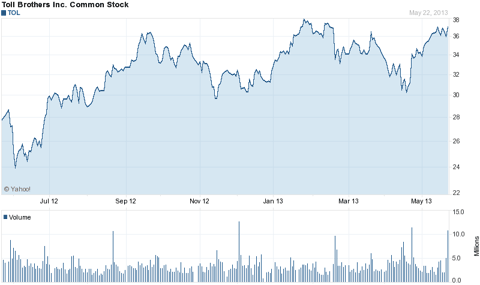 Chart courtesy of Yahoo Finance.
Pharmaceuticals
Yesterday we saw investors dump a lot of the dividend names and Bernanke's remarks on the Hill during his testimony confused many and they decided to run for cover. 'Big Pharma' names seemed to dodge the bullets as they had other news items to propel them higher. Bristol-Myers (NYSE:BMY) rose on the back of an upgrade from Citigroup whereby the brokerage raised its rating on the stock to a 'Buy' from 'Neutral' and also increased its price target to $55/share from its previous $33/share, which the company surpassed long ago.
Pfizer (NYSE:PFE) was another drug maker, which was able to maintain gains for the day, even after the sell-off in the general markets. The interest here was caused by the company's announcement that it was going to sell its remaining stake in Zoetis, the company which Pfizer spun-off 20% earlier this year. For those who do not remember, Zoetis is the former animal pharmaceutical subsidiary of Pfizer.
Disclosure: I have no positions in any stocks mentioned, and no plans to initiate any positions within the next 72 hours. I wrote this article myself, and it expresses my own opinions. I am not receiving compensation for it (other than from Seeking Alpha). I have no business relationship with any company whose stock is mentioned in this article.