This week is a busy one for retailers, with CNBC's Courtney Reagan noting that 24 retailers from the S&P 500 are reporting this week. Many investors are interested in seeing how the higher 6.2% payroll tax rate will impact retailers' performance, with some lowering their expectations. However, last week, Bloomberg reported that clothing stores saw a 1.2% in April sales, marking the biggest gain in over a year. With this in mind, we ran a screen to help us identify potentially underestimated retail apparel stocks.
To start, we began with a universe of apparel stocks. We then screened for bearish sentiments from institutional investors, with significant net institutional sales over the last quarter representing at least 5% of share float. This indicates that institutional investors such as hedge fund managers and mutual fund managers expect these companies to underperform.
Then, to analyze these companies' profitability, we ran DuPont analysis on the names. DuPont analyzes profitability by breaking up return on equity (net income/equity) into three components:
The DuPont formula uses return on equity (ROE) for its profitability measurement. The higher the ROE, the more profitable the company appears, but this profitability can come from many sources -- some better than others.
In general, an encouraging DuPont breakdown implies one or more of the following:
-Improving Net Profit Margin, i.e., higher Net Income/Revenues
-Improving Asset Efficiency, i.e., higher Sales/Assets
-Decreasing Financial Leverage ratio, i.e., lower Assets/Equity
Companies passing all requirements are thus experiencing increasing profits due to operations, and not to increased use of leverage.
For an interactive version of this chart, click on the image below. Analyst ratings sourced from Zacks Investment Research.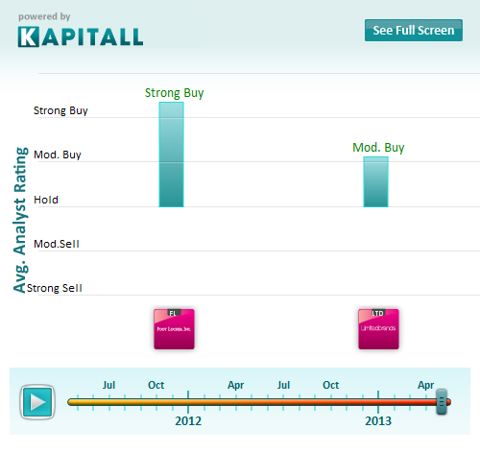 Do you think hedge funds are making the right decision in selling these stocks? Use this list as a starting point for your own analysis.
1. Foot Locker, Inc. (NYSE:FL): Operates as a retailer of athletic footwear and apparel.
Market cap at $5.49B, most recent closing price at $36.59.
Net institutional sales in the current quarter at -14.3M shares, which represents about 9.64% of the company's float of 148.30M shares. The 2 top holder of the stock are the Vanguard Group, Inc and FMR LLC.
MRQ net profit margin at 6.07% vs. 5.39% y/y. MRQ sales/assets at 0.509 vs. 0.492 y/y. MRQ assets/equity at 1.416 vs. 1.445 y/y.
Last quarter, Foot Locker matched analysts' estimates of $0.73 per share, and its $1.71 billion revenue beat the estimate of $1.69 billion. The athletic specialty retailer had its eighth consecutive quarter of profit growth; profit rose to $104 million, or $0.68 a share, from $81 million, or $0.53 cents a share, during the fourth quarter of 2011. Nevertheless, Foot Locker shares fell by 7% following the March 8th release of its fourth quarter earnings. The Motley Fool reports that the plunge was likely driven by investors' dissatisfaction with the company just meeting expectations despite having an extra week in the quarter. Furthermore, while same-store sales increased 7.9%, Seeking Alpha contributor The Value Investor points out this number fell short of 9.4% annual comparable sales growth.
Earlier this month, Foot Locker signed a definitive agreement to acquire German athletic store chain Runners Point Warenhandelsges for $94 million. In addition to operating over 200 stores in Germany, Runners Point runs Tredex, an online subsidiary; Foot Locker has expressed its intent to use Tredex's digital capabilities to bolster its own European e-commerce efforts. However, some investors may be wary of the company's decision to postpone its share-repurchase program until the second quarter, which may result in lower earnings per share and returns for shareholders.
In last quarter's earnings call, CFO Lauren Peters pointed to the 20% comp gain in men's basketball footwear as proof of the company's dominance within the industry. Foot Locker's growth in basketball sales is encouraging due to basketball footwear's increasing popularity. Janney Capital Markets notes that Sportscan data showed a 38.7% increase in sales between February and early May and a 35.9% increase for the weekend May 11. Additionally, new versions of the popular Kevin Durant basketball sneaker line (retails for $180) are set to hit the market in the coming months: the latest KDV launches on June 15th, and the KDVI "Meteorology", has received an August 3rd launch date.
Note: Foot Locker will report its first quarter fiscal 2013 earnings on Friday, May 24.
2. L Brands, Inc. (LTD): Operates as a retailer of women's intimate and other apparel, beauty and personal care products, and accessories in the United States and Canada.
Market cap at $14.98B, most recent closing price at $51.81.
Net institutional sales in the current quarter at -102.9M shares, which represents about 44.83% of the company's float of 229.53M shares. The 2 top holders of the stock are Janus Capital Management, LLC and Primecap Management Company.
MRQ net profit margin at 10.66% vs. 10.24% y/y. MRQ sales/assets at 0.641 vs. 0.575 y/y. MRQ assets/equity at -5.93 vs. 44.584 y/y.
Wall Street Cheat Street provides additional indications of increasingly negative outlook for L Brands: over the last three months, analysts' estimates for first quarter fiscal 2013 earnings have fallen from a profit of $0.56 to $0.53. L Brands' April sales suffered due to Victoria's Secret lackluster performance, and the stock fell by 1.7% after the numbers were released. Victoria's Secret posted a 2% increase in same-store sales, missing the 4.8% consensus estimate.
The brand's decline over the second half of the quarter will have a continued negative impact on L Brands' earnings. Marketwatch writes that while diminished mall traffic and prolonged cold weather contributed to Victoria's Secret's poor performance, disappointing sales of its newest bras had the biggest impact. The Motley Fool notes that Victoria's Secret faces increased pressure from American Eagle's Aerie line, which saw a 6% increase in same-store sales during 2012.
However, as noted by Trefis, the company's Bath & Body Works brand continues to deliver a solid performance. The body care and fragrance brand was affected by low in-store traffic, but still saw a 4% increase in same-store sales. At the end of fourth quarter fiscal 2012, Bath & Body Works' comps increased by 7% in comparison to 3% during the same period in 2011. CEO Nicholas Coe stated that new additions to the company's Signature Collection line, soap and sanitizer offerings, and home fragrance products drove the growth. Investors should note the company launched two new Signature Collection fragrances during the first quarter: Forever Red around Valentine's Day and Beautiful Day in March (near Easter). Also worth mentioning: Wall Street Cheat Street mentions that L Brands posted a positive earnings surprise of 1.2%.
Note: L Brands will report its first quarter fiscal 2013 earnings after the market closes on Wednesday, May 22.
*Accounting data sourced from Google Finance. All other data sourced from Finviz.
Disclosure: I have no positions in any stocks mentioned, and no plans to initiate any positions within the next 72 hours.
Business relationship disclosure: Business relationship disclosure: Kapitall is a team of analysts. This article was written by Mary-Lynn Cesar, one of our writers. We did not receive compensation for this article (other than from Seeking Alpha), and we have no business relationship with any company whose stock is mentioned in this article.