When you know a relationship with a woman (or a guy) is going to do nothing but get worse quickly, most sensible people will kick her/him to the curb. This means you will end the relationship before you go through the truly painful experiences that a bad relationship brings. My radar is saying that Lululemon (NASDAQ:LULU) will soon bring that same kind of pain to investors if they do not kick LULU to the curb.
Lululemon is a designer, manufacturer, and distributor of athletic apparel for women, men, and female youth (don't say teens or girls). It operates in the US, Canada, Australia, and New Zealand. It plans to expand to many other countries in 2013, which could be an expensive problem in itself. Its offerings are generally chic. Its models are attractive, but seem to be chosen to be a bit less than perfect. In other words, they are chosen so that buyers can identify easily with them. This is astute advertising. With relatively few stores, Lululemon has room to grow. How can there be anything wrong with this company?
One answer is that its goods are expensive. In a quick glance through its online catalog, I saw more than one men's T-shirt priced at $78.00. I saw a polo shirt priced at $98.00. For most normal people a T-shirt is a $10 item at most. If you stretch things, you might go to $20-$30 for something stylish. By comparison, Nike (NYSE:NKE), a much bigger competitor, had an expensive Tiger Woods (they have to pay his salary somehow) labeled polo or two in the $100 range; but the bulk of NIKE's polos seemed to be in the $60-$80 price range. This means that LULU is a more expensive version of NIKE athletic wear, but it does not have the superstar name recognition. It only has Lululemon "chic"-ness.
When you can buy a good, reasonably stylish, wicking polo at Wal-Mart (NYSE:WMT) for approximately $15, you can really appreciate how big the markup is on items such as polos for Lululemon and Nike. If you like to get brand names as opposed to Wal-Mart brands, you can go to Burlington Coat Factory, where they often have older, but still high quality, brands on sale for a quarter or a third of their store brand asking prices. In other words, you can get a Nike/Lululemon equivalent polo shirt for one third or one quarter the price. Some of these are equally or perhaps even more stylish than what you might find at a Nike or a Lululemon store.
Without discounts, there are also mid-range stores such as Kohl's (NYSE:KSS). These present much lower prices than Nike or Lululemon, especially during sales, on quality, stylish clothing. In a tough economic environment, which the US will continue to be in until some time in 2015 (at least according to the Fed), many shoppers will have time to discover these far better values to be found at such stores. A significant percentage of buyers will migrate to buying their clothes at these other stores. They may not migrate back after the hard economic times are over.
Another factor is what I call brand aging. Often, expensive "fad" brands last only a few years. Yes, most of them produce high quality clothes. However, huge numbers of manufacturers actually do this. What brings buyers in is the "chicness" or style of the clothes. However, as anyone who follows the garment trade can tell you, styles change. In fact they are changed deliberately, so people will have to buy the next "new style". The same is generally true for athletic wear. Thus, athletic wear companies tend to have bright, but short lives. Does anyone remember L.A. Gear? It was once the hottest athletic shoe maker in the US. Is that company still doing well? No, it is not! It went bankrupt.
Of course, there are always long term survivors or even long term thrivers such as Nike. However, these manage to stay stylish (or in demand) by hitching their wagons to current athletic stars, who pump their products. Nike has signed up such athletic stars as LeBron James and Tiger Woods among a long list of others. These mega-stars are the idols of virtually all athletes. People buy Nike to be like Tiger Woods. They hope that some of his mystique will rub off on them, even if it does not necessarily make them play better golf. Lululemon does not have this; and really what mega-stars exist to pump yoga clothing? That is a problem in itself. Lululemon will most likely fall into the shooting star category. It will die a quick death.
LULU could (and I am sure it will) grow through expansion. However, that strategy has the unfortunate effect of making "chic" clothes decidedly less "chic". In other words, if everyone else owns the same clothes, the "status" of owning the "chicest" clothes is diminished by the growing commonness of the clothes. Hence, the growth through expansion works against a company such as LULU, although it temporarily does grow sales. As LULU clothes become more common, the trendsetters are less inclined to buy them. They move on to a "new" style in good fashion industry tradition. When this happens the Lululemon stores will become more empty. Nothing scares trend following buyers away faster than an empty store. That tells potential buyers that the products are no longer trendy.
Now let's look at the more factual data. LULU grew revenue year over year from $371.5 million in Q4 of 2011 to $485.5 million in Q4 2012 (+30.7%). 10% of the 30.7% growth was from same store sales growth. This was a considerable slowdown in same store sales growth from 2011. The rest was from the addition of 37 new corporate owned stores and a $24 million increase in "direct to customer" sales. Of course, some of this increase was slightly misleading. LULU benefited by $26.2 million from the additional 53rd sales week in FY2012. LULU ended Q4 2012 with 211 total stores versus 174 a year earlier. Net income for Q4 2012 was $109.4 million ($0.75 per diluted share) versus $73.5 million ($0.51 per diluted share) in Q4 2011.
Inventory at the end of Q4 2012 was $155.2 million. This was 49.1% higher than the year ago quarter. Part of this was due to higher winter carryover product in Q4 2012 versus the lower carryover from the relatively stronger holiday sales in Q4 2011. This by itself is a bit worrisome. Sales were not up nearly enough to justify this big an increase in inventories. Plus, same store sales growth is only expected to be in the high single digits in 2013. High inventories could be a problem.
After this LULU discovered the black Luon problem with some of its sheer pants. Specifically, the black Luon sheer pants became see through when a woman bent over. The company quickly recalled these. However, it made a few miscues in doing this. Originally it required customers to demonstrate the see through quality to the manager of the store that had sold them. I am sure many women felt insulted by the demonstration requirement, especially if the store manager was a man. LULU quickly did away with this requirement, but some damage was done. On top of that the product (and related products by association) suffered from essentially being declared pornographic. Many women would be put off by this. They might not ever buy the product again, even if it was no longer see through. These black Luon bottoms amounted to 17% of all LULU's bottoms.
When a finger is pointed at a clothing item as being too revealing, it will not quickly recover from public declaim. This is especially true when the clothing item is undeniably revealing even if it is not see-through. This kind of association has permanently hurt LULU's appeal for a significant portion of its clientele. I am not sure LULU has realized this yet. Investors should. Women wearing LULU clothing may now be worried about being considered morally inappropriate.
Even without fully realizing the damage, LULU's management has forecast that gross margins will fall from the 55% range in 2012 to the 48% to 49% range for 2013. Q1 2013 EPS are expected to be hurt by $0.11 to $0.12 per share; and FY2013 results are expected to be hurt by $0.25 to $0.27 per share. Revenue for Q1 2013 is expected to be in the $333 million to $343 million range. The prior guidance had been in the $350 million to $355 million range. LULU now expects FY2013 EPS to be in the range of $1.95 to $1.99 per share. All of this lowering of guidance kept the stock in the doldrums through Q1 of 2013.
Only since the beginning of April 2013 has the stock begun to climb. During the last seven to eight weeks the stock has risen from roughly $62 per share to approximately $81 per share (about 31%). There does not appear to be a good fundamental justification for this. LULU rather seems to be one of the highly shorted laggards that have been pushed up by the HFT/momentum traders as the market has risen rapidly in recent weeks. The 20.20% short interest as a percentage of the float tells investors that this is likely a false move. It is likely a short squeeze in a rapidly rising overall market. Normally such moves are not lasting.
LULU had a previous five years EPS growth per annum of 56.46%. It has a next five years EPS growth forecast per annum of only 23.20%. This is still good growth; but as with all forecasts, it is uncertain. It is also a significant slowdown in growth. It does not make one believe that LULU's P/E of 42.41 or its FPE of 30.53 are justified. This is more true now that LULU is planning to expand more internationally. One critical store will open in London this year. It is unclear that it will do well in this extremely tough European economic environment. A bad start in any area could leave the company with a reputation as being undesirable. This is a big problem with opening new stores in a recessionary environment. This is just another higher than normal hurdle that is being put in LULU's path.
In sum, LULU's growth statistics are clearly in decline. Without great growth, it cannot support its current multiples. Further, the company is now facing the stigma of significant public declaim. This is likely to hurt sales further. The recall and associated actions will increase expenses for FY2013. The opening of the targeted 43 new corporate stores will be an increase in expenses; but how else can LULU begin to try to keep growth rapid? This all seems doomed to demonstrate disappointing sales and earnings.
With the world economy slowing, Canadian stores seem likely to be especially adversely affected. Canada is a commodities driven economy, and commodities prices historically go down in a slowing global economy. The IMF recently decreased its global economic forecast for 2013 to 3.3% GDP growth from 3.5% growth, and this may be lowered further as the year goes on. France recently officially entered a recession. China recently reported lower than expected GDP growth (+7.7% versus an expected 8.0%). Canada could easily suffer a commodities price shock in 2013. The same could be said for the heavily commodities dependent economy of Australia. A significant portion of LULU's stores are in Canada. This could turn out to be a significant factor in LULU's sales. Soros believes in a commodity price fall in 2013 so strongly that he is shorting Australian dollars. Investors should pay attention to this.
Further, LULU is technically far overbought. It is due for a pullback. If the overall market, which is also far overbought, pulls back at the same time, LULU with a beta of 1.53 may fall dramatically. Growth stocks are normally hit very hard in such situations. I further point out that US Retail Sales were -0.4% year over year in March 2013 and US Retail Sales ex autos were -0.1% year over year in April 2013. This is a very negative trend for clothing retailers. People can often do without as many new clothes for short periods of time (a year or two). With all its other negatives this year, this may kill US growth at LULU. Even if you only want to sell due to the likely overall market pullback, now is probably a good time to do so.
The two year chart of LULU provides some technical direction for this trade.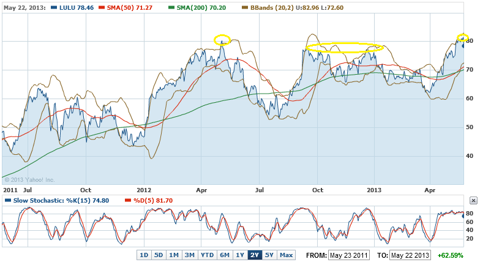 The slow stochastic sub chart shows that LULU is overbought. The main chart shows that LULU is near its upper Bollinger Band (overbought). The 50-day SMA and the 200-day SMA show that LULU has been in a very weak uptrend. A pullback in the overall market of 10%-15% may change this trend into a downtrend. The triple top formation showing in the chart (yellow circles) is technically very negative for LULU. Often such a formation presages a large drop in a stock's price. With all of its negatives, there does not seem to be an overriding reason to stay with this stock in this situation. Those who have owned it have made good profits; but now it is time to reap those profits before most or all of them disappear.
We could be seeing a temporary lull in the stock's performance or we could be seeing a permanent end to the popularity of LULU's products. It is not smart investing to risk a possibly huge downward move. It is time to sell. If you love the company's products and the stock, you can always get back in later. Likely you will be able to get in again for a much lower price. Kick LULU to the curb for now (and possibly permanently) to avoid the pain of a bad relationship. If you are an aggressive trader consider shorting LULU. I note both institutions and insiders have been selling the stock recently. If they are at the very least taking profits, you should consider doing the same.
NOTE: Some of the above fundamental financial data is from Yahoo Finance.
Good Luck Trading.
Disclosure: I have no positions in any stocks mentioned, but may initiate a long position in LULU over the next 72 hours. I wrote this article myself, and it expresses my own opinions. I am not receiving compensation for it (other than from Seeking Alpha). I have no business relationship with any company whose stock is mentioned in this article.