Just a few weeks ago, Wayne Swan announced his 6th (and last) budget for Australia, ultimately showing signs that the lucky country was indeed very sick.
Furthermore, the cure was exactly what other countries were trying. Borrow, spend and then spend more.
To me, this sets off alarm bells for what could be described as a truly bearish budget. Let's take a look at the numbers.
The numbers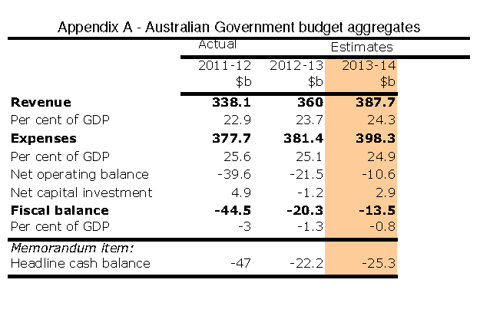 The first thing you will notice is that the budget is in deficit -20.3B for FY12-13 and FY 13-14 looks like much of the same (-13.5B). Despite the commodity boom, Australia has managed to sustain a deficit. This will only grow as the country's tax revenue from commodity sales decreases.
In order to 'jump start, the economy. The government has both lowered interest rates to a new decade low of 2.75% and increased spending. Those who follow Australian politics will shake their heads at the increase of $9.8B in spending on schools. That's a very similar story. Japan and the U.S. read from the same book.
Unlike the EU or the U.S., Australia does not have a collective central bank of last resorts. When the U.S. is in trouble, the Fed still manages to borrow to spend. The ECB backs up most member states with backstops.
If a loss of confidence were to occur on the Australia government. Australia will not have the ability to defend its currency, leading to a devaluation. Will the IMF have to bail out Australia?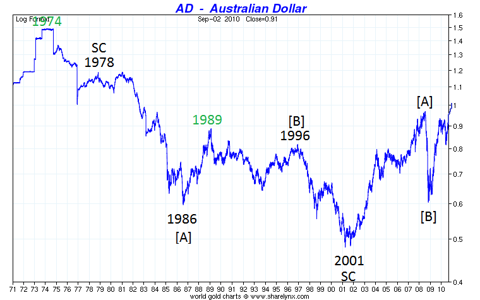 Based on the last down turn in 2008 and the above chart. The AUD looks like it will overshoot to the downside toward 65 cents before normalizing around 70 cents. This does seem to be a muti-year long-term ratio for non-commodity boom years.
I wrote a piece on Australian real estate last year.
As projected, the second scenario has occurred where interest rates have dropped and the AUD has weakened. Those who followed that recommendation would be quite happy now. In reaction, Australian real estate prices have risen in AUD terms with the lower borrowing cost.
I think the AUD has begun its long slippery road down. There will be some reversals but going short would still be a profitable trade.
FX accounts are the cleaner way to gain exposure here.
For those who prefer equity, several ETFs have exposure to this trade. Short (NYSEARCA:FXA), or buy (NYSEARCA:CROC), the short ETF by Proshares.
Disclosure: I have no positions in any stocks mentioned, and no plans to initiate any positions within the next 72 hours. I wrote this article myself, and it expresses my own opinions. I am not receiving compensation for it (other than from Seeking Alpha). I have no business relationship with any company whose stock is mentioned in this article.