The consumption of media and other forms of content is changing rapidly in today's world, primarily driven by the proliferation of smartphones and tablets. In addition to these mobile device related changes, personal computer, or PC, hours spent viewing videos and other digital content is also increasing at a very high rate.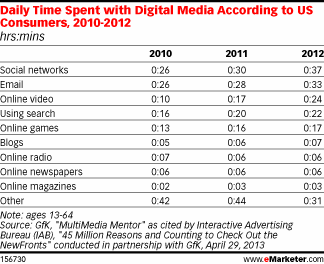 These shifts create an interesting dynamic for the future of advertising across multiple channels. While mobile represents a newer avenue for advertising, the reliance on consoles, smart TVs, and Internet connections for streaming media and content directly to households and businesses provides a sustained shift of advertising to video-based platforms.
Top U.S. Online Video Ad Properties Ranked by Video Ads* Viewed
December 2012
Total U.S. - Home and Work Locations
Ad Videos Only (Content Videos Not Included)
Source: comScore Video Metrix

Property

Video Ads (000)

Total Ad Minutes (MM)

Frequency (Ads per Viewer)

% Reach Total U.S. Population

Total Internet : Total Audience

11,322,657

4,135

69.9

52.6

Google Sites

1,998,861

155

20.0

32.4

BrightRoll Video Network**

1,826,453

966

13.8

43.1

LiveRail.com†

1,797,940

813

18.2

32.1

Adap.TV†

1,541,695

741

11.7

42.9

Hulu

1,454,115

584

64.9

7.3

Specific Media**

988,399

419

7.7

41.6

TubeMogul Video Ad Platform†

783,934

297

8.4

30.3

Tremor Video**

743,969

361

8.6

28.0

Auditude, Inc.**

736,787

153

12.8

18.7

Videology**

632,977

337

7.5

27.3
*Video ads include streaming-video advertising only and do not include other types of video monetization, such as overlays, branded players, matching banner ads, etc.
**Indicates video ad network
†Indicates video ad exchange/DSP/SSP
U.S. companies such as Google, Inc. (NASDAQ:GOOG) through YouTube, and Hulu are two examples of successful Internet television network, or Internet TV, business models taking advantage of these trends through user-generated content and licensed content. Netflix, Inc., (NASDAQ:NFLX) has also developed significant growth in multichannel Internet TV streaming services via licensed content which has in turn led to significant membership growth. The company, however, has not yet developed an advertising segment within this business model.
Youku Tudou Inc. (NYSE:YOKU), while a Chinese-focused business, provides a unique opportunity to gain exposure to a diversified Internet TV company including products and services of all three U.S. based companies above. The remainder of this article will consider video advertising trends in China; Youku Tudou's products, competitive landscape, risks, key strengths of its business, and peer fundamental analysis in order to form a conclusion based on the company's current value and future potential.
China & Video Advertising Growth
China is experiencing significant growth within online video according to iResearch. Since 2009, the compound annual growth rate, or CAGR, for online video has grown 73% per year and is estimated to grow over 50% per year through 2016. Based on Youku Tudou's 2012 revenue results (1.8 billion yuan or $288 million), the company has an estimated 19% share of this market.
iResearch has multiple publications that anticipate video advertising growth to remain significant as companies transition to more advertising segments, and as major Chinese industries look to advertise on video websites. Since 2008, video websites have grown into the second highest category of advertising revenue as of 2012.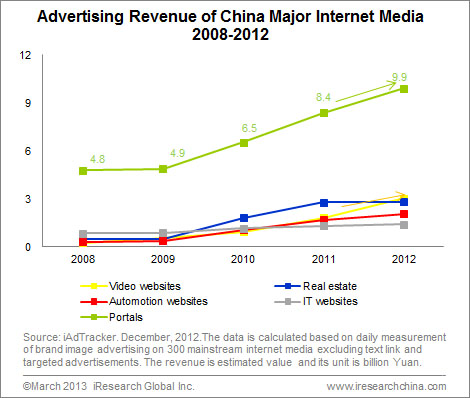 On the mobile front in China, according to IDC research published by China Internet Watch, significant growth in shipments for smartphones and tablet PCs will continue to drive mobile user activity. Additionally, a recent Forbes article on mobile advertising stated the following:
"Chinese consumers spend the least time with traditional media, which accounts for just 35% of their media time. Game consoles, online PC, and online mobile account for the rest of the 9.43 media hours they consume each day."
Youku Tudou Products
Youku Tudou's products and services include online video content, online search and discovery, Youku Tudou community, and other products and services. Within online video content, products include professionally produced content, guided user-generated content, and in-house productions. Within other products and services, key products include Youku premium and mobile video services.
Within the professionally produced content products and as of December 2012, Youku licensed more than 4,500 movie titles, 2,700 television serial drama titles, and over 900 variety shows. Youku Tudou has established long-term relationships with 1,800 professional media content owners. Youku Tudou recently added exclusive deals including British TV drama and popular shows such as Top Gear, Sherlock, and Downtown Abbey. Youku Tudou is also able to sub-license its licensed content to other third-party video websites. License agreements range between 6 months to 10 years, which provides a longer maximum contract term than a company like Netflix for instance which typically has a maximum contract term of 5 years.
Since its beta launch in December 2010, Youku Premium has processed more than 4.5 million paid orders, which include both pay-per-view and subscription orders. Additionally, Youku Premium has agreements with CAV Warner Home Entertainment, Twentieth Century Fox Home Entertainment, China Central Television, NBCUniversal International Television, and Sony Pictures Television for licensed content.
User-generated content allow Internet users to upload, watch, and share user-generated video clips, much like Google's YouTube. The Youku platform sponsors competitions based on certain themes such as current events or timely topics. Some videos attract large audiences and are broadcast by major television stations. The Tudou platform in cooperation with the China Film Group Corporation, or CFGC, provides the annual Tudou Video Festival, which has become a signature event in the online video industry in China. This year's festival attracted over 18,000 video submissions from filmmakers, actors and actresses and animators and amateur videographers. Over 230 million videos viewed have been generated from this year's festival.
Both Youku and Tudou have in-house production platforms. Youku Original has released more than 20 productions, with many getting ranked in the "Top 20 Most-Viewed" and "Top 10 Most-Viewed" lists. Both platforms have had productions aired on national satellite television during prime time. In addition, Youku Tudou in-house productions have been recognized at the Cannes Film Festival and have contributed more than 100 million video views in first year showings.
Through Youku Tudou's product offerings, it is clear that the company provides social interaction similar to YouTube as a user-focused video platform; and that the company provides premium licensed content similar to Hulu and Netflix.
Competitive Landscape
Youku Tudou lists the following competitors in its annual filing based on users and advertisers; Baidu Inc.'s (NASDAQ:BIDU) iQiyi.com, SINA Corporation (NASDAQ:SINA), Sohu.com Inc. (NASDAQ:SOHU), and Tencent Holdings Ltd. (OTCPK:TCEHY). Baidu is Youku Tudou's primary online and mobile video competitor, while the other companies represent Internet portals that provide online and mobile video products, as well as compete for advertiser contracts. For this reason, it makes the most sense to focus on Baidu; other Chinese companies above will be included in the peer fundamental analysis.
Seeking Alpha's Investometrica provided an article titled, "Baidu Becomes China's Largest Online Video Platform: A Long-Term Catalyst" claiming that Baidu's recent acquisition of PPS TV has propelled the company to be China's largest online video platform. While I disagree with this claim, it is clear that Baidu's actions were necessary to compete with the newly formed Youku Tudou. Additionally, the move by Baidu confirms the company's expectations of growth in video platforms consistent with iResearch data estimates.
The above article link provides information regarding iQiyi and PPS including 130 million devices running PPS mobile video applications and iQiyi claiming 200 million monthly mobile users. This is compared to Youku Tudou's mobile daily video views of 150 million, now 170 million as of the 2013 first quarter, and 100 million monthly mobile users. Youku Tudou has disclosed 80 million mobile video applications at year-end 2012, however, this was prior to 50% quarterly growth in mobile daily activity. Additionally, there is no disclosure of PPS daily or monthly mobile activity.
According to Alexa data, Youku and Tudou are ranked as the number 14 and 29 most popular sites in China while iQiyi and PPS are ranked as the number 45 and 90 most popular sites in China. Based on trailing 3-month average time spent on site traffic statistics, Youku is at 6:53 minutes with a 3% uptrend, Tudou is at 4:58 minutes with a 15% downtrend, iQiyi is at 4:04 minutes with a 1% uptrend, and PPS is at 3:10 minutes with a 6% uptrend. YouTube is at just over 20 minutes with a 5% uptrend for comparison.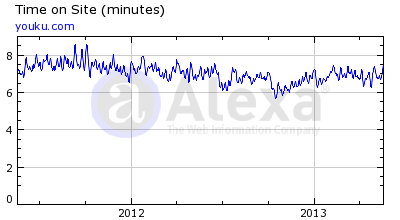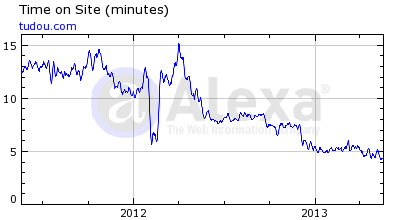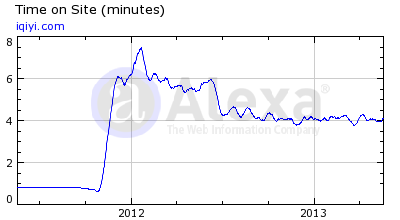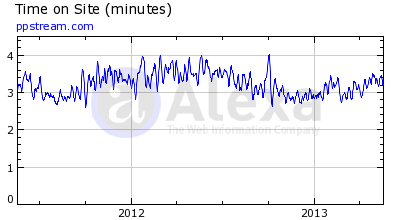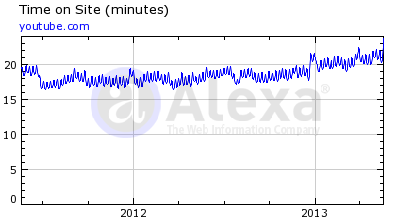 Based on 2012 estimates, Youku Tudou has over 260 million online monthly unique visitors. According to Baidu's 2012 20-F the company does not disclose its number of online monthly unique visitors but rather states the following:
"According to iResearch, iQiyi was ranked as the No. 2 online video platform in China in terms of average time spent per user per day and No. 3 in terms of total monthly time spent in December 2012."
Baidu did not mention much regarding its video segment during their 2013 first quarter earnings call, other than that:
"It is burning money, that there is long-term profitable potential, and that they will continue to support the video business."
Without knowing iQiyi's online monthly user numbers or its daily video views, it is premature to assume this acquisition makes Baidu the clear leader in online video platforms. What is clear is that Youku Tudou is the leader in PC online video and the newly combined iQiyi and PPS is the leader in mobile video, contrary to Youku Tudou's claims.
Additionally, the purchase price for PPS, $370 million, should be scrutinized, but will probably not be publicly disclosed until Baidu's 2013 20-F filing. We should assume that a significant amount of the acquisition could be goodwill related yielding a much lower equity value in PPS. Further review of receivables and current assets and liabilities to estimate PPS revenues and to consider content licensing costs and commitments needs to be evaluated. Investors should perform a cross comparison against the Tudou deal to gain more perspective.
Tudou Acquisition
| | | | | | |
| --- | --- | --- | --- | --- | --- |
| | | RMB | | US$ | |
| Cash and cash equivalents | | 404,444 | | 64,918 | |
| Restricted cash | | 38,069 | | 6,110 | |
| Accounts receivable | | 274,412 | | 44,046 | |
| Property, plant and equipment | | 93,870 | | 15,067 | |
| Intangible assets | | 1,083,230 | | 173,870 | |
| Other assets | | 47,420 | | 7,613 | |
| Short-term loan | | (31,544) | | (5,063) | |
| Other current liabilities | | (445,171) | | (71,455) | |
| Deferred tax liabilities | | (235,582) | | (37,814) | |
| Goodwill | | 4,181,882 | | 671,238 | |
| Total consideration | | 5,411,030 | | 868,530 | |
Other key indicators to consider between both Youku Tudou and Baidu's iQiyi include commitments and contingency notes, content costs, and accrued content acquisition costs. Under both company commitments and contingency notes, each discloses minimum payments under non-cancelable licensed copyrights related to video business. At year-end 2012, Youku Tudou had over $69 million (an increase of roughly $10 million from 2011) and Baidu had over $48 million (first time reported).
Youku Tudou Non-Cancelable Licensed Copyrights
| | | | | | |
| --- | --- | --- | --- | --- | --- |
| | | RMB | | US$ | |
| 2013 | | 312,582 | | 50,173 | |
| 2014 | | 118,480 | | 19,017 | |
| 2015 and thereafter | | - | | - | |
| | | | | | |
| | | 431,062 | | 69,190 | |
Baidu Non-Cancelable Licensed Copyrights
RMB

US$

(In thousands)

2013

232,233

37,276

2014

68,735

11,033

2015 and thereafter

-

-

300,968

48,309
Comparatively for 2012, Youku Tudou's content costs were roughly $118 million and Baidu's content costs were roughly $35 million. In addition to content costs, Baidu also had an accrued content acquisition cost of roughly $38 million. These numbers clearly tell us that Youku Tudou is spending much more for content than Baidu, prior to the PPS acquisition.
Youku Tudou Costs of Revenues - Content Costs
For the years ended December 31,

2010

2011

2012

2012

RMB

RMB

RMB

US$

VAT and business tax

38,472

90,215

169,283

27,172

Bandwidth costs

191,679

324,682

524,623

84,208

Depreciation of servers and other equipment

37,958

39,052

68,569

11,006

Content costs

82,721

243,388

737,061

118,306

350,830

697,337

1,499,536

240,692
Baidu Cost of Revenues - Content Costs
For the Years Ended December 31,

2010

2011

2012

RMB

%

RMB

%

RMB

US$

%

(In thousands, except percentages)

Total revenues

7,915,074

100.0

14,500,786

100.0

22,306,026

3,580,364

100.0

Cost of revenues:

Sales tax and surcharges

(504,846)

(6.4)

(1,024,858)

(7.1)

(1,572,420)

(252,391)

(7.0)

Traffic acquisition costs

(758,078)

(9.6)

(1,155,546)

(8.0)

(1,929,966)

(309,781)

(8.7)

Bandwidth costs

(310,540)

(3.9)

(626,444)

(4.3)

(1,069,306)

(171,636)

(4.8)

Depreciation of servers and other equipment

(331,685)

(4.2)

(657,845)

(4.5)

(1,062,060)

(170,472)

(4.8)

)

Operational costs

(208,035)

(2.6)

(358,169)

(2.5)

(589,555)

(94,630)

(2.6)

Content costs

(29,802)

(0.4)

(66,494)

(0.4)

(215,133)

(34,531)

(1.0)

Share-based compensation expenses

(6,302)

(0.1)

(7,527)

(0.1)

(10,105)

(1,622)

(0.0)

Total cost of revenues

(2,149,288)

(27.2)

(3,896,883)

(26.9)

(6,448,545)

(1,035,063)

(28.9)
Baidu Accounts Payable and Accrued Liabilities - Content Acquisition Costs
As of December 31,

2011

2012

2012

RMB

RMB

US$

(In thousands)

Accrued payroll and welfare

261,273

407,681

65,437

Accrued operating expenses

547,176

908,392

145,807

Tax payable

452,441

425,320

68,268

Interest payable

6,655

32,273

5,180

Distributors' and customers' deposits

61,589

78,131

12,541

Purchase of fixed assets

276,731

429,520

68,943

Traffic acquisition costs

208,980

366,993

58,906

Bandwidth costs

77,061

180,053

28,900

Content acquisition costs

36,643

236,232

37,918

Professional expenses

39,803

64,647

10,377

Deposits on online payment platform

37,067

132,320

21,239

Payable for business acquisitions

439,488

318,050

51,051

Others

100,538

227,224

36,472

2,545,445

3,806,836

611,039
Without an accurate way to compare revenues against Baidu's iQiyi, we can only assume that Youku Tudou's revenues are higher based on a correlation of content costs as well as traffic statistics. For both companies it is clear that content costs are increasing significantly. Competition amongst video platforms necessitates this, however, both companies have stated that they intend to beef up in-house produced content.
Risks
Youku Tudou like many Chinese companies trading as American Depository Receipts, or ADRs, maintains many risks which are disclosed in their annual filings. While it is important to consider all risks that any company discloses, the following risks should be strongly considered:
"We have incurred net losses since our inception and may continue to incur losses in the future."

"Youku Tudou is a relatively young company facing risks and uncertainties, and our limited operating history makes it difficult to evaluate our business and prospects."

"We may be unable to successfully integrate the operations of combined or acquired businesses and may not achieve the anticipated operating results in connection with these acquisitions or business combinations."

"We operate in a highly competitive market and we may not be able to compete successfully against our competitors."
In addition to these regular disclosed risks, there are sections for risks related to Youku Tudou's corporate structure, doing business in China, and ADRs. For example, within the corporate structure risks, there are multiple material risks disclosed, namely:
"If the PRC government finds that the agreements that establish the structure for operating our businesses in China do not comply with PRC governmental restrictions on foreign investment in Internet business, or if these regulations or the interpretation of existing regulations change in the future, we could be subject to severe penalties or be forced to relinquish our interests in those operations."

"Any failure by our consolidated affiliated entities or their respective shareholders to perform their obligations under our contractual arrangements with them may have a material adverse effect on our business."

"The shareholders of our consolidated affiliated entities may have potential conflicts of interest with us, which may materially and adversely affect our business."

"We may need to rely principally on dividends and other distributions on equity paid by our PRC and Hong Kong subsidiaries to fund any cash and financing requirements we may have. Any limitation on the ability of our PRC and Hong Kong subsidiaries to pay dividends to us could have a material adverse effect on our ability to conduct our business."
Section C Organizational Structure within the company's 20-F provides the following table:
| | | | | | | |
| --- | --- | --- | --- | --- | --- | --- |
| Name | | Place of Formation | | Relationship | | Ownership Structure |
| 1Verge Internet Technology (Beijing) Co., Ltd. | | PRC | | Wholly owned subsidiary | | 100% owned by Youku Tudou Inc. |
| Jet Brilliant Limited | | Hong Kong | | Wholly owned subsidiary | | 100% owned by Youku Tudou Inc. |
| Beijing Jet Brilliant Advertising Co., Ltd. | | PRC | | Wholly owned subsidiary | | 100% owned by Jet Brilliant Limited |
| Youku Video (Xi'an) Media Technology Co., Ltd. | | PRC | | Wholly owned subsidiary | | 100% owned by Jet Brilliant Limited |
| Trade Lead Investments Ltd. | | British Virgin Islands | | Wholly owned subsidiary | | 100% owned by Youku Tudou Inc. |
| Tudou Holdings Limited | | Cayman | | Wholly owned subsidiary | | 100% owned by Youku Tudou Inc. |
| StarCloud Media Co., Limited | | British Virgin Islands | | Wholly owned subsidiary | | 100% owned by Tudou Holdings Limited |
| Reshuffle Technology (Shanghai) Co., Ltd. | | PRC | | Wholly owned subsidiary | | 100% indirectly owned by StarCloud Media Co., Limited |
| Chuanxian Technology (Shanghai) Co., Ltd. | | PRC | | Wholly owned subsidiary | | 100% indirectly owned by StarCloud Media Co., Limited |
| 1Verge Information Technology (Beijing) Co., Ltd. | | PRC | | Consolidated affiliated entity | | 80% owned by Mr. Dele Liu, our director and president, and 20% owned by Ms. Qiong Qin, the wife of our founder, Mr. Victor Koo |
| Zhejiang Dongyang Tianshi Media Ltd. | | PRC | | Consolidated affiliated entity | | 80% owned by Wen Lu and 20% owned by Qiong Hu, both of whom are our employees |
| Quan Toodou Network Science and Technology Co., Ltd. | | PRC | | Consolidated affiliated entity | | 66.7% owned by Ms. Qiong Qin, 15.3% owned by Mr. Dele Liu, and 18% owned by Mr. Zhou Yu, our senior vice president |
| Shanghai Quan Toodou Cultural Communication Co., Ltd. | | PRC | | Consolidated affiliated entity | | 100% owned subsidiary of Quan Toodou Network Science and Technology Co., Ltd. |
As many investors already know, the People's Republic of China, or PRC, law limits foreign equity ownership of companies that provide Internet content and conduct advertising businesses. To comply with this Youku Tudou operates through a series of contractual arrangements, through their subsidiaries 1Verge Internet and Reshuffle Technology and with consolidated affiliate entities and their respective shareholders.
The primary point within these agreements is that both 1 Verge Internet Technology and Reshuffle Technology maintain significant rights controlling 1 Verge Information Technology, Zhejiang Dongyang Tianshi, Quan Toodou Network, and Shanghai Quan Toodou. Investors should consider the structures of ownership as it involves direct and indirect owners. Youku Tudou's business operations could face significant implications if in the event certain management were to leave the company, or if disputes were to arise between owners.
Key Strengths
Per Youku Tudou's annual filing, and based on iResearch data, monthly unique visitors from home and office PC users amounted to roughly 260 million and 243 million for the Youku platform and Tudou platform respectively in December 2012.
Based on management's disclosures during the 2013 first quarter earnings conference call, mobile traffic increased 50% quarter-over-quarter to over 170 million daily video views. The company disclosed more than 100 million mobile active monthly users, and 70 minutes of average daily user time spent. Youku Tudou claims to be the number one mobile video platform based upon internal tracking data.
Youku Tudou provides a well-diversified Internet TV platform including two distinct and well recognized Chinese brands. Based on the first quarter call, management is continuing to build on the company's successful integration of the Tudou acquisition through a balanced approach by maintaining a strong amount of licensed content and by strengthening the company's position with further developed in-house production and user-generated content.
The company feels that this focus allows for a differentiated brand position and gains recognition from domestic brand advertisers allowing for long-term increases in clicks per thousand impressions, or CPM, rates. Scale of the two platforms increases reach in user base, video views, and user time spent; and customizable regional content to various advertising formats including brand sponsorship and product placement. The company added 109 new advertisers in the first quarter.
Mobile traffic is experiencing significant growth, and Youku Tudou's focus is to enhance opportunities for brand advertisers to reach wider and more targeted audiences through multiple channels. By ensuring both Youku and Tudou platforms feature products connected to the company's cloud, user history and video collections, readings, playlists, comments and subscriptions are able to be seamlessly viewed across mobile devices and PCs.
Through these steps, Youku Tudou is building upon its PC online video leadership to achieve further scale in mobile and provide greater benefits to advertisers.
Peer Fundamental Analysis
The table below provides a comparison between Youku Tudou, competitors, and other companies of interest. The information is based on stock prices as of May 20, 2013.
| | | | | | | | | |
| --- | --- | --- | --- | --- | --- | --- | --- | --- |
| Ticker | Stock Price | Market Cap | TTM P/E | Price/ Cash | A/R to CL | Debt/ Equity | EV/ Sales | P/B |
| YOKU | 19.96 | 3.3 B | N/A | 5.76 | 0.77 | 0.0% | 9.35 | 2.21 |
| BIDU | 100.49 | 35.1 B | 20.78 | 6.52 | 0.39 | 41.6% | 7.74 | 7.33 |
| TCEHY | 40.11 | 73.6 B | 33.93 | 15.13 | N/A | 22.8% | 8.73 | 9.78 |
| SINA | 61.57 | 4.1 B | 129.89 | 6.02 | 0.83 | 0.0% | 5.99 | 3.53 |
| SOHU | 67.57 | 2.6 B | 32.08 | 2.71 | 0.49 | 19.7% | 1.51 | 2.15 |
| QIHU | 44.19 | 5.4 B | 117.84 | 18.48 | 0.44 | 0.0% | 14.16 | 10.54 |
| SFUN | 26.00 | 2.1 B | 12.97 | 10.57 | 0.25 | 158.1% | 4.87 | 9.52 |
| RENN | 3.01 | 1.1 B | N/A | 1.33 | 0.14 | 0.0% | 1.16 | 0.99 |
| GOOG | 908.53 | 301.4 B | 27.18 | 6.02 | 0.79 | 10.0% | 4.84 | 3.99 |
| NFLX | 239.55 | 13.5 B | 587.13 | 13.11 | 0.92 | 86.0% | 3.48 | 16.51 |
Source: Information is based on Yahoo! Finance data. Typically a free cash flow assessment would be included, but due to lack of developed data it was not. Investors should consider cash generation of companies to price and sales accordingly.
Companies that have been added to the peer analysis include Qihoo 360 Technology Co. Ltd. (NYSE:QIHU), SouFun Holdings, Ltd. (NYSE:SFUN), and Renren Inc. (NYSE:RENN). It should be noted that the Chinese companies within this peer list should be further analyzed to consider the extent of advertising revenues that each company generates through its revenue segments.
Youku Tudou compares favorably against this group of peers with exceptions being the company's earnings and sales as they relate to the stock price and enterprise value. While a cash flow assessment was not included, the company has generated positive operating cash flow five out of the previous eight quarters, including the previous three consecutive quarters. Free cash flow is negative, however, due to the company's consistent investments in acquisition of intangible assets, which has been increasing as of late.
Based on Youku Tudou's most recent estimates, the company is trading at a discount to the majority of these peers. Analysts estimate earnings of $1.49/share for 2014, giving the company a forward P/E ratio of 13x earnings. For 2013, the company is estimated to lose ($2.34/share). This is quite a lofty expectation of an improvement in earnings over the next couple of years.
Catalysts & Things to Watch
Youku Tudou is still young; the company was created in 2005 and has already generated just under $300 million in revenue. We know that YouTube's revenues and operating metrics are not disclosed, and that speculation is rampant; $4 billion as of late for 2013. However, judging from YouTube's earlier days, the company was able to generate significant growth in a short period of time. There is still speculation as to whether YouTube is even profitable.
Advertising & Video Advertising
China's online advertising revenue continues to grow at a robust rate. Youku Tudou is the leading video platform for online monthly users and activity. This leadership is based on available licensed content as well as substantial in-house produced content and user-generated content. On the revenue side, analyst estimates assume that Youku Tudou will have 22% of the online video market in 2014. In 2012, the online video market represented roughly 12% of China's total online advertising.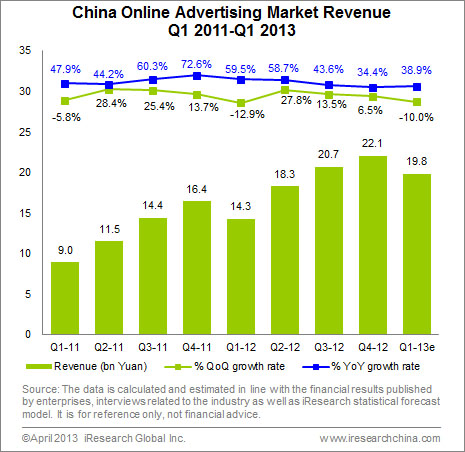 As mobile activity continues to change consumer habits, video platforms have an opportunity to provide brands with an advantage over other advertising mechanisms with respect to size of advertisements, direct connectedness with consumers, sponsorship, and product placement to drive consumer engagement. Youku Tudou will leverage its market leading position in online video to transition more aggressively to mobile.
Advertising Segments
In addition to the growth in overall online advertising, video advertising has been increasing comparatively to other advertising segments. Youku Tudou's business model supports multiple advertising streams including video, search, brand graphics, and rich media. Advertising is still in a transition phase from traditional mechanisms including television and print. China, like most of the world, will continue to experience a shift from traditional advertising to online and mobile. Video platforms provide an alternative to television and as Youku Tudou's activity increases across platforms, video advertising will compete for higher CPM rates over time. Youku Tudou is also developing multichannel synergies between television platforms providing added value.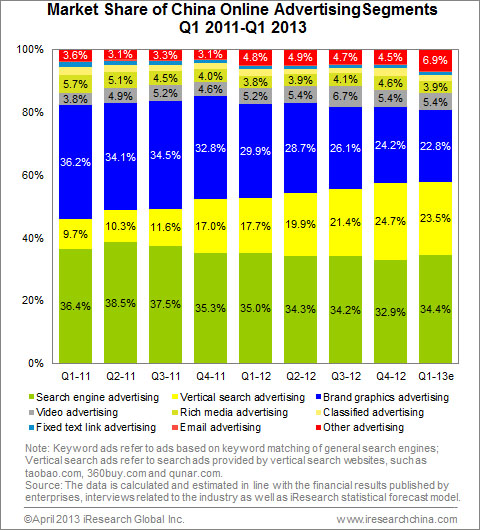 Peer Performance
Youku Tudou as a video platform is already competing against China's most established Internet media companies. Based on first quarter growth results, Youku Tudou finds itself in the bottom tier comparatively within this group. However, as mentioned above, Youku Tudou has significant scale potential based on its diverse product offerings and advertising opportunities. The integration of Tudou will be finalized this year and this should generate a clear focus for both platforms to implement the company's objectives. Youku Tudou's advertising revenue will pick up significantly throughout the remainder of the year.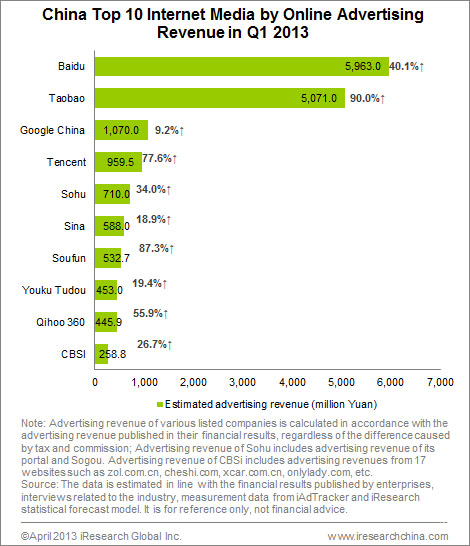 Global Potential
Youku Tudou as a social media site compares favorably against the top global and China-based sites. This is confirmation to both Youku and Tudou being leading video platform brands within China. Additionally, there are many Chinese users globally which provides Youku Tudou the ability to truly grow as a global Internet TV business. According to Alexa, Youku and Tudou rank as the number 69 and 174 most popular sites in the world.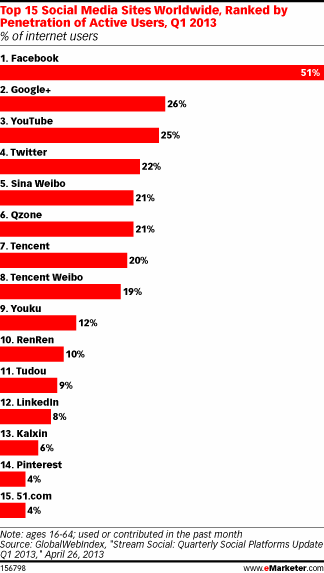 Profitability
The most significant driver for Youku Tudou's near-term price appreciation will be the company's ability to generate positive earnings. It is quite daunting to think that YouTube could generate $4 billion in revenue for the year and possibly not be profitable. Netflix has developed a business model based on streaming that is currently profitable; however, the company was able to transition from an earlier DVD-based model which served as a dependable established profitable segment to lessen the growing pains for the company's streaming transition.
A primary catalyst leading to positive earnings will most likely be Youku Tudou's continued ability to develop successful in-house produced content. Netflix has started down this road, and other Internet TV businesses are following suit. Based on Youku Tudou's subscription, pay-per-view, and advertising models, hit series and movies will have a big impact in driving revenues and improving margins. This will also further strengthen Youku Tudou's brand recognition. First quarter in-house content costs were roughly 17% of total content costs and we should expect a direct correlation in an increase in these costs and improved gross margins.
Youku Tudou has had substantial success with demand for their in-house content on their video platforms, and through national satellite television broadcasts within China. Youku Tudou's self-produced celebrity interview show has entered into its second season, and it was recently broadcast on major satellite TV stations, which has further extended the media attention already gained through the Internet. The company's self-produced web movie series, Hip-Hop Trail, generated more subscription revenue than the Oscar-winning movie Life Of Pi, which were both shown on paid service channels. The company has strong ties with major traditional content producers, which provides significant partnering opportunities as well as hiring potential to strengthen internal production teams.
Long-term, internally produced content will be the driver for any company looking to develop a sustainable and profitable Internet TV business model. Youku Tudou in its early stages has developed a substantially diversified Internet TV model and will likely achieve profitability much quicker than YouTube based on this. Positive earnings will most likely occur during the second half of next year. Investors should not be surprised to see a dramatic increase in Youku Tudou's stock price following an initial quarter of profitability. Profitability will be substantial as it will translate to positive free cash flow. Long-term, this will allow Youku Tudou to make strategic acquisitions and significantly expand its business.
Conclusion
Baidu can claim that they are the leading mobile video platform, however, Youku Tudou's multichannel focus will continue to increase its market share. If mobile growth for Youku Tudou continues robustly or even accelerates during the course of the year, the PPS acquisition's benefits may soon be eroded.
The following statement is a perception that the public may or may not share; Baidu as the Google of China is following suit to its U.S. based counterpart's success with YouTube. My opinion is that this is not the case but rather Baidu has been playing catch-up with Youku Tudou for some time now, and is following suit to Youku Tudou when it comes to video platforms in China.
The largest video platform in China should be defined by the company with the most active online and mobile users established through video views, daily and monthly unique users, and time spent. This should translate to the largest platform having higher revenue based on advertiser agreements and CPM rates. I don't think that Baidu will be giving us much to go on anytime soon, this is one area where they do emulate Google.
Youku Tudou as a potential investment is attractive near $20/share, as the company should see continued improvements with enterprise value/sales and growth in receivables to current liabilities. The company has no debt and maintains a strong cash position. Investors should continue to monitor developments within in-house produced content. In the event Youku Tudou announces additional in-house shows and programs, the reception and demand for these shows will be an indicator of future impacts to revenues and margins, as well as market share growth.
The stock price will continue to be volatile in the near-term. Impacts to the stock price will be related to China's economic growth moving forward, as well as the possible risks related to global economic growth. Additional acquisitions or moves made by competitors such as Baidu will also have an impact on the stock as they relate to video platforms. In the near-term it would not be uncommon for the stock price to fluctuate between $16 and $25 per share.
Disclaimer: This article should not be construed as investment advice. It is the opinion of the author. All investors should consult a professional financial advisor, broker, or representative before considering any investment decision.
Disclosure: I have no positions in any stocks mentioned, but may initiate a long position in YOKU over the next 72 hours. I wrote this article myself, and it expresses my own opinions. I am not receiving compensation for it (other than from Seeking Alpha). I have no business relationship with any company whose stock is mentioned in this article.