The philosopher George Santayana once famously remarked that those who do not remember the past are condemned to repeat it. Unfortunately, he didn't spell out any guidelines as to what was worth remembering and what would be better left in the dustbin of history.
When it comes to Yahoo (NASDAQ:YHOO), for example, what snippets of history are we supposed to remember? That Yahoo left GeoCities and Flickr to wither on the vine, or that Yahoo took a pass on snatching up Google (NASDAQ:GOOG), eBay (NASDAQ:EBAY), YouTube, and Facebook (NASDAQ:FB) for pennies on the dollar?

Tumblr
On Monday, Yahoo announced that it would acquire micro-blogging social media website Tumblr, in a $1.1 billion mostly-cash deal expected to close later this year. Tumblr's David Karp will stay on as CEO.
(Source: Twitter)
Yahoo estimates that the acquisition will increase its global audience by 50% and total traffic by 20%. Tumblr's community currently contains 109 million individual blogs and over 50 billion blog posts, and attracts over 300 million monthly unique visitors and 120,000 new users a day.
Social Network Growth Statistics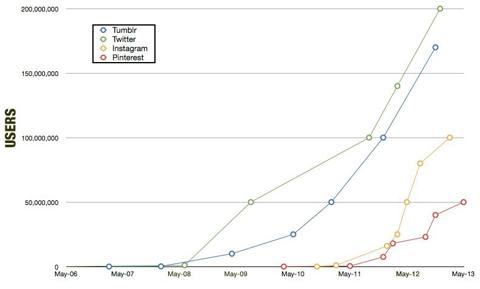 (Source: The Atlantic)
Critics of the deal - such as AllThingsD's Peter Kafka - argue that Tumblr's numbers aren't as impressive as its growth figures would have us believe, have argued that since Yahoo's strategy is to show targeted ads to relevant users on the user's timeline-style dashboard, the number of unique monthly users isn't relevant. Instead, investors should be looking at Tumblr's monthly active users. (MAUs)
Four things I'd like to point out:
1) AllThingsD was deliberately snubbed by Mayer at yesterday's announcement as a backhand to the Yahoo and/or Tumblr execs who leaked the deal to Kafka and Swisher.
Sorry, I cannot be more detailed, since I could only see it via Internet, because AllThingsD.com was not invited to the event by Yahoo.
While this public snub doesn't undermine Kafka's core argument (I'll get to that in just a second), it does suggest at least the possibility that AllThingsD might have an axe or two to grind. That being said, let me add that I'm shocked, shocked, to find that Mayer didn't roll out the red carpet for the same journalists whose premature disclosure of Yahoo's M&A intentions might have opened the door to an open-ended bidding war.
2) Assuming that Tumblr's monthly active users were once looky-loos, too, what really matters is not the number of active monthly users, but the conversion rate from unique monthly visitors to active monthly users.
3) Social network advantages aren't durable. Millions of users built AOL (NYSE:AOL) profiles. Yahoo used to be the Web. No matter what your initial advantage, your moat will eventually be undermined if you don't constantly re-engage users. MAU stats don't hold a candle to user engagement. Why? Because engaged users don't get bored and go somewhere else.
4) Businesses, and by extension markets, are forward-looking. Investors want growth, not the remnants of past glories that are already priced in. The question isn't how many Tumblr users Mayer can bring to Yahoo; it's how many Yahoo users Mayer can bring to Tumblr.
Referly CEO & Co-founder Danielle Morrill laid out the growth case on Sunday:
Tumblr claims 120M+ daily impressions on Tumblr Radar, or 3.6B+ monthly impressions. Assuming $10 - 20 RPM (revenue per thousand impressions), which is within the normal range for premium brand advertising, the total revenue opportunity for Q1 was $108 - 216M. Based on this calculation, at an annual run rate of $15M ($3.75M quarterly revenue) Tumblr is selling 1-4% of its total monthly inventory. If you think about this operationally it sounds reasonable, as the company is just beginning to ramp its ad sales.
In other words, Yahoo has marketing connections that would have taken Tumblr another 5 years to develop on its own, while Tumblr has the user demographics that (until now) Yahoo could only dream about.
Pro-growth vs. Cash-me-out
In terms of goals, Yahoo's investors appear to be pretty evenly divided into two camps: The pro-growth camp and the cash-me-out camp.
More often than not, these two demands usually complement one another. In Yahoo's case, they clash. The pro-growth camp's reaction to the Tumblr acquisition has been almost universally positive, while the reaction of the cash-me-out camp has been almost universally negative. In the latter's view, that was $1.1 billion that could have been kicked back to the shareholders in the form of a special dividend.
I disagree. With a few notable exceptions (Broadcast.com, del.icio.us), Yahoo's track record is a long, sorry history of squandered opportunities (Google, eBay, YouTube, Facebook) and neglect (GeoCities, Flickr) due to a tight-fisted board, not toxic or incompatible acquisitions. In fact, the liquidation of 50% of Yahoo's remaining stake in Alibaba is what the cash-me-out crowd is depending on. If the goal is to plunder the war chest of a Silicon Valley icon, why not skip the foreplay and invest in Apple?
The problem isn't that the cash-me-out camp is greedy, it's that they're not greedy enough. When the cow no longer produces milk, the only available option left for unlocking real value is to slaughter it.
Conclusion
The hallmark of a winning trade is paying the highest reward for the least risk. Back in March, AIG (NYSE:AIG) calls and TARP Warrants were that trade. (I covered AIG here and here.) While I still believe AIG options are attractively priced, they're no longer free-to-own.
But Yahoo's are. Despite over a 60% runup in only six months, a newly inked deal with Apple (NASDAQ:AAPL), the Tumblr acquisition, an ongoing buyback program, a tossed-out court case, the impending IPO of Alibaba, YHOO Jan 2015 LEAPS call options are priced on par with J.C. Penney (NYSE:JCP).
YHOO Option Chain [5/22/2013 4:05 EST]
(Source: NASDAQ)
JCP Option Chain [5/22/2013 405 EST]
There are three reasons for this:
a) The Black-Scholes pricing model assigns wildly inappropriate values when applied to LEAPs.
b) Yahoo is still being treated as if it were an underperforming Search & Advertising company in Google's weight class, rather than an outperforming Entertainment & Social Media company in Facebook's weight class.
All three of these conditions are imminently exploitable. I may not know what Yahoo's stock price is going to be a year and a half from now, but one thing I do know is that no one else knows either. Between numerous near-term catalysts and an inherent upward bias in equity markets, a net entry of $3.62 for a $25 in-the-money call with 18 months left on the clock is a risk/reward profile that I could see myself falling madly in lust with.
Disclosure: I am long YHOO. I wrote this article myself, and it expresses my own opinions. I am not receiving compensation for it (other than from Seeking Alpha). I have no business relationship with any company whose stock is mentioned in this article.