The market had a rare bout of volatility in Wednesday's trading. The Dow Jones rose more than 150 points early in the day only to reverse itself to post an ~80-point loss by the end of trading. It was the first time the Dow has been up over 150 points and ended the day down since March 2009. Investors learned yesterday how vulnerable the market is to any banter that the Federal Reserve could slowly withdraw their massive largesse. I expect a sizable pullback (5% to 10%) by the end of summer, but I don't see it happening in a one-day blow up like what happened overnight in Japan. There are myriad reasons for my skepticism about the market.
The S&P 500 is now ~12% over its 200-day moving average, extreme by historical standards. The index has gone from 1353 in mid-November to 1655 as of this morning (see chart below). The number of stocks making 52-week highs are also at 25-year highs. The Nasdaq has seen similar gains. Are the economy and the prospects for profits really that much better than they were seven months ago? Earnings from S&P companies in the first quarter only showed growth of ~3.5% year over year, and revenues actually declined slightly. The rally has been driven by multiple expansion not by earnings and revenue growth, which makes the market vulnerable to a significant decline if sentiment changes.
Click to enlarge image.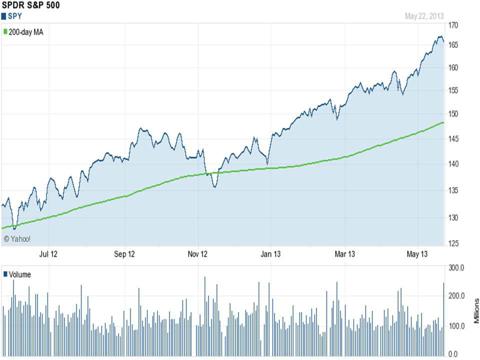 The United States is not likely to get much help driving worldwide growth from other major players either. Europe is still in contraction (six straight quarters of negative GDP growth in the eurozone) and the situation in France, the continent's second biggest economy, is deteriorating. Imports from the United States to Europe are down some 10% year over year. China, while still delivering mid-digit growth, also appears to be decelerating with growth recently being revised down. In addition, China just reported manufacturing showed a very rare contraction. This should hit the mining and materials sector hard in today's trading. Foreign direct investment is also basically flat in the Middle Kingdom year over year as well.
Finally, the amount of risk taking by fund managers has gone from nonexistent in 2009 to a level that could be called "extreme" in some quarters. For example, hedge funds have sparked a better than 150% gain over the last few months in the preferred shares of Fannie Mae/Freddie Mac, which are still technically insolvent and unlikely to ever provide redemptions of these shares. Funds have also bid up the value of Greek bonds, even though that country is past insolvent and likely to remain that way.
I have advised and built up a substantial cash position over the last few months during the rally. I also have a "shopping list" of stocks that I want to add to or initiate new positions should we get the predicted pullback. These are stocks that already have cheap valuations, solid growth prospects, and decent dividend yields that would look even more attractive if we got a 5% to 10% decline in the overall market. At the top of that list is Apple (NASDAQ:AAPL).
There are myriad reasons for my enthusiasm for picking up additional shares of the Cupertino giant in any equity sell-off. First, sentiment is lousy on the stock and the shares have already experienced a 35% to 40% decline from their highs in mid-September; a lot of bad news is obviously priced in to the stock. The stock actually went up during Thursday's reversal. Second, Apple looks like it is in fairly narrow trading range of $420-$460 since its recent capital announcement got digested by the market. The $60 billion the company will spend over the next ~31 months to buy back stock as well as an almost 3% dividend yield (2.8%) should also put a firm floor under the stock. The company has a huge amount of cash/marketable securities on its balance sheet (~$145 billion), and is priced at 7x forward earnings subtracting this "net cash." Finally, Apple is still projected to grow revenues at ~10% over the next two years, and worries about iPhone sales seem overblown. A analyst at Morgan Stanley just raised her estimate for second-quarter sales to 31 million from the previous estimate of 26 million, and also above the Street consensus of 27 million. If this forecast is accurate, earnings and revenues expectations for this quarter are significantly lower than they should be.
For prudent investors who have established a significant cash position and have been waiting for a pullback in the market, it looks as if their time is coming. Shopping lists should be at hand and cash ready to deploy at lower entry points.
Disclosure: I am long AAPL. I wrote this article myself, and it expresses my own opinions. I am not receiving compensation for it (other than from Seeking Alpha). I have no business relationship with any company whose stock is mentioned in this article.