(This article continues my Seeking Alpha series on high-dividend paying stocks. For those interested, some past articles in this series can be found here, here, and here. My blog details more on my investing philosophy here. All data used in this article are taken from EuroStat, the World Bank, OECD, and the stock exchanges.)
With U.S. stock markets surging over the last few months, investors still looking to put more cash into the market, but wary of the possibility of froth in the U.S. markets, may need to look outside this country for attractive opportunities. Fortunately in today's modern investing world, individual investors can put money to work in many different countries around the world without having to set up international brokerage accounts or worry about language barriers. In fact, for most retail investors today, international investing is probably best done through one of two choices: ADRs and International Focused ETFs.
ADRs, or American Depository Receipts, are shares in foreign companies that trade here in the U.S. Many of them trade on the major stock exchanges, such as Toyota shares (NYSE:TM), but some also trade on the off-exchange markets like Samsung, which trades on the pink sheets. (Note: It is exceptionally important to remember when investing in pink sheets companies that you are completely on your own - analysts don't cover pink sheets companies, the SEC rarely regulates them, financials may not be audited, volume is very thin, and price moves are extremely volatile. If you are indifferent between two stock investments, it is always better to invest in one that trades on the NYSE, NASDAQ, or AMEX rather than the Pink Sheets or OTCBB.)
These ADRs often represent a great way to look for yield in companies that are overlooked by many U.S. investors. Major firms like Vodafone (NASDAQ:VOD), Petrobras (NYSE:PBR), CNOOC (NYSE:CEO), Glaxosmith Kline (NYSE:GSK), Sanofi (NYSE:SNY), HSBC (HBC), and Siemens (SI) offer yields ranging from ~3%-7%. Further, many of these firms are much less followed by U.S. investors than domestic peers, so on average these firms' stock prices have tended to lag their domestic peers. Take German industrial behemoth Siemens as an example. The firm has a $90B market cap, and a stable revenue stream coming from a broad array of operations in manufacturing parts and equipment for energy, healthcare, and other manufacturers around the world. This sounds a lot like GE doesn't it? So how have the two done since the start of the year? The chart below illustrates this with GE tracked by the blue line and Siemens by the orange.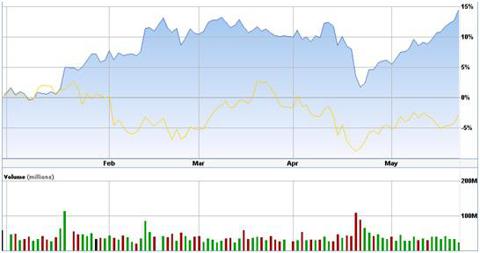 This is of course just one example, but basically what the chart shows is that Siemens has stayed roughly flat since the start of the year while GE has advanced around 15%. Given Siemen's 3.77% dividend yield versus GE's 3.16% yield, Siemen's may be of interest to income-oriented investors who aren't easily spooked by headlines about Europe. Further, with Siemens' vast size, anything short of the total collapse of Europe is unlikely to put the company in severe jeopardy. A further 5-8% in yield can be captured by using call options on SI as I describe in more detail in this article here.
Even when an ADR appears attractive and has lagged its American peers, it's important to also consider how the fortunes of the ADR's home country will affect the stock. For most big multinationals like those I mentioned above, the economy of their home country is not particularly important to their business compared with the global economy. However, economic distress in their home country will still create negative headlines and can drive the price of these stocks down. Further, some firm's are fairly dependent on their home country economy and their profits can vary significantly based on its economic outlook. A good example of this is British American Tobacco (NYSEMKT:BTI). The cigarette maker carries an attractive 3.75% yield and its stock has done well thus far this year [though it has marginally underperformed domestic peers (NYSE:LO) and (NYSE:MO)]. BTI's stock price has a significant 0.72 correlation to British GDP (compared with only a 0.41 correlation between German GDP and SI). Again, this reinforces the need for investors looking at international investments to have at least a minimal understanding of what is going on in the countries where their firm's are based.
This type of analysis doesn't need to be difficult though. For example, the following chart uses data that is readily available from public sources to compare France, the UK and Germany and demonstrate some important conclusions for investors.
| | | | |
| --- | --- | --- | --- |
| GDP (2012) | $3.3 Trillion | $2.4 Trillion | $2.7 Trillion |
| GDP Growth (2012) | 0.70% | 0.30% | 0.00% |
| Unemployment Rate | 5.40% | 7.70% | 11% |
| Manufacturing as % of GDP | 19.30% | 11% | 10.70% |
| Top Corp. Tax Rate (2012) | 29.80% | 24.00% | 36.10% |
| Top Personal Tax Rate (2012) | 47.50% | 50% | 75% |
| Avg. Hourly Labor Cost (2012) | $27.80 | $39.12 | $44.01 |
| Avg. Retirement Age (2011) | 63.60% | 61.9 | 59.1 |
| Avg. Annual Income (2012) | $50,366 | $46,984 | $47,704 |
| Stock Market Increase 2002-2012 | 68% | 197% | 37% |
Basically, what this illustrates is that all three of these European countries are doing pretty badly right now (hence the relative cheapness of some of the companies investors may want to invest in). However, the situation is clearly much more dire in France than it is in the UK or certainly Germany (which of course explains the German reluctance to lump its banks in with other European banks under a single banking regulator).
The UK's economy is in a bit of trouble (as my article here discusses), but on the whole it is in much better shape than the French. This is primarily reflected in its lower cost per hour for labor. Perhaps the most important figures in the chart are in the last row. Here it is clear that those countries whose economies are doing the best tend to have the strongest stock markets as a by-product. (A point of reference, the German outperformance is driven in part by the fact that Germany was doing quite badly economically in the early 2000s and is today doing fairly well compared with the other European economies.)
This kind of analysis is especially important for those interested in the second common method for international investing - ETFs. A variety of exchange traded funds are now available covering most major countries around the world. Most offer decent dividends to investors, but the amount of these dividends varies widely ranging from around 2.5% for Chinese ETF (NYSEARCA:FXI) and 1.1% for Mexico-focused (NYSEARCA:EWW) to ~3% for European Small Cap focused (NYSEARCA:DFE) and ~5% for Australian focused ETF (NYSEARCA:EWA). With these types of investments, investors willing to look beyond current headlines can wait for global growth to return while collecting decent dividend payments without the risk associated with individual companies. For those investors who are willing to take more chances with their investments, call options can be sold on these ETFs to add anywhere from 4-10% to their yields.
Disclosure: I am long SI, GSK, VOD, DFE, FXI. I wrote this article myself, and it expresses my own opinions. I am not receiving compensation for it (other than from Seeking Alpha). I have no business relationship with any company whose stock is mentioned in this article.