The dismal condition of the solar industry, and the response of the U.S. and Europe to Chinese solar imports, brings to the fore what the strategy being fought over is all about. On the part of the Chinese, they're attempting to build market share while temporarily forsaking profits. Revenue is what they're generating, not earnings.
This has disturbed the U.S. and Europe, which aren't able to effectively compete against the Chinese strategy at this time. While this is attempted to be spun as unfair competition, it's in fact a common business practice that is employed all the time.
For example, think of Facebook (NASDAQ:FB), Twitter, and Tumblr, or any other social networking company for that matter. They build out economies of scale and from there work on ways to monetize it. This is done across all industries at some point in time. So to disingenuously assert the Chinese are being unfair for participating in the same strategy is ridiculous.
The Other Strategy
The Chinese strategy of course points to the opposite strategy, which is to gradually build out a business while maintaining margins. This is what the U.S. and European companies struggle to do, but aren't able to compete in. That is why the U.S. has slapped tariffs on Chinese solar panels, and Europe is looking to do the same thing.
It appears to me the reason the U.S. and Europe are being so aggressive is they have attempted to hype renewable energy as the economic and energy future, while the Chinese have taken the lead on getting it done. Solar factory closures and bankruptcies have created a political backlash in the two regions, which has resulted in political fallout rather than political capital for solar proponents in office.
A secondary element is the huge natural gas and oil reserves in the U.S., which will also pressure the solar sector; especially inexpensive natural gas as an energy source.
Response to Duties and Tariffs
While I'm not a proponent of solar energy, those that are outraged over the slapping of duties on Chinese solar imports. The reason why is it Chinese companies have helped expand the use of solar energy because of the low cost of their products.
If Europe goes ahead and boosts tariffs on average of 47 percent, large solar farms in the region said they don't believe they'll survive. It questions the real motives behind the probable actions of Europe, as they're way to late in making any impact on solar in the region. If they were going to do this, it should have been done long ago, not after the fact.
What the actions of the U.S. and Europe will result in is a much slower growth prospect for solar, one that is focusing on short-term profits rather than long-term market penetration. Raising the price of solar at a time when natural gas is looked upon as far more attractive, makes little or no sense.
Just because margins at solar companies will be raised, doesn't mean it's an internally good thing for the industry at this time. The problem is government officials treat solar as some type of standalone industry not competing against other energy sources. Raising margins means raising prices, raising prices means it'll be difficult to compete against other energy sectors.
To position this as a fight between government-subsidized Chinese companies and solar manufacturers in Europe and the U.S. is not accurate; as if the solar companies in Europe and the U.S. aren't getting government help of some sort.
Where Does This Leave Solar?
If negotiations lead to nowhere, the Chinese companies will be forced to pay huge duties on solar panels. That will only benefit a few companies and Europe, and not have a lot of impact on companies in the U.S., specifically those that produce thin-wafer solar panels.
All of this is going to make the solar sector much more expensive and less competitive. It makes me wonder if government officials, in light of cheaper energy alternatives, are actually turning against the solar industry.
The actions being taken point to that being a real possibility, operating under the guise of protecting their own solar business. That may sound too conspiratorial, but raising the cost of solar by 30 percent to 50 percent makes it a real probability, for the reasons already stated.
Solar Panel Glut
Let's look briefly at another side of the issue: the glut of solar panels in the market. Recently there have been opposing views on the longevity of the glut, with one view being the glut will continue on for some time, while another view is the glut will probably be rebalanced by 2015. The view that the solar panel glut will continue on is based upon the assumption solar companies will continue to focus on growing market share at the expense of earnings.
Ed Cahill, Lux Research Associate, says this:
Manufacturers' nightmare is turning into a long-term boon for the industry. Record low prices pushed gross margins to near zero or below, but they've made solar installations competitive in more markets.


Supply and demand will come back into balance in 2015, easing price pressure, returning manufacturers to profitability and restoring the industry to equilibrium.
The problem with that assertion is the ongoing interference in the markets in the form of the duties we've been talking about. It would definitely be better for market forces to allow the solar industry to play out, but tariffs will not allow that to happen.
So the re-balancing of supply and demand is something that is questionable, at least as far as market forces go. The panels are already out there, and the major force affecting demand is now becoming the fallout from what appears to be a possible solar trade war with China.
Solar Strategy Going Forward
At this time solar manufactures in China appear to be split on the response to operating leaner. Some want to continue to expand and gain market share, while others may be in favor of toning it down some.
If some Chinese manufacturers continue to chase market share, it will continue to put a large number of solar panels on the market. Whatever happens, they have to be sold through.
The Chinese aren't just battling against Europe and the U.S. they're battling among themselves for market supremacy. That, more than anything, is what has been bringing excess capacity to the market. One thing for sure, there is overcapacity in the solar sector, and that means there is more shakeup coming.
Europe and the U.S. should just leave the Chinese alone in my opinion, as some of the heavily indebted companies have already defaulted on bonds, and the market will take care of them on its own. Forcing prices higher is only going to hurt the industry as it attempts to become a more important part of the energy solution.
Investment Implications
For now I see the Chinese solar companies being impossible to analyze as to their short- and long-term performance. They're extremely risky, and don't have enough reward to justify holding them.
That's not to say solar companies in the U.S. are much more attractive either. The entire industry is in flux, and when governments start to interfere, it makes things even less predictable. It appears the price of solar is going to go up, and that means that industry growth is going to slow.
While hopes are that will result in normal economic performance, that's far from being a certainty, based more upon other energy sources, rather than forcing the price of solar up. That could lead to a crushing blow when natural gas, especially, is seen as a far better and more reliable alternative.
If I were to invest in solar, I would go with an ETF like Guggenheim Solar ETF (NYSEARCA:TAN) or Market Vectors Solar Energy ETF (NYSEARCA:KWT). Each of them have a good balance of companies and limited exposure to Chinese solar companies.
Guggenheim Solar ETF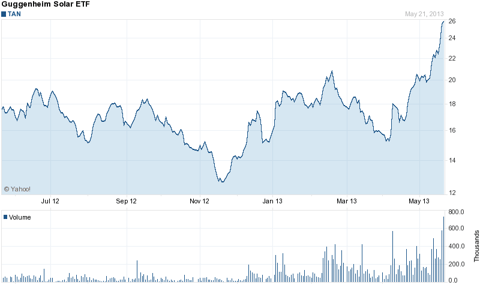 Click to enlarge
(Click to enlarge)
Market Vectors Solar Energy ETF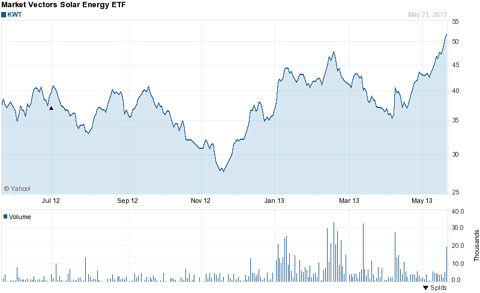 Click to enlarge
(Click to enlarge)
SolarCity (NASDAQ:SCTY), First Solar (NASDAQ:FSLR) and SunPower (NASDAQ:SPWR) have all jumped in the first quarter, but it's questionable as to whether or not they're about to pull back because of running too fast. The fundamentals of the overall industry remain weak, questioning sustainable performance for any of them.
Conclusion
Numerous solar companies can be analyzed, pointing to the usual reasons for buying or not buying, but I see this sector as damaged goods, and other than getting some diversity via a solar ETF, it's still a highly risky sector to invest in, and it's far from stabilizing any time soon.
With Ben Bernanke and the Federal Reserve pushing the market up, why bother with a sector like solar when they are numerous other companies that can be safely invested in, which are generating great returns for investors.
That's the bottom line for solar at this time in my opinion. It's going to go up in price, there are huge debt loads on many of the companies, and it may be falling out of favor politically. Why bother with all of that when there are so many other terrific places to put your money?
Disclosure: I have no positions in any stocks mentioned, and no plans to initiate any positions within the next 72 hours. I wrote this article myself, and it expresses my own opinions. I am not receiving compensation for it (other than from Seeking Alpha). I have no business relationship with any company whose stock is mentioned in this article.