ASML (NASDAQ:ASML) continues to impress me, but the uncertainty in a changeover in company management can result in some lost momentum. CEO Eric Meurice, who over nine years solidified the company's position as the dominant supplier of machines for manufacturing computer chips, is to step down on July 1 and become Chairman of the Board. Peter Wennink, CFO of the company, will succeed Meurice.
ASML clearly dominates the semiconductor lithography market, as shown in the chart below. Under CEO Meurice, ASML moved the company from second place position in 2003 to first place in 2004 and the company never looked back.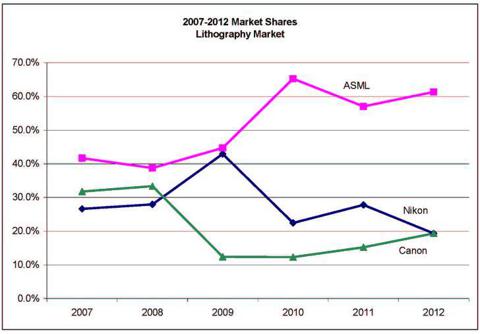 More importantly, ASML dominates the lucrative, high-end 193nm deep UV (DUV) wet market, as shown below, with an 83.1% share in 2012.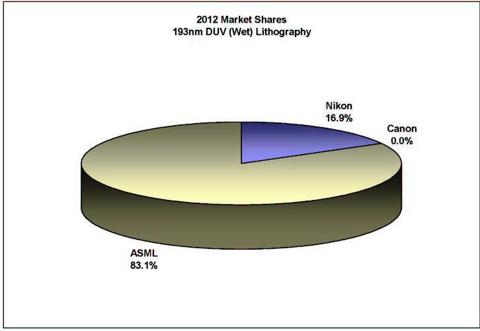 Source: The Information Network
That was history. Let's look at the future. The semiconductor lithography market is at a crossroads as Moore's Law continues its legacy of smaller and smaller feature sizes on a chip. Upcoming production of semiconductors at 7-nanometer and 14-nanometer feature sizes will usher in extreme ultraviolet (EUV) lithography around 2015: ASML expects to sell about 30 tools in 2015 and up to 60 tools in 2016 going to Samsung (OTC:SSNLF) , Intel (NASDAQ:INTC), Hynix, IBM (NYSE:IBM) and TSMC (TSMC). These tools cost $85 million.
However, when EUV will enter mass production is still up in the air. Intel plans to begin ramping up its 14nm finFET process by the fourth quarter of 2013, and companies may not use EUV, if at all, until they start semiconductor production at 7nm dimensions: Intel invested $4.1 billion in ASML as part of an effort to raise the overall confidence level in EUV and the 450mm wafer transition. TSMC and Samsung also recently invested in the Dutch-based lithography giant for similar reasons. IBM confirmed earlier this year that EUV lithography will likely miss the 10nm node and the industry is looking at inserting EUV at 7nm.
Around the same time, 450mm wafers will enter production, and development costs too will weigh on ASML's bottom line. The idea of a 450mm version of EUV lithography scanner, possibly in 2018, will be a strain on profits. ASML already spent 12.4% of revenues on R&D in 2012, up from 10.4% in 2011.
KLA Tencor (NASDAQ:KLAC) dominates the process control market with tools for semiconductor inspection and meteorology (measurement). KLA-Tencor holds a 50% market share, and that share has been growing worldwide, as shown in the chart below.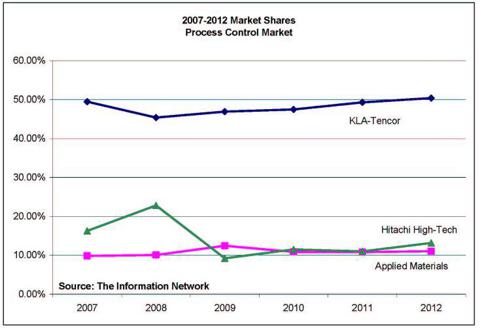 There are larger firms competing in process control, notably Applied Materials (NASDAQ:AMAT) and Hitachi (OTC:HICTF). Applied noted in a recent conference call that it gained share in the process control sector. The company did not return phone calls to supply data, but from other sources we find Applied lost share in 2012. Hitachi's process control revenue grew 16.6%. Hitachi purchased SII Technologies in 2013, which recorded revenues of $90 million in 2012, further escalating Hitachi's revenues in 2013.
KLA-Tencor is the only pure play company among the market leaders and has the most diverse product portfolio. These advantages show up in the firm's operating margins, which have peaked as high as 36%. KLA-Tencor's strengths can be seen in revenue growth and expanding profit margins.
Lam Research (NASDAQ:LRCX) is the 10th largest component of the SOX index, and many believe Lam is one of the best run companies in the United States.
About 10 years ago I was invited by Lam Research to Taiwan to give my perspective on the state of the semiconductor equipment market. At that time, I suggested to executives that Lam needed to expand into more product sectors. Eventually during 2012, Lam acquired Novellus Systems for $3.3 billion. Novellus' equipment is used to coat cells with a thin film and Lam's products etch the thin film into circuit patterns on the wafer.
Lam's 3-year average shows Revenue Growth of 37 %, Profit Growth of 47%, and Total Return of 13%, well ahead of any competitor.
Lam dominates the plasma etch market with nearly a 50% share, as shown in the chart below. If we go back to 2000, Applied Materials led the market with a 36.6% share and Lam held only a 26.3% share. In the following 12 years, Applied's share dropped to 27.6% while Lam's increased to 48.3%.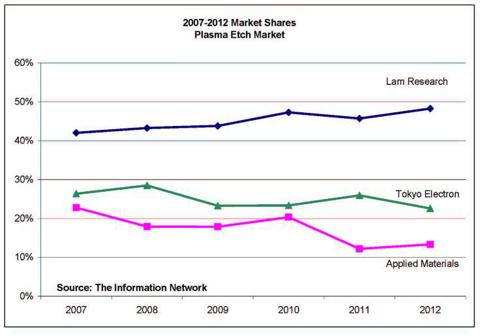 Novellus had been one of the leaders of the Plasma Strip market. As shown in the table below, Novellus led the market in 2011. The combined sales of these strip tools under the Novellus nameplate and later the Lam nameplate in 2012 kept the companies among the top players of the sector.

Back in 2004, Mattson (NASDAQ:MTSN) held a dominant position in the strip market with a 28.4% share. In 2012 its share dropped to 16.8%.
In the past 4 years, Mattson has not shown a profit, with a loss of $18.0 million in 2011 followed by an even larger loss of $19.3 million in 2012. They replaced the Director of Marketing in 2013 but early indications are that she is of the same mold as her predecessor.
Novellus went head-to-head in competition with Applied Materials in the deposition market, and there had been constant speculation that the re-badging of Novellus hardware by Lam will find its way into Intel. Applied dominated the physical vapor deposition (NYSE:PVD) market with more than an 80% share in 2011 compared to only 5% for Novellus. But things can change, and it only takes a few customers such as Intel and Samsung to make things happen.
For example, in the metal CVD market in 2000, Applied led the market with a 70.6% share compared to 17.1% for Novellus. In 2011, Novellus claimed a 64.0% share to Applied's 17.2%, as shown in the chart below.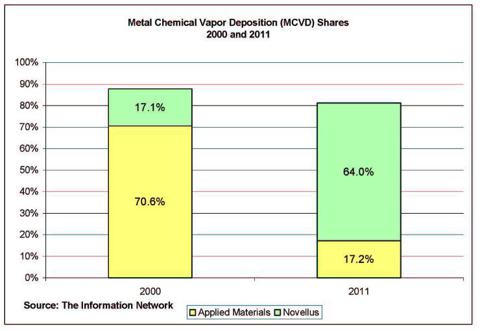 Delays in the previously mentioned EUV lithography are a positive for Lam Research. Extending DUV requires semiconductor companies to move to intricate dual- and quad-patterning techniques, which are etch- and deposition-intensive.
Applied Materials has made a large number of disastrous acquisitions over the years and has lost a large number of key personnel by offering a lucrative severance package, including its Chief Economist. Its marketing department is down 70%, and this is critical when it comes to strategic direction and understanding what the competition is doing. According to my sources, for the first time in a very long time, there is a senior person in Gary Dickerson who is highly respected and liked.
Pacific Crest analyst Weston Twigg sums it up best as he sees a complete transformation in Applied Materials over the next 5 years, as management continues plans for improvement. Twigg thinks earnings leverage will return. But five years is a long time in the semiconductor equipment industry.
Disclosure: I have no positions in any stocks mentioned, and no plans to initiate any positions within the next 72 hours. I wrote this article myself, and it expresses my own opinions. I am not receiving compensation for it. I have no business relationship with any company whose stock is mentioned in this article.