By Paul Goodwin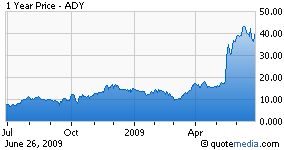 My stock recommendation today is American Dairy (NYSE:ADY), a Chinese producer of milk powder, soybean milk powder, walnut products and other dairy stuff.
China isn't known as a big consumer of dairy goods. Many Chinese find cheese distasteful and just don't enjoy yogurt, buttermilk and the rest of the milk-based foods that delight Westerners. But that's changing … a little.
You can't call a company with $266 million in annual sales a major trend, but it's a start. The Chinese are finding a place in their child-rearing regimen for milk-based infant formula, and the potential is enormous.
The company has been around since 1985, and its product mix – where do walnuts fit in with milk products, you might ask – reflects a kind of opportunistic management style that takes opportunities where it finds them.
It took two successive quarters of amazing results to put ADY on investors' radar screens. In Q4 2008, the company turned in an astonishing 1,550% jump in earnings on just a 25% gain in revenues. Then, just to prove that that wasn't a fluke, the company's Q1 report revealed a 278% earnings jump on a 191% boost in revenues. After-tax profit margin for Q1 was a respectable 24.4%.
The milk business in China has had to do a lot of fence mending following last year's melamine-tainting scandal. American Dairy came through that with its record clean as a whistle and growth has been excellent since then.
The stock bottomed at 9 in March, and since then has gone off like a rocket, soaring to 44 two weeks ago. ADY has been correcting with the market, but it's holding above its 25-day moving average, which is right at 38. The stock will need to settle down a little and build a new base for further advances. But you don't find many stocks that turn in nearly five-bagger performance in less than six weeks. It's worth a look.