We evaluated Student Transportation Inc. (NASDAQ:STB) as an investment during the fall of 2011. We were intrigued by its high yield of 8% however we were displeased by the fact that the company was guzzling gas for acquisitions and increased capital expenditures. We were not foolhardy enough to recommending an outright short sale of the company because we felt that the 8% dividend yield was supporting the price of the shares and that we felt that dividend hungry investors didn't know, didn't show or didn't care that the company's biggest source of cash inflows was debt and equity issuance. STB's dividend yield is now 8.6% and it remains to be seen if its reduced appetite for acquisitions will pay dividends for shareholders.
When we first considered STB as an investment in 2011, we determined that it would be an underperformer relative to the major indexes such as the S&P 500 and the NASDAQ composite. Based on its performance since it registered on the NASDAQ on September 6th, 2011, we can see that our expectations about STB being an underperformer back in September have come to pass as STB's recent share price of $6.44 for its NASDAQ shares is slightly lower than the $7 it fetched when it went on the NASDAQ on September 6th, 2011. However, we give credit where and when credit is due and we believe that STB's recent record of increased financial discipline will potentially enable its market price to converge with its fair intrinsic value
Source: Morningstar Direct
STB generated 6.3% total year-over-year revenue growth during its most recent quarter and is targeting 15% for the full FY 2013 period. STB's adjusted EBITDA was $25.9M and it increased by $365K in Q3 2013 versus Q3 2012's adjusted EBITDA of $25.53M. STB's Net Profit decreased to $1.75M in the quarter versus $3M in last year's comparable quarter and this was as operating margin improvements were offset by $5M in weather related deferrals during the quarter. At least STB will be able to capture these weather related revenue deferrals in Q4 2013 as public school districts require students to attend school for a specified number of days. YTD EPS increased to (-$.04) in 2013 from (-$.11) in YTD 2012. When analyzing STB, we believe that the best time to analyze it is after it releases its 4th quarter results in a given year as it shows the most comparable year-over-year comparisons.
BUSINESS SEGMENT REVIEW
STB's Oil and Gas Segment's revenue was $1.3M in Q3 2013 and was flat versus Q3 2012 levels as higher oil prices were offset by lower gas prices. The 0% increase in segment revenues was aided by a 14% operating expense decline. YTD 2013 revenues and profits declined on a year-over-year because the natural gas market did not reach its bottom until around April 2012. We keep in mind that this segment accounts for 1%-2% of STB's annual revenues.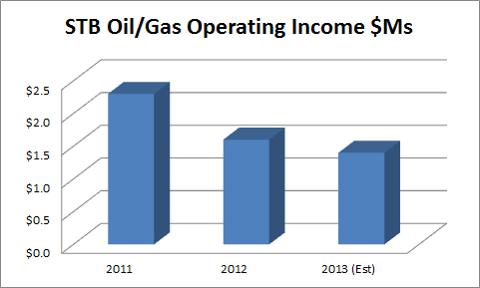 (Click to enlarge) Source: STB's Q4 2012 MD&A, Q3 2013 MD&A and Our Estimates
STB's School Bus Transportation Segment
Revenue: STB's School Bus Transportation Segment is the core business of the company. The segment saw its revenue increase by $7.1M and reached $119.1M in Q3 2013. This represented a 6.34% increase from Q3 2012 and it was primarily due to a full year's worth of revenue contributions from 7 acquisitions in 2012 as well as 9 new bid contracts. Acquisitions and bid-in contract revenue accounted for $11.2M in incremental revenue, contract rate increases and net increases in service requirements added $2.1M. These revenue growth streams were partially offset by $0.1M in negative impacts from the translation of Canadian Dollars into US Dollars and by $6.1M in revenue deferrals associated with the impact of weather days due to snow related school closings. We were pleased to see that the company finally broke out its revenue and profit contribution from its acquisitions as well as a pro forma analysis of its results assuming the acquisitions took place at the start of the year. The bad news is that STB's adjusted organic revenue growth is quite pedestrian however STB's recent forbearance on acquisitions has enabled it to generate stronger operating income margins (adjusted for revenue deferrals)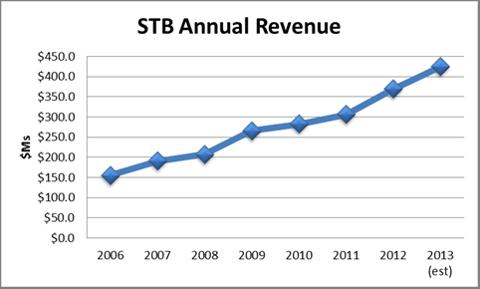 Source: STB's Q4 2012 MD&A and Q3 2013 MD&A
Costs of Operations: Unfortunately for STB's School Bus Transportation Segment, its acquisition strategy has not generated operating leverage as Q3 2013's costs of operations increased by $7.4M (9.25%) versus Q3 2012 levels. This was due to the inclusion of the aforementioned acquisitions as well as new contracts. Driver's wages as a % of revenue increased by 30bp and maintenance wages as a % of revenue increased by 40bp in the first nine months of FY 2013. We were disappointed that on a percentage of revenues basis, operating expenses increased by 100bp due to an additional year of vehicle leasing expenses. However, we were pleased to note that fuel costs decreased by $600K in YTD 2013 versus YTD 2012 and declined by 10bp as a percentage of revenue in YTD 2013 (9.1%) versus YTD 2012 (9.2%).
General and Admin Expenses: We are pleased to see STB achieve positive operating leverage with regards to its General and Admin expenses. STB's General and Admin expenses for the segment were $11.1M in Q3 2013, an increase of $0.8M (7.8%) versus last year. This incremental expense was due to new business for the company and the rest of this admin expense growth was due to acquisitions completed in 2012 and STB's nine new bid-in contracts. At least the company can make the claim that its General and admin expenses as a percentage of revenue only increased by 10bp in Q4 2013 versus prior year levels even with the revenue deferrals.
Depreciation and Amortization Expenses: Although STB's transportation related depreciation and amortization expenses increased at a faster rate than its revenues in Q3 2013 versus Q3 2012, we are content that its adjusted revenue growth rate (10.8%) was 195 above its increase in depreciation and amortization (8.85%). In Q3 2013, STB's depreciation and amortization expenses for its transportation operations increased by $1M versus the prior year's levels and reached $12.3M.
Non-Cash Equity Compensation Expenses: We were pleased that Non-Cash equity compensation expense decreased by 19.6% in YTD 2013 ($2.9M) versus YTD 2012 ($3.6M) though we're not happy that this expense was nearly 19% as much as the company's FY2012 operating income. We still don't think that management should be adding back this expense to Adjusted EBITDA because the Class B shares granted to executives are putable and the company has spent $16.6M since 2007 repurchasing Class B shares from management. In YTD 2013, the company granted 429,971 Class B Series Three shares worth $2.9M as of the applicable grant dates to STB's management and $1.5M worth of STB's Class B Series Three shares were put back by STB's management pursuant to the terms of the plan. Considering that this non-cash equity compensation represents over 1.5% of the companies operating expenses even though it is a low-margin generating, highly indebted company, we think that STB should ease back share issuance under this program.
CORPORATE FINANCIAL AND ADMINISTRATIVE MANAGEMENT
Although STB's net capital expenditures and payments on debt due to the former owners of its many acquisitions increased from $18.96M in H1 2012 to $19.01 in H1 2013, STB's operating cash flow for YTD 2013 was $19.675M and was comparable to the $20.17M achieved in YTD 2012 even though it had to deal with $5M in revenue deferrals. STB converted its remaining $22.4M of its 6.25% convertible bond issue (2014) and issued 4.35M shares at $5.15/share. We are aware that the company's business model is seasonal and based on the academic year and if STB can generate $30M in OCFs in Q4 2013, it will have generated $50M in operating cash flows for FY 2013 and this would eclipse its previous record of $44M established in 2010. We hope that the company refrains from its previous track record of frenetic acquisition and continues its focus on bolstering profitability from current operations because its dividend payout ratio as a percentage of free cash flows (Operating Cash Flows minus Net CapEx) may be less than 100% this year, assuming it doesn't make any additional significant CapEx purchases. As STB's pro forma revenue growth has been uninspiring and primarily driven by acquisitions, it will need to focus on improving its operating margins, paying down debt and improving ROICs.
Source: FactSet Marquee
Conclusion
In conclusion, though we still believe that STB is overvalued relative to our fair value target, the company still offers an 8.6% dividend yield. We were pleased that the company's profitability and free cash flows have potential for improvement versus prior year's levels. This is not the first time we've said anything nice with regards to STB's performance. We said nice things about STB's Q2 2013 performance and that it would be able to potentially grow into its valuation and that its fundamental value had the chance to converge with its market price. Although we don't believe that the yield is suitable enough relative to the risks associated with the company as of right now, we continue to carefully evaluate the company to see if the company's management is willing to pause its acquisition and capital expenditure spree. If STB's management continued its focus on improving the ROIC, Net Income and Free Cash Flow results of the company, we think it would be a great idea for income oriented investors. However, we will need to see more than one full fiscal year out of the company in order to conclude that it has changed its focus from growth-at-any cost to a more sustainable financial model.
Disclosure: I have no positions in any stocks mentioned, and no plans to initiate any positions within the next 72 hours. I wrote this article myself, and it expresses my own opinions. I am not receiving compensation for it (other than from Seeking Alpha). I have no business relationship with any company whose stock is mentioned in this article. This article was written by an analyst at Saibus Research. Saibus Research has not received compensation directly or indirectly for expressing the recommendation in this article. We have no business relationship with any company whose stock is mentioned in this article. Under no circumstances must this report be considered an offer to buy, sell, subscribe for or trade securities or other instruments.