We got another little taste of serious volatility this week when Fed minutes assured investors that QE could start ending as early as June. On the heels of that news and weaker economic data from China, the Nikkei was slaughtered over 7% on Thursday and global markets averaged a 2% correction across the board.
On Wednesday, May 22nd, CNBC.com reported:
"A number of participants" on the U.S. Federal Reserve's Federal Open Markets Committee this month favored slowing the Fed's efforts to maintain record-low long-term interest rates as early as summer - if the economy showed strong and sustained growth.

But those officials appeared at odds over what evidence would demonstrate such gains.

Minutes of the Fed's April 30-May 1 meeting released Wednesday show "a number" of members expressed a willingness to scale back the $85 billion a month in Treasury and mortgage bonds the Fed has been purchasing, perhaps as soon as June, if the economy accelerates. The Fed next meets on June 18-19.
The Nikkei was mangled the following day, in what several blogs called a "perfect storm" of fears coming together. CNBC reported:
A perfect storm of yen strength, a spike in Japanese government bond yields and new evidence of weakness in China's economy were behind a major sell-off Thursday in Japan's equity markets, said experts.

The benchmark Nikkei 225 closed down 7.3 percent in a session that saw it rise 2 percent in early trade only to reverse direction and fall sharply. The broader Topix finished 6.8 percent lower.
This signals a coming correction, in my opinion, both globally and in the U.S. I've written several articles lately, claiming the bull market is ending and that it's time to bet on volatility; and it looks like now is the time to act in those regards. I'll be citing my articles on gold, market panic, and volatility to help suggest positions that'll make money when panic sets in.
Analysts agree with me, with one calling Thursday a shift of seismic proportions:
"Yesterday was a tectonic plate shift between the feet of the market...reversal day in the stock market, reversal day in the bond market, very strange movement in the foreign exchange markets. I think yesterday was an extremely important trading session and many many things shifted and changed."
I started to feel this coming pull back in mid-April when I penned:
Anyone else feel the palpable panic that's in the air? People are starting to ask questions about whether this bull run is over and all it's going to take now are a string of a few days together like Monday, and we're going to see people hit the exits like crazy. It has happened before and it will happen again -- soon.

Can't you feel it? Calling it instinct is semi-stupid with all the technical indicators and data we have, but it feels like we're starting to tiptoe over a frozen lake and are just starting to hear the first cracks of the ice. Maybe it was the mini-crash Monday. Maybe it's residual nerves from the horrifying events in Boston.

Folks, no bull market lasts forever, and to me the signs have never been clearer that the floor below us is about to give out. To think we can continue to move upwards the way that we have forever, especially in the wake of how we're diluting our currency, is simply foolish.
Here's three positions that I'm already in, that you can take to make money when things slow down:
1) Silver (and Gold)
Anyone that reads my articles knows that I'm super long both gold and silver, citing the fact that these are the two most sought after non-renewable commodities that we're going to have for a very long time to come. (Hint: this is why central banks hold them in reserve.)
I've loaded on silver now for a couple of reasons:
the correlation between silver and gold prices is favorable towards silver
silver is a bit more volatile than gold
demand for silver runs commensurate with not only demand for reserves, but demand for silver used in manufacturing
when the markets pull back, silver and gold prices usually spike
How You Can Trade Silver (and Gold):
Physically buy and hold silver (or gold) bullion in reserve
Buy call options for any of the above ETFs
2) Volatility
The VIX (Chicago Board Options Exchange Market Volatility Index), commonly referred to as the fear index, measures the implied volatility of index options traded. Basically, it represents the market's expectation of volatility in the coming thirty day period.
The VIX is really a rather cool instrument to get a feel for how the market feels. If the VIX is riding under the 20's, generally the market sentiment is good and well. Should the VIX move up over the 30's, market sentiment usually drifts toward unease. The morning after the Nikkei's 7% pullback, the VIX opened up 10%.
In a bull market, like we're currently in, the VIX generally rides nice and low. In a bear market, or the midst of global unease of some sort, the VIX can take breakneck spikes upward.
Here is a chart that I used in my last article, showing the VIX resting during calm periods, with occasional spikes to the upside whenever investor unease is up or things get hairy on a global scale.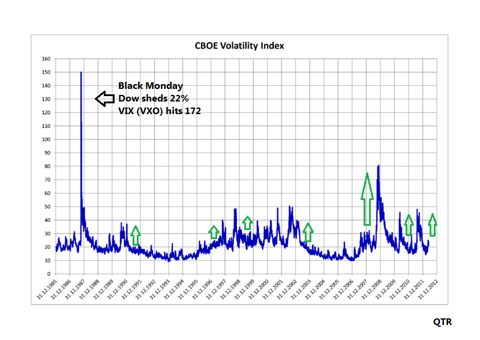 As I said previously:
In this day and age, there are no shortage of crazy things that happen that can spike the VIX: terrorism, psychotic artificial intelligence trading algorithms gone wrong, devaluation of global currency, random market halts, or (even worse) Kim Jong Un attending a Bulls playoff game with Dennis Rodman.

I'm positioned to make money when the next volatility strikes, and you should be, too.
Shown below, the VXX isn't a great long-term investment due to deterioration, but if you can catch it on the dips and sell it on the rips, you can make quick gains on VIX spikes.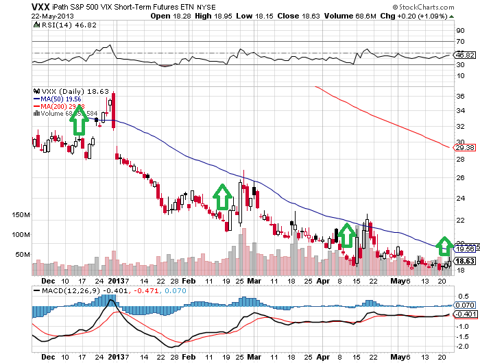 Click to enlarge
(Click to enlarge)
How You Can Trade the VIX:
Go short term long volatility ETFs, like VXX
Buy VIX call options
Buy call options for VXV
Buy S&P VIX Mid-Term Futures VXZ
Buy S&P 500 VIX ETF listed as VIXS
3) Short the Market
If you're from the same camp that I am, you understand why shorting companies that you believe to be fundamentally poor is also a great broader market hedge. Now would be a great time to make those plays, because you essentially have two ways you can make money:
the company itself flounders or fails
the broader markets pull back
I'm certain the broader markets are due for a pullback, as I noted in my article "The End is Near":
The bull market we've experienced over the last few years has been absolutely great. Since 2009 the market has been chugging along providing significant gains for those invested. We are heading to four straight years of significant growth, with the Dow Jones Industrial Average at almost double what it was at its lowest point in 2009.

Click to enlarge
(Click to enlarge)

People are piling into stocks like the days of yore. Big names in investing are publicly calling for the public to keep pouring into stocks. CNBC and Seeking Alpha are among the many sites where contributors continue to advocate taking long positions in the market now - and that's actually one of the big things that worries me.
Just like a lot of things in finance, by the time the public starts to get the message, the smart money has been made. It's an unfortunate fact, but every bull market must come to an end and there's always bag holders that wind up buying at the market's highs. This is usually made up by the uninformed public and the mom & pop investors who get the message years late. The same thing happens with individual equities when they reach peaks; someone gets stuck holding the bag and it's usually the common folk. Nobody likes being the last one to leave a party and, unfortunately, I contend that this is the point that the market as a whole has reached.
How You Can Invest This :
Buy puts against long equity positions you want to hold
Write calls against long equity positions you want to hold
Sell short a competitor to your long positions as a sector hedge [i.e. If you're long Wal-Mart (NYSE:WMT), short Target (NYSE:TGT)]
Go long Index Fund ETFs like SPY, or buy SPY call options
I hope that as an investor, you can start to see the signs of markets correction and that you can use these tactics to protect yourself and make money. No matter how you invest, I wish you the best of luck going forward.
Disclosure: I am long VXX, SLV. I wrote this article myself, and it expresses my own opinions. I am not receiving compensation for it (other than from Seeking Alpha). I have no business relationship with any company whose stock is mentioned in this article.