Back in 2010 I started buying shares in companies that I believed were set to profit from the under-appreciated horizontal revolution that was about to hit North American oil production.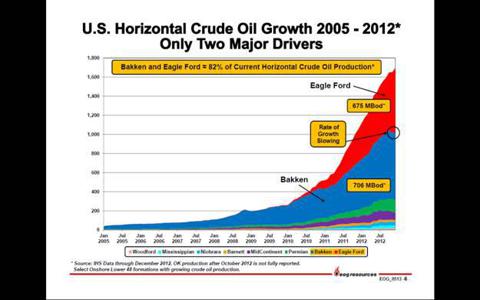 I managed to get invested in horizontal oil producers before the boom in North American shale oil production really became front page news.
Don't worry, I'm not patting myself on the back. I focused my investment dollars on Canadian horizontal producers which have not had anywhere near the stock price success that their American colleagues have. Quite the contrary unfortunately.
To try and figure out if the American horizontal producers had something that my Canadian companies don't (possibly impacting market valuations) I started taking a look at American Bakken producer Continental Resources (NYSE:CLR).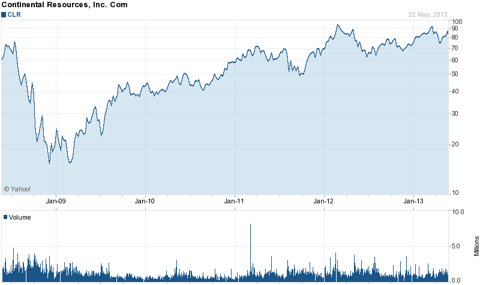 Continental's production has been growing very rapidly over the past five years. The company has been focused almost exclusively on the Bakken play in North Dakota.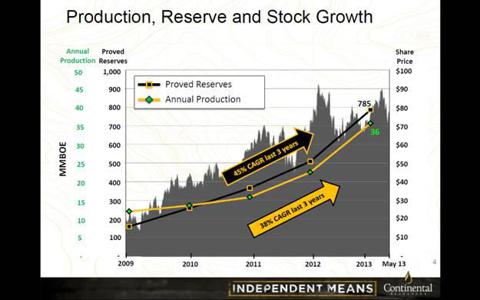 Continental's total production has grown from 13 million barrels (35,000 barrels per day) to 36 million barrels (98,000 barrels per day) over the last 12 months.
Over the last three years production has moved up at a 38% compound annual growth rate.
That is terrific!
Or is it?
Is Drilling As Fast As Possible The Right Strategy?
These horizontal oil plays are basically manufacturing operations. How fast a company can grow is basically limited by only one thing - how much it is willing to spend.
I'm not sure growing as fast as possible is the best strategy for developing these horizontal oil plays.
I think the approach Statoil (NYSE:STO) which acquired Bakken producer Brigham Exploration is taking is much smarter.
Statoil is looking at its Bakken assets with a long term, multi-decade view. This is different from most producers which like Continental are focusing on growing at the maximum rate their balance sheet will allow.
In the article linked above Statoil explains why:
"We're long-term investors, so we don't shy away from 10 to 20-year horizons and even more. And we're used to this with the offshore world. As you know, finding oil and gas in the offshore world takes at least 10 years to actually start getting the production going, and then you expect another 20, 30 maybe 40 years of production after that. So we think in terms of decades in our investment horizon."

Bull adds that the slow and continuous application of technology is very important. He says in the early years of North Sea development recovery rates in the Norwegian continental shelf were in the 20 percent range. But through technological advances that provided additional uplift, such as CO2 flooding, those average Norwegian continental shelf recovery rates, he says, are now the highest in the world, averaging 55 percent with some fields yielding up to 70 percent. "In the good old days of petroleum engineering, people wouldn't dream that would ever be possible."

For the Williston Basin, Bull says Statoil is looking at its assets as a long-term investment and is not in a hurry to drill those assets out. "These are long-term assets and Statoil has always been a long-term sustainable player in whichever area we're in," he says. "Drilling up everything immediately is not what we really want to do."

Bull says Statoil wants to avoid the "super high" production peaks followed by "super high" decline rates that are often seen in onshore production. Instead, he says, Statoil wants to "flatten" those curves over time. "That's important for us because we think we can come back here and probably apply better technology and get more out of the rock than with current methods."
Horizontal drilling in reservoirs like the Bakken is still in the early days. The current techniques and technologies being applied today are likely to be much improved on over the next decade.
Five years from now companies will be drilling Bakken wells that produce at higher rates, recover more oil and cost less. It may well be in shareholder's best interests to not rush to drill these wells in the near term.
A perfect example of why a slow and steady development approach may be the best way to run this business can be found in Petrobakken's (PBKEF.PK) Cardium experience.
Petrobakken is the leading driller of horizontal oil wells in Canada. The company entered a tight oil play called the Cardium in 2010. The graph below shows well performance from Petrobakken's Cardium drilling for each of 2010, 2011 and 2012:
Look at how much better the wells are getting with each year. A Cardium well drilled in 2010 on average recovered roughly 50,000 barrels of oil in the first 24 months. Compare that to the average 2012 Cardium well which has recovered 60,000 barrels of oil in only 15 months.
That is a big change in the amount of money Petrobakken is going to make from each well. I can't wait to see how much better 2013 wells are.
And not only do the wells get better, they also cost less. The graph below shows how Continental has gone from spending $29.3 million drilling 6 single wells to only $21.8 million by utilizing pad drilling.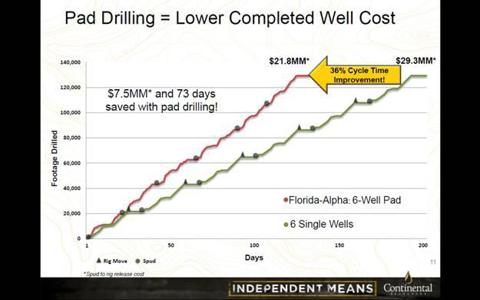 Again this is a case where wells drilled in later years make a lot more money on the capital being invested.
So I say what is the rush? As an operator you only get one chance to drill each location, so it makes sense to drill them slowly and maximize the return on the capital being invested.
Despite what the media may have you believe, there aren't that many horizontal oil plays in North America and for the long term benefit of shareholders a slow, steady development approach might be the best course of action.
These big accumulations of oil are treasures that can literally pay dividends to shareholders for decades.
Disclosure: I am long PBKEF.PK. I wrote this article myself, and it expresses my own opinions. I am not receiving compensation for it (other than from Seeking Alpha). I have no business relationship with any company whose stock is mentioned in this article.