After yesterday's kerfuffle over slowing down asset purchases, it's time to ask whether the Fed Reserve should be tightening. The answer is an emphatic "YES!" and I'll get to the reasons why in a moment.
Many economists have been predicting dire consequences if the Fed begins to shift away from its current policies. Bernanke, the current Fed Chairman, is amongst this group, arguing yesterday that "premature tightening [would] carry a substantial risk of slowing or ending the economic recovery."
Unfortunately, Bernanke and the dovish camp are fighting the wrong war. They are so determined to prevent a repeat of the Great Depression and/or Japan's "Lost Decade" that they seem to be completely ignoring what's actually happening on the ground in the US in 2013. The housing market is recovering rapidly and loose monetary policy has the potential to create malinvestment and another wave of debt-fueled "growth". With housing finally looking healthier, it's a perfect time for the Fed to begin a shift back towards monetary normalcy.
Housing and Why Inflation is Higher than Stated
In the late 90's and early 00's, the Federal Reserve under the leadership of Alan Greenspan, kept interest rates low and ignored the rapid rise in real estate prices. This was particularly true after the dot-com crash, but the "easy money" policies began even before then, around 1998. Low inflation was used as a justification for these policies. You can see the official CPI inflation from 1990 - 2007 below.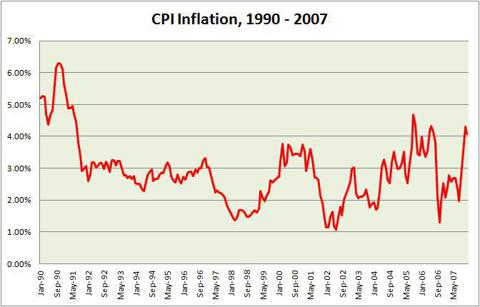 If you examine the period from 2001 to 2004, you can see that the US experienced very subdued inflation numbers, with CPI ranging from 1% - 3%. In fact, these were some of the lowest CPI figures since the Great Depression. Yet these figures are very deceiving.
Prior to 1983, housing prices were a key component of CPI inflation. After '83, the BLS introduced a concept called "owners' equivalent rent" [or "OER"] that replaced housing prices. While there are some justifiable reasons for this measure, it has seemingly led the Federal Reserve to complete ignore inflation in the housing market.
Back in 2011, I examined this issue in detail in an article called "CPI, Housing Prices, and the Great Stagflation". I created a housing-adjusted CPI measure (called "Alternative CPI") that used Case-Shiller numbers in place of OER. My conclusion was that once you factored in housing prices, CPI was significantly higher in the early to mid 00's than official BLS numbers led us to believe, with real inflation in the 5% - 10% range, rather than the 1% - 3% range the official CPI suggested.
You can see the housing-adjusted "Alternative CPI index" below, compared side-by-side with the official CPI numbers. There are twin spikes where Alt-CPI dramatically outpaces official CPI, with the smaller spike running from 1998 - 2001 and the bigger spike happening from 2002 - 2005.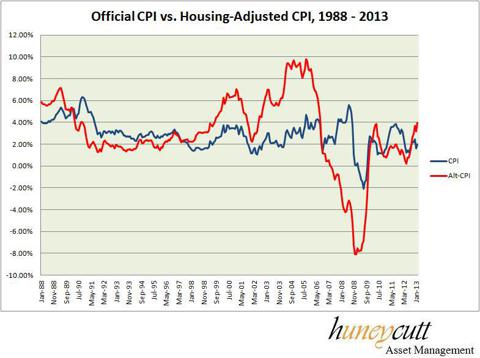 Now, we are in 2013 and we are once again seeing large gains in the housing market. Not only have housing starts dramatically improved since mid 2011, but according to Case-Shiller data, we are now seeing YOY price gains in the 8% - 10% range on average across major US metropolitan areas.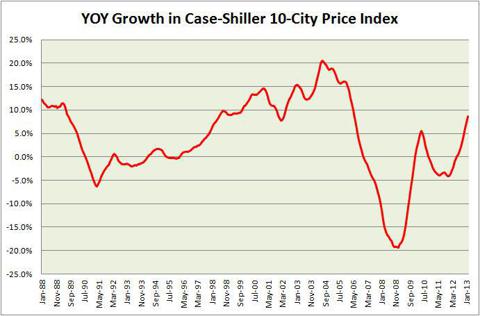 The YOY gain for the Case-Shiller 10 index was around 8.6% in Feb '13, which was the last month it was calculated. The 20-city index shows an even larger 9.4% gain for the same time period. That puts us in about the same range we were in 1998 and 1999, as well as early 2002. In comparison, the average YOY gain since 1988 has been about 3.8%.
When we factor this into the housing-adjusted CPI, we can see that it has jumped from near-zero (YOY) around May 2012, all the way up to 4% in Feb 2013. That's a very rapid turnaround!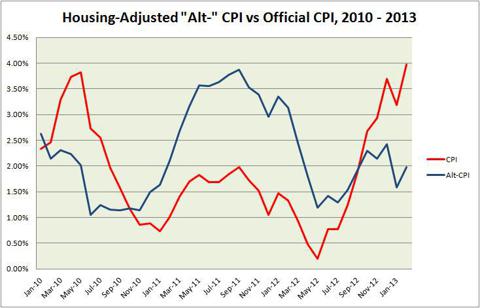 If the recent gains were an aberration (as they were in 2010), that would be one thing, but evidence suggests we may be in store for more big gains in the upcoming year. We have a significant supply shortage, with housing inventory declining 23% nationwide from Feb 2012 - Feb 2013. Jed Kolko, chief economist for Trulia (TRLA), argues that the situation is not likely to improve in the 12 months, either, so don't be surprised by more outsized gains through the end of 2013 and into 2014.
Of course, we shouldn't overstate the issue. Given how low housing prices are right now, we're still quite a long distance away from a "bubble." But we're also far, far away from a Great Depression-like deflationary spiral, and the idea that any tightening will immediately put us into a dark, economic abyss is absurd.
Modifying the Taylor Rule
In order to get a better sense of what the Fed should be doing, we can look to the Taylor Rule. For those who are unfamiliar with it, the Taylor Rule is a monetary policy rule devised by economist John Taylor, that's meant to show how the central bank should modify the nominal interest rate due to changes in output and inflation. I want to look at the Taylor Rule using official CPI inflation, as well as how it would differ if we substitute with the housing-adjusted inflation figure.
The chart below shows my estimations of the Taylor Rule using the official CPI numbers. I've also included the Federal Funds Rate ["FFR"] for comparison purposes.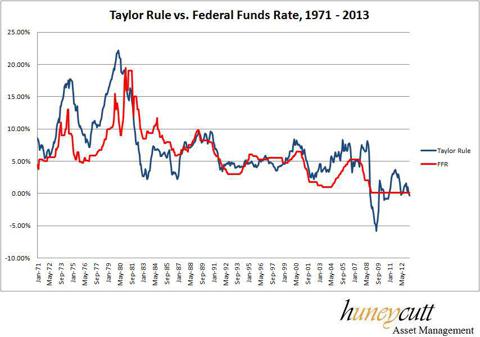 We can also represent that in a slightly different fashion, showing the Taylor Rule minus the Federal Funds Rate. In this graph, a positive result suggests the Fed should've tightened policy, while a negative result suggests the Fed should have loosened policy.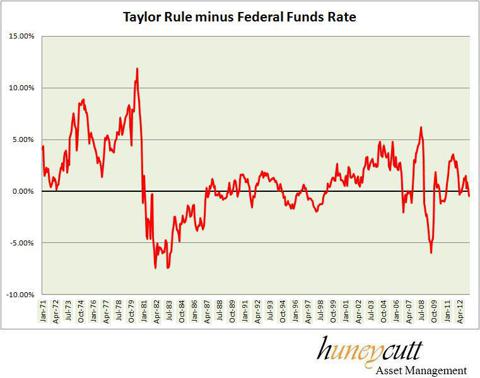 There are a few interesting takeaways. For one, the Taylor Rule suggests that the Fed should have kept interest rates higher for much of the 1970's, which was a period of high inflation in the US. Even without accounting for housing, it suggests that Fed policy was too loose from around 2002 - 2005, at the height of the housing bubble. However, the Taylor Rule suggests that monetary policy right now is just about right.
Now, we can compare regular Taylor Rule with the housing-adjusted Taylor Rule. Once we make that substitution, we get a much different result.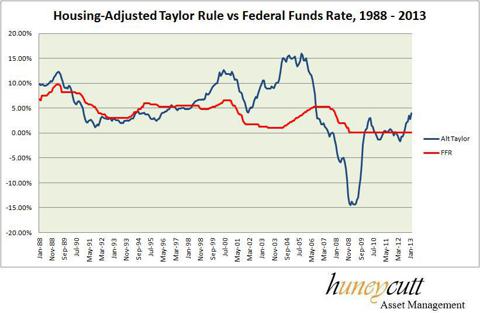 The housing-adjusted Taylor Rule may be showing somewhat exaggerated results due to the flaws in Case-Shiller data, yet we can nevertheless see how using housing-adjusted CPI would suggest that monetary policy should have been much, much tighter for most of the period running from 1997 - 2005. Perhaps more notably, we can see a big spike in the past six months, with the Alt-Taylor rule now recommending a Federal Funds Rate of 4.0%. This may be too aggressive, but at the very least, it does suggest that our policies right now are too loose.
The truth is likely somewhere between the two. We should probably end the zero-rate policy, but we should gradually ease off, as I will detail shortly.
By the way, in case you were wondering about John Taylor's current views, he wrote an op-ed for the Wall Street Journal a few months ago, that was critical of the Federal Reserve, arguing that it needs to start winding down asset purchases in order to promote long-term growth.
How Should the Fed Respond?
If the Fed were acting prudently, it would start taking baby steps towards a tighter monetary policy. The Fed should not only wind down asset purchases, but it should also raise the Federal Funds rate up to 0.25% within the next two months, and up to 0.5% by early autumn. If housing continues to stay hot, it should look at pushing the FFR up to 0.75% or 1.0% by year-end.
This would allow the Fed to feel out the waters a little bit before getting too aggressive. It would also signal that it has an exit plan and would help restore some confidence in the US economy.
Unfortunately, I see this as a highly unlikely scenario in the current environment. The mainstream economic consensus in America has become so biased in favor of perma-stimulus, that even this fairly conservative suggestion (that a recovering housing market means we should slowly wind down monetary stimulus) is treated as radical.
Is there a possibility that higher rates could help push us into recession? Yes, but this is a lesser evil than creating an economy permanently addicted to stimulus. Unless the Fed starts to make a return to monetary normalcy, we could see perpetually low growth coupled with above-average inflation, and that's an uglier result than a minor recession.
How To Invest
My investment views right now are very mixed. So long as the Federal Reserve continues to take its ultra-dovish stance and Congress and the President continue to spend aggressively, housing and real estate will benefit. Likewise, commercial banks and some insurers will continue to see improvement, making beaten-down stocks like Citi (NYSE:C) and Genworth (NYSE:GNW) attractive investments.
At the same time, I'd still be wary of the potential for a market downturn. The Affordable Care Act, coupled with many recent tax increases, could sap consumer spending and job growth more than anticipated. For this reason, I think this is a prudent time to be well-hedged and maintain an adequate cash cushion.
Even in the event that the economy slows significantly, I expect housing to continue to rebound, due to the supply shortage. However, this recovery would prove more sustainable (and less volatile) over the long-term if the Fed would begin to gradually ease off the gas. It's time to return to monetary normalcy, but I'm afraid the Fed is intent on continuing to fight the last war.
Disclosure: I am long C, GNW. I wrote this article myself, and it expresses my own opinions. I am not receiving compensation for it (other than from Seeking Alpha). I have no business relationship with any company whose stock is mentioned in this article.