Who will be the happiest person? The one who brings happiness to others. ―Swami Satchidananda
Lululemon Athletica (NASDAQ:LULU) has succeeded wildly by defining an entirely new category, aspirational lifestyle apparel, and has become the leading clothier for those seeking a healthier, happier life through the practice of yoga. This retail locomotive has been barreling forward both in North America and internationally, achieving extraordinarily high profit margins and a veritable cult following of far-flung consumers and brand ambassadors that just keeps expanding. Wall Street has noticed and there is tremendous enthusiasm for the future of Lululemon evident in the meteoric rise of its stock price. With these commanding heights come questions. Are the current high levels of growth sustainable and is the current valuation of the stock appropriate?
Perhaps the greatest reason for the incredible enthusiasm of its customers and ambassadors is not only the quality of materials and workmanship but that the Lululemon brand is oozing with positive energy. Better-life messages are visible throughout the stores, emblazoned on printed materials like shopping bags and virulently spread through social media and web pages. Happiness abounds in the Lululemon ethos and ideals of self-improvement, positivity and a healthier, better life that is palpable in the shopping experience. Delivering the apparel for a better life has proven that consumers are willing to pay a big premium for Lulu products versus others' apparel, not only because of superior technical quality and style but also through promoting a mindset that people can be better and happier through yoga.
LULU Ambassadors, Micronetworks and Low Advertising Costs
Much of Lulu's enduring growth and targeted brand awareness can be attributed to legions of loyal and enthusiastic brand "ambassadors." These yoga, fitness and dance instructors, spread throughout Lululemon store geographies, align themselves with the brand and in exchange use Lulu to help them as individual teachers promote themselves through opportunities to teach free classes in Lululemon stores and receive product discounts. Yoga, fitness and dance instructors receive 15% off Lululemon products and Ambassadors get a thousand dollars of free products. Being a Lululemon ambassador enhances teachers' credibility and prestige.
Micronetworks
Individual stores use a local website and Facebook (NASDAQ:FB) page encouraging store employees and local shoppers to participate and engage online. This is different than most retailers that only feature a main corporate site. This flat model of having individual pages for local stores allows a local online community to develop among teachers, practitioners and Lulu consumers, further promoting the brand. Creating this community is extremely low cost and by not engaging in much traditional advertising to speak of, Lululemon enjoys incredible brand promotion and marketing while keeping advertising costs to a very low level.
Evolution of a Lifestyle Brand
As the Lululemon brand matures, its reach to consumers has expanded from the core contingent of specific workout clothing for women into a lifestyle brand that serves men as well. Much of what they sell today is worn on the streets for running errands and there are many more men wearing the brand today.
Competition is Knocking
Apparel retailers are paying close attention to the Lulu story and are taking action. With over one billion in annual sales today, Lululemon is grabbing a lot of shoppers' dollars and continues to earn more of them. The rise in women-centric, fitness/lifestyle fashions like those of Lululemon are commanding a healthy premium over basic athletic wear. A question now has become whether more competition will make a significant dent in Lulu's sales or will the rising tide of popularity and growth of yoga and yoga fusion/dance/ballet exercise popularity lift all boats.
Athleta - Mind the Gap Inc.
Gap Inc's (NYSE:GPS) Athleta brand is currently the biggest, most clearly visible direct competitor and is stalking Lulu one store at a time in the same malls trying and pick off Lulu customers. Being able to leverage the expertise and scale of Gap Inc, America's biggest retail chain plans to have 50 Athleta locations by the end of next year. In speaking with a number of people who know both brands well, Athleta could become a very real threat to Lululemon.
Some of the key areas to consider compared to Athleta are as follows:
Price. Full retail pricing is similar between Lululemon and Athleta, but if Athleta behaves at all like the other Gap companies, expect there to be aggressive promotions and discounting. Lululemon sells 95% of its gear at full price, says Chief Financial Officer John Currie. Its core items are never put on sale.
Return Policy. Athleta's "Give it a Workout Guarantee" promises "Love it or return it. Any time. Any reason." This even goes for used garments. This is a very significant differentiator from Lululemon who is notorious for having a very unfriendly return policy that includes no returns after two weeks and only those items with original tags that have never been worn. As Athleta penetrates more of Lululemon's geography, the power of this single point shouldn't be underestimated. People that feel safe buying, buy more and Athleta crushes Lululemon on this point. Being out of step with what consumers are used to getting elsewhere could be a limiting factor to Lululemon's growth. Lululemon does not shy away from their policy either. Chief Executive Christine Day was recently quoted stating: "We aren't Nordstrom. We aren't your personal shopper." Time will tell whether this attitude will continue to help grow sales or not.
Yoga/Fitness classes held in stores. Athleta racks are on wheels and can be rolled aside and classes can be specific to yoga, pilates or running. Fitness professionals can promote themselves as small businesses. Lululemon and Athleta have an equal opportunity here.
Discounts for Fitness Professionals. Athleta is offering a very aggressive 30% discount compared to Lululemon's 15% and where Lululemon requires feedback on garments in exchange for this discount, Athleta's requires no input.
Other Competition
While Athleta is currently the most touted competitor of Lulu, it is only one component. The broader competitive landscape includes Bebe Sport (NASDAQ:BEBE), VF Corp's (NYSE:VFC) Lucy, Under Armour (NYSE:UA), Gap stores, athletic shoe stores, department stores, discount stores and warehouse clubs. While some consumers can afford to purchase all of their fitness attire at a premium Lululemon or Athleta, the majority of yoga and other fitness clothing is being purchased at lower cost stores.
This Good Lovin' Don't Come Cheap
If its clothing is top of the line, Lulu's stock price is the Mother Superior. As we have recently witnessed with Apple (NASDAQ:AAPL) over the past year, a wonderful, popular business is at risk of its stock price being sent far beyond reasonable levels. It is clear that Lulu's business is going to continue to grow for the foreseeable future, but the question becomes what price is reasonable for a rapidly growing, successful business such as this. Below we look at some of the most highly successful growth companies compared to Lulu and also consider it vis-a-vis its direct competitors.
The Price to Sales Ratio
Price to Sales Ratio = Price per share / Annual Sales of Prior 12 Months
The price to sales ratio is a tool with many limitations. It does not take into account management effectiveness, expenses or debt. Using the price to sales ratio across industries is dubious as well. It is most useful when looking at similar companies. This ratio does not tell the whole story in any situation. But in this exercise, it does show a specific story relating to Lululemon.
At the time of this article's publication, on a price to sales basis, LULU is selling for a rich premium when compared both to its direct competitors and also when viewed against a broad group of very fast growing companies over the past three years.
Price to Sales Ratio: Lululemon vs. Nearest Competitors
Here, we consider the Lululemon price to sales vs. competitors. Finding direct competitors is difficult for Lulu, as its strongest competition operates more diverse clothing companies. Gap Inc's Athleta brand stands as the most direct competition; however, it is just a part of the greater Gap Inc. which includes the diverse brands of Gap, Banana Republic, Old Navy, Athleta and Piperlime. The Gap comparison is worth considering but it's important to recognize the breadth of these brands and its relative maturity as a parent corporation, having been around since 1969.
Here is the Price/Sales Ratio Chart for Lululemon, Gap Inc., Under Armour, Nike, VF Corporation and Bebe Stores: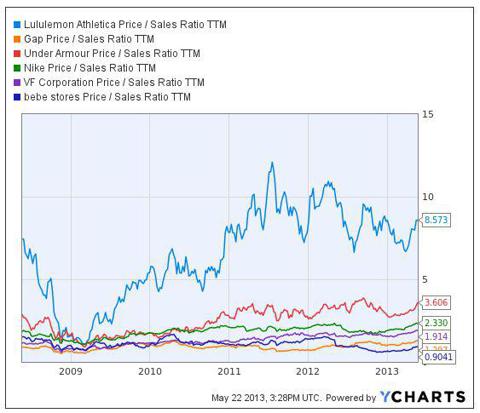 Click to enlarge
Price to Sales Ratio: Lululemon vs. Fastest Growing Companies
Here we consider the stock price to sales ratio per share of Lululemon versus all other fastest growing companies that are publicly traded on a major US stock exchange, have revenue of at least $50 million and some additional criteria found here. For this chart we only included the top 10 fastest growing North America domiciled companies and omitted those businesses involved in precious metals, oil and gas exploration and biotechnology.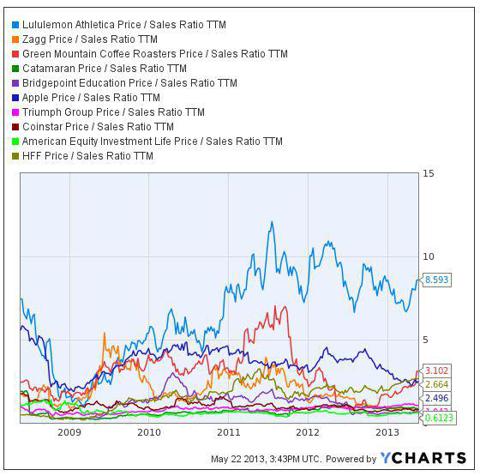 Click to enlarge
Investment Implications
It is quite clear that Lululemon is the industry leader in high fashion, high-technology, yoga, dance and fitness apparel and will continue to grow at an impressive rate for the foreseeable future. The question from here as an investor becomes how much should you pay for the growth rate to come that is uncertain. Evaluating the price to sales ratio, especially against businesses in the same industry, puts Lulu in a rarefied air of valuation. With competition as fierce as it is, investors should proceed with caution at current market prices. To come into line with industry price to sales ratio averages, Lululemon needs to continue growing at a fantastic rate, and it may very well succeed because this company is filled with talented people and has legions of dedicated customers and ambassadors.
Building new stores and growing internationally, which is the Lululemon strategy, takes time and money. CEO Christine Day brings her long tenure and specialized talent from Starbucks Corporation (NASDAQ:SBUX), having been charged with growing its store base in Asia, so odds are likely that she will do a terrific job. Still, at this price level, a conservative investor should pause and ask whether attractive rates of return can be expected from this point on and consider this expectation amongst other available options. A defensible investment in Lululemon today would require a very strong conviction that overall demand for their products will increase at a very high rate and also succeed with international expansion.
A Parting Gift
To close, I leave you with a choice. Imagine now that you are the lucky recipient of a large inheritance. The gift is going to be that of a) an entire business or b) a large percentage of another business. This gift equals exactly enough cash and explicit directions to purchase either a) 100% of Lululemon Athletica or b) 57.1% of Gap Inc. The cash cost is the same for either, the value of the gift equals the price, $11.3 billion.
Now, you have to choose which you would rather have. I know you take this responsibility quite seriously and want to make the most rational decision so here are some key details to help. You are going to pick that which you feel gives you the best bang for your $11.3 billion bucks. Your job is to decide which is the better value and investment. Think in terms of what you get today but also consider what kinds of growth you may expect in the future from both of these options. You are not allowed to just keep the cash and you have to make the decision now as the gift expires at midnight and you certainly don't want that to happen.
The table below shows, at time of this article's writing, that the entire Lululemon Athletica company (market capitalization) is selling for $11.3 billion. For this same $11.3 billion, if you were to purchase shares in Gap Inc. you could effectively purchase 57.1% of its shares. So for the same $11.3 billion, you can either have all of Lululemon or 57.1% of Gap Inc. What do you "get" in these scenarios? Refer to the "equivalent" rows below shaded in blue which show how much you get in Lululemon, and review in terms of total revenue, net income and the number of store locations versus how much you get in equivalent Gap stores. If you choose Gap Inc. you are getting the equivalent of 57.1% of all Gap, Banana Republic, Old Navy, Athletica and Piperlime properties. Which are you going to choose?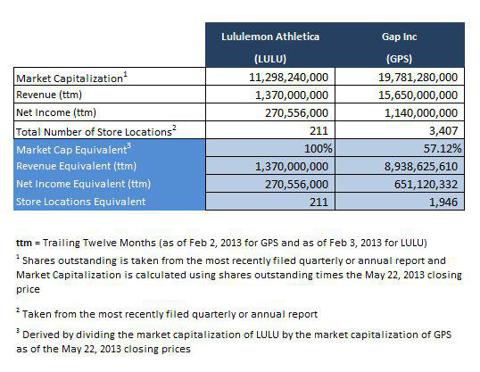 Click to enlarge
Disclosure: I am short LULU. I wrote this article myself, and it expresses my own opinions. I am not receiving compensation for it. I have no business relationship with any company whose stock is mentioned in this article.