While pockets of thermal production in the U.S. have begun to recover from last year's lows, metallurgical coal continues to struggle. Q2's benchmark price settled at $172/tonne, an increase of $7/tonne (the first increase in nine months). However, this welcomed increase was lower than the analysts' average expectation of $175/tonne. As we approach the Q3 settlement period forecasts have begun to trickle in, shedding some light on the outlook for the remainder of 2013 for some major U.S. and Canadian producers.
Click to enlarge image.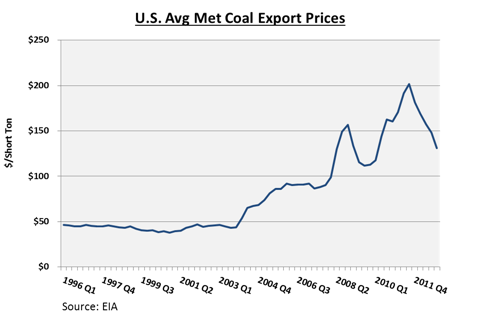 Click to enlarge
BB&T Capital Markets recently commented on their expectations for the Q3 benchmark, pegging the price at $160/tonne. To put this decline in perspective, it would be a $12/tonne decrease from the current benchmark price and over a $150/tonne decrease from peak prices in 2011. Earlier this month, Bloomberg News' median estimate for the Q3 benchmark stood at $165/tonne. Primarily driven by declines in demand from Asia and Europe (in addition to supply increases), either scenario will require producers with large metallurgical assets to revise their annual forecasts.
Some producers, such as Walter Energy (NYSE:WLT) and James River Coal (JRCC), have been acquiring additional metallurgical assets over the last few years, increasing their exposure. Meanwhile, producers such as Alpha Natural Resources (ANR), though more diversified, are still heavily impacted by changes in metallurgical prices.
However, to end on a positive note, the longer-term outlook for metallurgical coal is less grim. Last month, Arch Coal (ACI) President and CEO John Eaves commented that although there is a correction occurring in the metallurgical spot market, domestic demand indicators are looking increasingly strong: "If you just look at auto production, we're up over a million units since last year. We haven't seen those levels since 2007." Additionally, Chinese metallurgical coal imports increased in April, the first time in 2013.
Disclosure: I am long ACI. I wrote this article myself, and it expresses my own opinions. I am not receiving compensation for it (other than from Seeking Alpha). I have no business relationship with any company whose stock is mentioned in this article.