Disney (NYSE:DIS) is finally beginning to pull back. It seems like it's been ages since we've seen a down day in the entertainment giant. At the same time however, it just seemed like Disney was at $50 the other day, (which was actually many months ago). So what do we do with the stock now and more importantly, where is it headed?
First, let's look where the stock has been. To start 2013, Disney opened at $51-and-change. Since then it has gone on a huge run, 32.5% to be exact, closing at $65.83 on Tuesday. Disney is a bittersweet stock for me. Sweet because it is my best year-to-date outright stock (non-derivative) position, but bitter because it's one of my smaller positions as well.
But that's okay. I've got confidence in Disney to continue its upward push and plan on holding it for the long term. Just recently, Disney announced that "Iron Man 3" had already done more than $1 billion in box office sales. Man, that's a ton of movie tickets!
One billion dollars? But wasn't that the projected amount "Iron Man 3" was supposed to do, in total? It was expected that "Iron Man 3" would do good, but it wasn't expected that it would do this good, this fast. This is great for Disney, and even more, it's reassuring for investors. It says that Disney can continue to create successful and engaging movies, (even after the "John Carter" flop).
Disney's success in films continues to bode well for the company. Dating back to the Pixar deal with the late-Steve Jobs (who was Pixar's CEO at the time), Bob Iger, Disney's CEO, has proved he's willing to spend money to continually produce great flicks.
The acquisition of Marvel in 2009 has proved profitable, especially with the Iron Man series and The Avengers series, which have done very well. More recently, in 2012, Disney paid $4 billion for Lucasfilm, which is most notably famous for the Star Wars saga and was 100% owned by its founder, George Lucas.
Disney has already announced that it plans to release three more Star Wars movies starting in 2015 and personally, I favor the odds that these will be successful as well. The previous success that Disney has had, keeps me very confident as a shareholder that the company will continue to thrive in this profitable segment of its business.
Let's also not forget Disney's deal with Netflix (NASDAQ:NFLX) towards the end of 2012. Although the financial terms were not disclosed, the deal is for streaming rights on titles from the following Disney divisions beginning in 2016: Pixar Animation Studios, Marvel Studios, Walt Disney Animation Studios and Disneynature. The nearly-famous slogan, "content is king," will likely prevail, as shareholders undoubtedly know that Disney will make out well on the deal.
More so, Disney just reported second-quarter earnings on May 7. Honestly, even though I owned the stock, I was hoping it would go lower. Disney stumbled slightly after the report, but that was likely due more to the run-up the stock has experienced this year. Disney, which beat on both the top and bottom lines, appears to be doing all the right things.
It appeared that many analysts were worried about all sorts of things with Disney going forward. Some thought that the payroll tax increase and gasoline prices would cause more Americans to have a "stay-cation," rather than taking a weekend trip to Disney.
But that wasn't the case. Taking a look at Disney's second-quarter 10Q shows that Parks and Resorts revenue grew to $3.3 billion, from $2.89 billion in the previous year. This represents an increase of roughly 14.2%. Perhaps even more impressive, operating incoming for the division was up 72.5%, from $222 million to $383 million.
Iger had this to say regarding the Parks and Resorts division:
"As I mentioned earlier, Parks and Resorts contributed significantly to our results this quarter as the investments we've made in our domestic and international parks over the last several years begin to drive growth. In Q2 Walt Disney World and the Disneyland Resort both set new attendance records for the quarter."
Okay, so clearly the Mouse in the House is running a pretty tight ship. This is great for investors and exactly what they want to see. But what about those who aren't long shares of Disney? Obviously unless this is viewed only as a trade, there's no reason to get out now. Granted, the stock has advanced quickly the past several years, but it's a great stock and a very well managed company.
So now what? We know that Disney has the type of stability and growth that many investors are looking for, (which is why I routinely refer to Disney as a hybrid stock). However, there may be light at the end of the tunnel. As strong as Disney has been this year, it is starting to get a little long-in-the-tooth.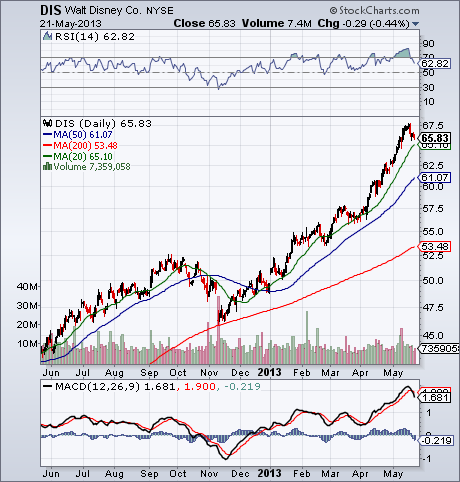 As you can see on the chart above, a pullback already seems under way. As the stock began to approach $68, it had very exhaustive price action. You can see where Disney broke sharply lower and I think it will start to make its way back towards $60.
Now, that's not to say that I think it will get to $60. Actually, I think the only way it will get to $60 is if we have a sizable market correction. Without that, we'd be lucky to see Disney at $62.50. I wouldn't be horribly picky on the entry honestly. But it also depends on if you're an investor or a trader.
You never want to "buy the top," so in that sense I can see why some would try and time it perfectly. My plan would be to create a starter position and slowly add to it. However, if you believe Disney will be higher one year from now and actually want to be along for the ride, start a position in the low $60s, like $62 or $63. If it continues to correct further, add more. That's why it's called a starter position.
Disney has been a stud and if you've been looking for a quality name that is lagging the stock market lately, look no further than Disney. Iger and his management team have proved that they are willing to spend money to make money -- a lot of money that is. Disney on a pullback is a steal. If you've been waiting for it, don't hesitate. Pull the trigger.
Disclosure: I am long DIS. I wrote this article myself, and it expresses my own opinions. I am not receiving compensation for it (other than from Seeking Alpha). I have no business relationship with any company whose stock is mentioned in this article.