BlackBerry (NASDAQ:BBRY) has entered social media with the new channels feature for BlackBerry Messenger. BBM was the tool of choice for sending text messages effectively and quickly. Now there is a smörgåsbord of applications which meet this messaging need, and some that extend into the realm of social networking. Facebook (NASDAQ:FB) and Twitter have both shown that the social networking industry is profitable, and BlackBerry wants a slice of the pie. Time will tell how many people will get tired of Apple pie and switch to BlackBerry pie.
How will BBM channels be used?
As an extension to BlackBerry Messenger, channels have been introduced that allow BlackBerry users the ability to connect with brands, businesses, celebrities and various groups. Information can now be disseminated in real-time, without the need to logon to check your feed or page.
While still in beta testing, BlackBerry has released the following feature list:
Create a channel - Create, edit and publish in an instant, and there are no limits to the number of followers you can have in your channel. Securely manage your channel from either a BlackBerry smartphone or the web.
Discover channels - BBM Channels includes a carousel that lets you discover new channels. You can share channel invites within a BBM chat, and people can be added or invited using the channel's PIN or QR code.
View - View profiles for each BBM Channel you choose to follow.
Subscribe - Subscribing to a channel allows the channel owner to send you timely and relevant updates, giving the subscriber instant access to your news, deals, events or whatever you want to communicate. Subscribers can choose to receive notifications when new posts are available.
Participate - Participate and engage in conversations with your favorite people or communities by "Commenting" and "Liking" posts from channels you subscribe to. Channel owners have the option to directly chat one-on-one with a subscriber.
Monitor engagement - Easily use built-in measuring tools to assess and monitor follower engagement and interaction
Channels are directly built into the BBM program and I have taken some screenshots to illustrate the capabilities. It should be noted that Facebook recognizes the value of the mobile platform and is currently developing its own mobile platform.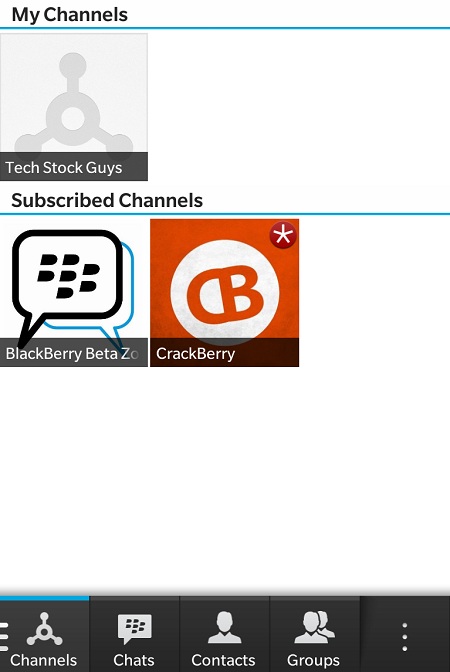 The channels tab differentiates the channels that you are subscribed to, and the channels that you have created. The channels have a feel of integrating Facebook pages with Twitter feeds, for a more robust experience.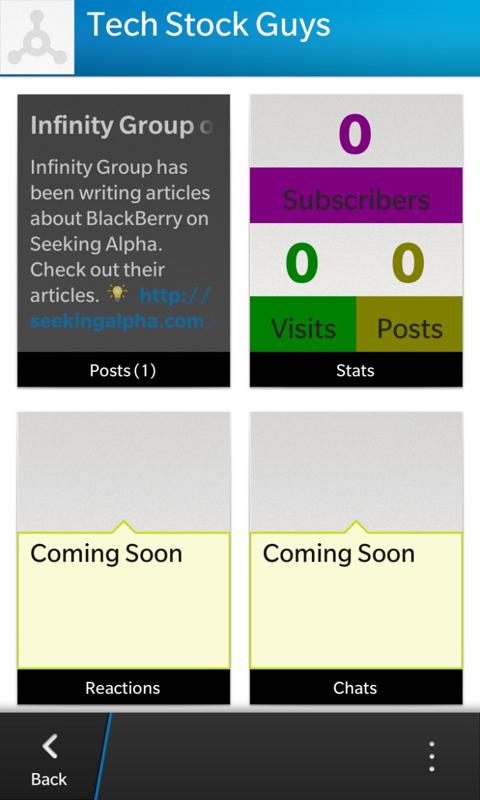 Once your own optional channel is created, a status page will be generated with statistical information. As this is still in beta testing, some features are yet to come.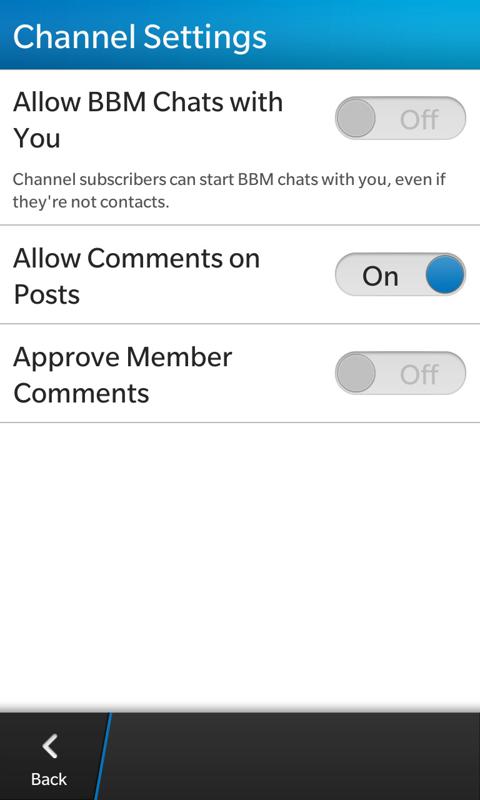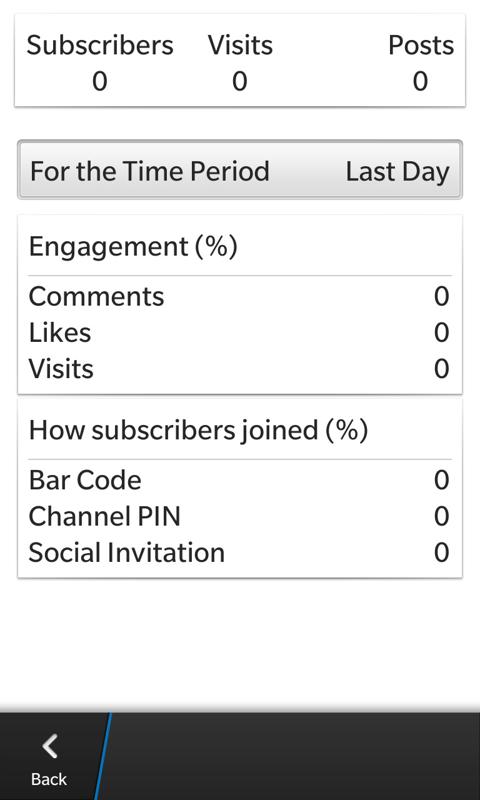 There are multiple ways to send out invitations to join your channel. A QR tag can be generated where other users can scan the image with their smartphone camera, and be instantly connected to your channel. This is reminiscent of the social networking site foursquare, where users can scan QR tags around town and share places with friends. The channel PIN can also be given through various means, and is in the same format as the previous BlackBerry Messenger application. A social invitation can be sent out directly through the BlackBerry hub, if the invitee is already connected to your BBM contacts.
The feedback of statistical information appears to be the main focus for BlackBerry in using the channels, and more features in this area should be expected in upcoming revisions.
Engadget et al
When major events occur in the tech industry, live blogging from the online magazine publishers becomes a regular occurrence. Currently the live blogging information is posted to its website in real-time, where a static web browser has to be used to receive the feed. There are other ways to receive the information; such as, an RSS feed, twitter or Facebook post, but each has its own inherent limitations.
With information being disseminated quickly being a commodity, an efficient method rich in video, graphics and audio is a necessity for corporations. BlackBerry has been known as the businesspersons smartphone for the past decade; and as such, BlackBerry's new BB10 platform would be a logical choice for delivering content rich information in a timely manner.
Users critical of BBM on iOS and Android platforms
Since the announcement of BBM being released on both the iOS and Android platforms, there has been a growing discourse amongst loyal BlackBerry users. Why would BlackBerry want to give away their pride and joy? Because BlackBerry is forward thinking now, and by releasing BBM on multiple platforms, BBM channels starts to make sense. I will agree that without BBM channels, there would be little benefit on multiple platforms. Now BBM channels needs full integration as a complete social networking experience to be successful. BlackBerry has now shown its poker hand to the rest of the world what their intentions are.
Monetizing BBM Channels
The greater the number of users involved in the ecosystem enhances the ability to monetize it, as we are well aware with Facebook and Twitter. I feel the target audience is different as BlackBerry has a niche market, but that doesn't preclude some users from utilizing BBM channels similar to Facebook and Twitter. I can't believe this would be BlackBerry's direction, as there is no need to reinvent the wheel. With most other BB10 features, the direction is clearly to carve out new and innovative technological advances.
From a corporate perspective, managing BBM channels from its existing BlackBerry infrastructure allows for real-time feedback, as well as statistical data. Because of the high integration of BBM and BlackBerry Enterprise Service 10, there is more flexibility for a corporation to utilize social media effectively. While it is true that BBM channels is still in its infancy and many of the features I have envisioned have not materialized, I feel this is the direction BlackBerry is taking. Corporations will demand what features are required, once BBM channels have been fully evaluated. The possibility of third party vendors developing BBM Channel enterprise plugins would further enhance the ecosystem.
I do not anticipate Facebook losing revenue to BlackBerry in the near future, since the business models are somewhat different. However there is some overlap in the ecosystems, and one thing I have learned over the years in the tech space, is that anything is possible.
Currently BlackBerry has approx. 70 million users to Facebook's 1 billion users. Assuming all BlackBerry users are Facebook users, 7% of Facebook users are shared. The sense I receive on the street about Facebook is that users are bored and are looking for the next best thing. With BBM and BBM channels fully integrated into the BlackBerry operating system, the ease to communicate would be a motivating factor. I am sure Facebook and Apple (NASDAQ:AAPL) are watching the new BBM channels ecosystem closely.
Facebook generates revenue with ads, which bring in approx. $3 per user in each quarter. This is known in the industry as average revenue per user or ARPU. I do not believe that BlackBerry will introduce ads at this time; it is possible though that the channel creator could generate revenue, and BlackBerry may require a portion of the revenue at a later time. But this is pure speculation at this point. Using the same metric from Facebook, BlackBerry could bring in reoccurring advertising revenue of $210+ million per quarter or $840 million per year.
Wish List
This is one area where I would like to see BBM integrated into the automotive industry. Leveraging the automotive QNX platform into a viable extension of the mobile office, would go a long way in regaining market share in the business world. There have been many articles on QNX and the automotive industry, so I will leave that for you to discover the possibilities. But, here is a link to an article to get started; the article is called" More Than a Smartphone".
AGM
With the annual general meeting for BlackBerry approaching, we thought it would be fun to blog live from the AGM over a BBM channel. I will provide more information closer to the AGM, under our subsequent BlackBerry articles and our Infinity Group - Seeking Alpha profile.
Disclosure: I am long BBRY. I wrote this article myself, and it expresses my own opinions. I am not receiving compensation for it (other than from Seeking Alpha). I have no business relationship with any company whose stock is mentioned in this article.