Baidu (NASDAQ:BIDU), China's erstwhile search giant, has not had a good inning in 2013. As the chart below shows, its stock has fallen by around 7.5% in the year-to-date, trailing the returns of both the S&P 500 and the NASDAQ Composite by over 20%
Baidu v. S&P 500 and Nasdaq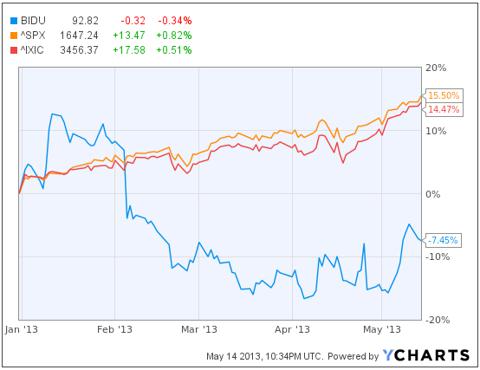 Source: YCharts
Part of the reason is that Baidu is regarded as a "China Play" but China's economic performance has failed to impress in the year thus far: its GDP grew by 7.7% in the first quarter of 2013. While that is certainly a growth rate that developed economies such as the U.S. and the Eurozone would swoon at the prospect of achieving, it is below the 8.2% growth rate forecasted for China by economists.
Baidu faces a similar conundrum: it is expected to dominate but has encountered some sticky challenges. Indeed, while Baidu is the emperor of desktop searches in China with 75% of the market, it does not hold reign in the more lucrative mobile Internet space. It trails its competitor, Easou, with just 35% of the market and is fighting off challengers such as Google (NASDAQ:GOOG), which we wrote about recently, and Tencent (OTCPK:TCEHY) with which it has a combined 55% share of the mobile market. It is also being challenged by Qihoo 360, which leveraged its position (450 million users) as a popular local anti-virus software maker to lead users to its search services using its own web browser.
These challenges drove Baidu to launch its own "Baidu Phone" (the ChangHong H5018) in 2012, with a huge 300GB online storage package as part of a $140 ticket price. Many Chinese who own smartphones don't have PCs at home so access to 300GB of free storage for music, files and images is a huge come on. However, online packages of that size cost $600 annually so the Baidu Phone is a loss leader for the company as it seeks to buttress its mobile search presence.
Its mobile push has seemingly paid off, with 86 Research, a Chinese boutique equity firm, reporting that Baidu's mobile profits are growing faster than expected. Rather than remaining content with simply growing faster than expected, Baidu has seemingly doubled up, acquiring the online video operations of China's leading online video service Provider PPS to merge with its own video platform, iQiYi, in order to create China's largest video platform.
Given Baidu's recent moves and the fact that its performance in the year thus far means that it has not benefited from investors' largesse, Baidu might just merit a place in investor's portfolios. Here's why:
Solid Earnings
Let's get this out of the way: Baidu is not growing by 85% any longer, as it did on average over the previous five years. With 75% of the desktop search market and a significant share of mobile search already in-hand, Baidu has reached maturity. Indeed, over the next five years, Baidu is expected to register earnings per share growth of 20%. While that seems like a paltry number compared to its past performance, it is actually 35% better than Google's expected growth rate over the same period and is also superior to the 19% growth rate of its industry group.
This is worth noting because Baidu currently has more Chinese users than Google has American users. Demographic limits (there are only 314 million Americans) prevent Google from matching Baidu's domestic numbers while Baidu still has literally hundreds of millions of untapped potential customers - only 38.4% of China's population uses the Internet.
That being said, it's not as though Baidu is just waiting for money to fall into its lap: as its recent moves in the mobile and streaming video business suggest, it intends to buttress its dominance in the search space by providing ancillary services and distribution methods that will make it difficult for both customers and the businesses that sell and advertise to its customers to leave its ecosystem.
The key will be execution: Baidu has underperformed expectations in two of its past four quarters by an average of 4.3%. Moreover, while its forward 5-year EPS growth rate is only at 20%, it's expected to post less than 1% growth in the current quarter and 2.2% in the succeeding quarter. It will need to beat these softball numbers in order to give credence to market expectations.
Strong Fundamentals
Baidu is not terribly expensive. To be sure, its 19.1 price-earnings ratio is richer than the S&P 500's 17.7 - but it is actually at a 30% discount to its industry's 27.5. What's more, its earnings have more substance: its price-to-free cash flow is at 23.6x - less than half the 53.9x of its peer group. Of course, Baidu's current price-to-sales ratio of 8.5x is frothier than its peer's 5.9x - but it should be noted that analysts expect sales to grow by 35% in the current fiscal year and 28% the following.
As we've mentioned, Baidu just has more upside: it has a larger market in which to sell its products and it has been harnessing that potential by investing heavily: its capital spending has grown by over 60% in the past five years whereas its industry peers have only grown their investments by an average of 21%. The fact that Baidu has had a 31% average return on investment over the past five years - 2.5x that of its industry's - should give investors confidence that their money is being put to good use.
Other metrics also favor Baidu over its peer group: its gross margins, at close to 78% over the past five years, are 12% better than its peer group's. More impressively, it currently has an EDITDA margin of 47% - far better than its peer group's 29% or the S&P 500's 20%, and also superior to Google's 30%.
Investors will also be pleased that Baidu is on sound footing: its quick and current ratios, at an impressive 4.4 and 4.5, respectively, are superior to that of its peers and the average S&P 500 company and while its level of debt is higher than its peer group's, at 42 cents for every dollar of equity, it is still less than half that of the S&P 500's. Baidu is also supporting its debt with a high servicing ratio of nearly 48x interest payments so there is little danger of the company encountering financial turbulence.
As we've noted, Baidu is transitioning to a period of slower growth so some profitability attrition is to be expected: its current net profit margin of 31.5% is around a fourth lower than its five-year average - but even at that "lower" level, it is still better than the near break-even levels of its peers (0.26%) and the average S&P 500 company (0.09%).
Conclusion
On balance, we believe that the tepid China story has pushed Baidu into overlooked status. The combination of its better-than-industry earnings prospects, its ongoing efforts to secure market share in the mobile space and its strong fundamentals should be enough of a reason for investors to buy the stock.
Indeed, at its current price of $92.84, Baidu shares are closer to their 52-week lows than they are to their highs. We believe that in 12 months time, investors buying the stock at current levels could be rewarded with Baidu tracking $120 per share - for an upside of over 29%.
Disclosure: I have no positions in any stocks mentioned, and no plans to initiate any positions within the next 72 hours.
Business relationship disclosure: Black Coral Research, Inc. is a team of writers who provide unique perspective to help inspire investors. This article was written by Jonathan Lara, one of our Senior Analysts. We did not receive compensation for this article (other than from Seeking Alpha), and we have no business relationship with any company whose stock is mentioned in this article. Black Coral Research, Inc. is not a registered investment advisor or broker/dealer. Readers are advised that the material contained herein should be used solely for informational purposes. Investing involves risk, including the loss of principal. Readers are solely responsible for their own investment decisions.