LyondellBasell (NYSE:LYB) has had an awesome year, and it looks like that performance will continue on, with one of the major drivers being its extraordinarily profitable ethane.
Ethane is a "wet" byproduct of shale gas, aka natural gas liquids (NGLS), along with butane and propane. All three are profitable, but ethane probably has the best potential going forward.
In the last conference call, James L. Gallogly, Chairman of Management Board, Chief Executive Officer and President of LyondellBasell, said this:
Carriers of strength were North American ethylene margins and production, and continued steady performance from the Intermediates and Derivatives segment.
In case you're unaware of it, "ethane is a feedstock for ethylene, a highly used chemical. The primary end use according to Shell 'is in film applications for packaging, carrier bags and trash liners ... injection moulding, pipe extrusion, wire and cable sheathing and insulation, as well as extrusion coating of paper and cardboard."
Basically ethane is used to make ethylene. The most used process to convert ethane to ethylene is via steam cracking. A more recent method is the use called oxidative dehydrogenation. The first method is more economical at this time.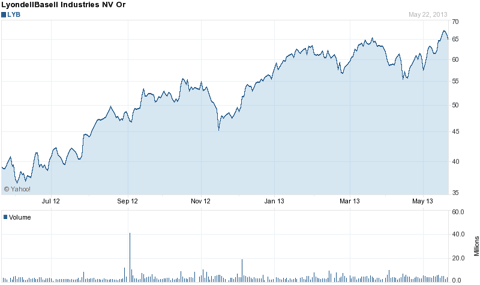 Click to enlarge
Production Costs of Ethylene
LyondellBasell is the second-largest producer of ethylene in North America. It continues to focus on ethylene for a very good reason - its margins are amazing.
For example, it competes nicely with its Middle East competition, which produces ethylene from 3-6 cent a pound. In the U.S. it can be produced for close to 6-10 cents a pound. The good news is the cost of American production is down by about 45 percent from July 2012, when compared with production costs in January 2013.
While the market fluctuates, lately the spot market in the U.S. has sold in a range from 40-55 cents. Your brains are already calculating, aren't they? This means margins are in a range of 35 cents to 45 cents a pound for ethylene in America.
LyondellBasell's Annual Production Capacity
With those margins in mind, let's look at the annual production capacity of LyondellBasell. The chemical company can produce 9.8 billion pounds of ethylene a year.
If we average the range of the margins to 40 cents a pound, you can see why this is such an outstanding part of success of the company lately. That means it generates somewhere in the neighborhood of $4 billion a year from ethylene.
Even though the market cap of LyondellBasell is over $37 billion as of this writing, that's still a significant amount of revenue generated, and it's the most profitable to boot.
To add some icing on the cake, the company recently announced it's going to boost its ethylene capacity at Corpus Christi by 800 million pounds a year. That should add about 20 percent more in high-margin revenue to the company annually.
Future Ethylene Capex
If LyondellBasell maintains its current strategy, there won't be any big capital expenditures, as the company has said it's not interested in pursuing building any new ethane cracker plant. That type of plant is the facility used to convert ethane to ethylene.
Rather than do that, the company states it will focus on boosting production in order to get the most out of the shale gas it is extracting. That means outstanding margins in this segment of the company for years. Again, this assumes the company remains on course.
LyondellBasell Competitors
Is there any chance LyondellBasell could lose some of its ethylene thunder from competitors? Not likely. The reason I say that is the supply/demand equation is in place for decades, and there is nothing to suggest that will change in any way.
That means even though it does have competitors such as Dow Chemical (NYSE:DOW), which is actually the No. 1 producer of ethylene in the United States, as well as Phillips 66 (NYSE:PSX), which owns a 50 percent share of Chevron Phillips Chemical Company, and is among the top ten in global producers of ethylene, that won't have any material effect on LyondellBasell.
It has successfully grown its ethylene business in the midst of that type of competition, and will continue to do so.
Master Limited Partnerships
A potential ace-in-the-hole for ethylene producers, including LyondellBasell, is the decision by the IRS to open "... the doors for US chemical producers to structure olefins (ethylene and propylene) business units as master limited partnerships, which generally are exempt from corporate taxes and have a relatively low cost of capital."
If Master Limited Partnerships of pipeline companies can be used as a model, that means not would the investment be tax-sheltered, but would probably pay out very high dividends as well.
Since the ruling was only made in October 2012, we haven't seen any takers yet, but it is something that must be kept in mind when thinking of even further benefit from investing in LyondellBasell.
If the company were to do that, it would quickly result in a spike in the share price, as well as offer shareholders a leg up on any MLP spinoff.
Conclusion
Ethylene is going to be a strong part of the ongoing success of LyondellBasell. With a profit margin of 7.11 percent and operating margin of 11.30 percent, the increase in ethylene production should help those numbers move up.
Its trailing P/E of 11.99 and forward P/E of 9.11 are very attractive, and should continue to be. Return on equity is a solid 27.51 percent.
The share price has been jumping over the last year, and even though it is approaching 52-week highs, it still has a lot of room to grow.
Although LyondellBasell should be considered a long play, the short-term doesn't look bad either, as the cost of ethylene production has moved in step with the rise in ethylene prices.
In March the rollover was 48 cents a pound, keeping the price for the U.S. contract the same in 2013. Spot prices were at 63.75 cents a pound, up from 63.00 cents a pound in February.
With prices holding steady or being slightly stronger, it confirms the support for margins in the segment.
The company also announced it will repurchase up to 10 percent of its shares over the next 12 months, as well as declaring an interim dividend of $0.50 a share, an increase of 25 percent over the dividend offered in the first quarter.
As Gallogly said, ethylene has been the major catalyst for margins in the company, and from a declared strategy of increasing ethylene production and not spending on a new ethane cracker plant, it looks like this will be a major driver of the company for many years. Investors should ride this wave.
Disclosure: I have no positions in any stocks mentioned, and no plans to initiate any positions within the next 72 hours. I wrote this article myself, and it expresses my own opinions. I am not receiving compensation for it (other than from Seeking Alpha). I have no business relationship with any company whose stock is mentioned in this article.