The latest reading from the National Association of Home Builders indicates that builder confidence is on the rise. In April, builder confidence was at 41 and has since increased to 44, due to improvement in all three index components: sales conditions, sales expectations, and prospective buyer traffic.
Since the housing market is showing signs of improvement, we wanted to identify which residential construction stocks might be worthwhile value investments.
We began with a universe of residential construction stocks, which we screened for undervaluation relative to earnings growth, with PEG below 1.
Next, we looked for stocks exhibiting bullish sentiment from institutional investors, with significant net institutional purchases over the last quarter representing at least 5% of share float. This indicates that institutional investors such as hedge fund managers and mutual fund managers expect these names to outperform.
For an interactive version of this chart, click on the image below. Analyst ratings sourced from Zacks Investment Research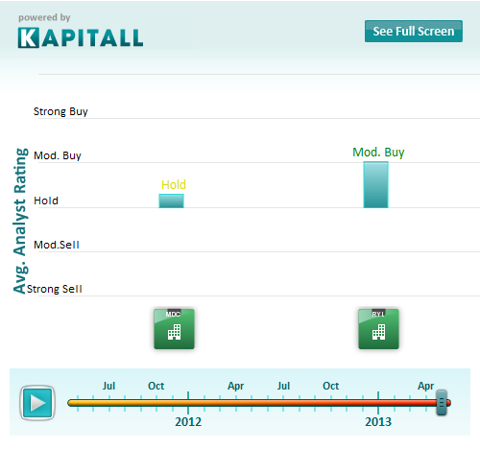 Do you think now is the time to invest in these construction stocks? Use this list as a starting point for your own analysis.
1. MDC Holdings Inc. (NYSE:MDC): Engages in homebuilding and financial services businesses in the United States.
Market cap at $1.89B, most recent closing price at $38.62.
PEG: 0.81
Net institutional purchases in the current quarter at 6.5M shares, which represents about 19.9% of the company's float of 32.66M shares. The 2 top holders of the stock are CVentures Inc. and State Street Corporation.
Yesterday, MDC announced that its home building subsidiary, Richmond American Homes of Florida, closed its purchase of The Oaks at Boca Raton. The 60 site homebuilding project - set to open in the fourth quarter of 2013 - is the first of its kind for the subsidiary in South Florida and comes on the heels of last month's entry into the Orlando market.
South Florida's housing market is on an upswing, with Florida Realtors' first quarter data showing a 10.2% increase in single-family home sales compared to the same period in 2012. The Sun-Sentinel reports that housing prices rose over 20% last month, and available housing inventory diminished by 43% in Palm Beach County (where Boca Raton is located). Florida is presently one of MDC's weakest markets, so these new ventures have the potential to increase Florida's contribution to the company's profit.
Last quarter, MDC's monthly sales absorption rates rose by 60% year-over-year to 3.0 sales per community per month. CFO John Stephens pointed out that this marks the company's highest quarterly absorption pace since 2006. MDC also saw income of $22.5 million, or $0.45 per share, extending its profitability streak to five consecutive quarters.
By the end of the first quarter of 2013, MDC owned or controlled roughly 13,000 lots, which represents more than a 3-year supply at the past 12 months' delivery rate. Stephens also highlights the company's $875 million in cash and marketable securities as well as its strong balance sheet. MDC is an industry leader with 0.8% one year free cash flow growth, coming in second to Beazer Homes' 1.99%. At the end of last quarter, the company's free cash flow stood at -$56 million.
2. Ryland Group Inc. (NYSE:RYL): Operates as a home building and mortgage-finance company in the United States.
Market cap at $2.19B, most recent closing price at $47.59.
PEG: 0.67
Net institutional purchases in the current quarter at 3.4M shares, which represents about 7.6% of the company's float of 44.72M shares. The 2 top holders of the stock are BlackRock Fund Advisors and FMR, LLC.
Last week, BUILDER Magazine named Ryland 2012's fastest growing publicly traded homebuilder in the U.S; in 2012 the company's closings increased 41% year-over-year to 4809 homes. The acquisitions of Phoenix's Trend Homes and Timberstones in Charlotte and Raleigh helped drive Ryland's growth, and the company is continuing to expand with its purchase of Dallas/Fort Worth-based LionsGate Homes.
The North Texas housing market is experiencing remarkable growth as of late; the Dallas Mornings News reports prices year-over-year soared by 14% in April, and pre-owned single-family home sales jumped by 30%. With housing inventory at its lowest number in nearly 20 years, Ryland now has the opportunity to capitalize on demand. Furthermore, the company just sold $250 million of 0.25% convertible senior notes; the proceeds will be used for general corporate purpose, which may including future acquisitions.
Ryland's monthly sales absorption rate of 2.8 homes per community reflects a 33% increase from 2.1 in the same period last year. Income year-over-year soared to $22 million, or $0.43 per diluted share, from -$3 million, or $0.07 per diluted share. The company's closings jumped 60.4% to 1307 units in comparison to 815 units during the first quarter of 2012.
Seeking Alpha contributor Money Investor notes that Ryland controlled 30,000 lots at the end of the quarter, which is a 30% increase from the year prior. Like MDC, Ryland's 30,000 lots represents an approximately three year supply at today's closing paces. As for free cash flow, Ryland is a laggard with -6.41% one year growth. However, the company had a sequential increase of $202 million resulting in free cash flow of -$12 million at the end of last quarter.
*Institutional data sourced from Fidelity. All other data sourced from Finviz.
Disclosure: I have no positions in any stocks mentioned, and no plans to initiate any positions within the next 72 hours.
Business relationship disclosure: Business relationship disclosure: Kapitall is a team of analysts. This article was written by Mary-Lynn Cesar, one of our writers. We did not receive compensation for this article (other than from Seeking Alpha), and we have no business relationship with any company whose stock is mentioned in this article.