Shares of Johnson & Johnson (NYSE:JNJ) have been in a solid uptrend throughout 2013. As shown in the chart below, the stock looks extended now, so investors should wait for a pullback. However, this company has many positives going for it which make it an ideal stock to buy in the next market correction.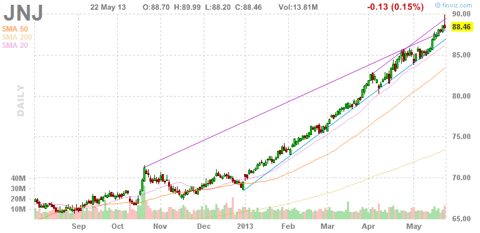 Click to enlarge
As the chart shows, Johnson & Johnson shares have advanced sharply in recent months. In fact, the stock may have gone too far, too fast as the market seemingly rallies almost every day. That is why this and other stocks could be due for a short-term pullback. The 50-day moving average is $82.85 (as shown by the orange trend line on the chart) and the 200-day moving average is $73.16 per share (as shown by the light brown trend line). In a market correction or a company-specific downturn, these shares could be headed back down to around the $83 level, or at least closer to it. A pullback to this $83 range would be an ideal buying opportunity because the stock would once again be trading near a key support level. Short-term pullbacks in Johnson & Johnson should be used as a buying opportunity because this company has a number of long-term upside catalysts:
Johnson & Johnson develops, manufactures and markets medical devices, drugs, and healthcare products. It owns a wide range of well-known healthcare products which include: Motrin, Band-aid, Listerine, Reach, Splenda, Tylenol, Lubriderm, Sudafed and many others. These products are steady sellers in both good times and bad, which makes this company relatively resistant to recessions.
Johnson & Johnson has a very strong balance sheet with about $21.67 billion in cash and around $15.89 billion in debt. This financial strength reduces risks for investors and it gives the company the ability to raise the dividend and maintain research and development spending for new product development. Analysts expect the company to earn about $5.41 per share in 2013 and for earnings to rise to $5.78 per share in 2014. The S&P 500 Index (NYSEARCA:SPY) currently trades for about 16 times earnings. If you apply that multiple on earnings estimates $5.78 for 2014, it is reasonable to see why this stock could be heading to $100 per share next year.
Johnson & Johnson has raised the dividend for about 50 years in a row and this makes it a leading dividend growth stock. For example, in 2005, the quarterly dividend was 33 cents per share, but due to regular increases, it is now paying 66 cents per share. That means the dividend has doubled in just about eight years.
A number of investors and analysts believe this company should go from being a healthcare conglomerate and instead split up into possibly three different divisions: pharmaceutical, consumer products and medical devices. This could provide additional upside catalysts for the stock. This was certainly the case for Abbott Labs (ABT), which did a spin-off of Abbvie (NYSE:ABBV). Jim Cramer points out that this has provided exceptional returns; he states: "From the day before the breakup was announced, Abbott and AbbVie together have now generated a 58% gain."
The "smart money" has been buying this stock. Billionaire Donald Trump has said he bought shares of Johnson & Johnson. A well-known and highly successful fund manager named Donald Yacktman recently added to his position in this company and now holds over 9.7 million shares.
Johnson & Johnson shares offer a history of rising dividends, revenue growth potential, and even spinoff potential and that makes this stock attractive in the long run. However, these shares may have gone up far too fast and that is a short-term downside risk for investors to consider. There are other downside risks to consider. The company is facing a number of lawsuits ranging from product liability problems with Risperdal (a antipsychotic drug) and hip replacement devices. Recently, a lawsuit was filed by the Kentucky attorney general, with a claim that the company was illegally promoting Risperdal. While these issues have not brought the stock down yet, these factors could weigh more heavily if investor sentiment gets more negative in a market correction.
Here are some key points for JNJ:
Current share price: $88.46
The 52-week range is $61.71 to $88.20
Earnings estimates for 2013: $5.41
Earnings estimates for 2014: $5.78
Annual dividend: $2.64 per share, which yields 3.1%
Data sourced from Yahoo Finance. No guarantees or representations are made.

Disclosure: I have no positions in any stocks mentioned, and no plans to initiate any positions within the next 72 hours. I wrote this article myself, and it expresses my own opinions. I am not receiving compensation for it (other than from Seeking Alpha). I have no business relationship with any company whose stock is mentioned in this article.
Disclaimer: Hawkinvest is not a registered investment advisor and does not provide specific investment advice. The information is for informational purposes only. You should always consult a financial advisor.