Alex Bryan recently wrote a Seeking Alpha article, Does Momentum Investing Actually Work? Bryan's article presents an argument for momentum investing, and this article walks readers through the analysis of how one can identify which sector ETFs are the top momentum performers. Beginning with equal percentages allocated to each of eleven Vanguard sector ETFs, we first construct an efficient frontier graph to see how equal allocations compare to an optimized portfolio. While building a portfolio around market sectors is not as desirable as using asset classes, this analysis identifies potential sector ETFs as candidates to include in a broader well-diversified portfolio. This same process can be used to identify top performing dividend aristocrat stocks.
Efficient Frontier: The following efficient frontier graph shows that equal allocations result in a portfolio that is not fully optimized as identified by the small red dot. The market is expected to grow at a 7.0% rate so a sector portfolio is not likely to keep up with the broad market. However, we want to extract the top sector ETFs so scroll down to the next screen-shot where the ETF rankings are displayed.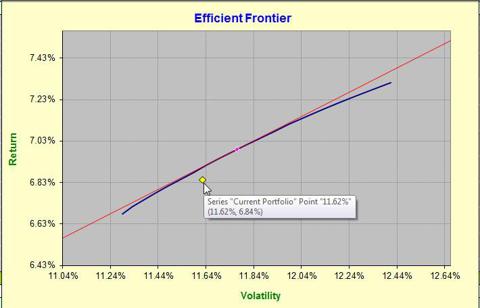 Sector Rankings: The eleven Vanguard sector ETFs are ranked using the following criteria. A 50% weight is assigned the performance over the past three months, 30% to the past six month performance, and 20% to volatility. The idea is to extract high performers, yet moderated by low volatility. Using this ranking system, consumer discretionary (NYSEARCA:VCR), healthcare (NYSEARCA:VHT), and financials (NYSEARCA:VFH) are the top ranked sector ETFs.
If you check the far right-hand column, the growth of VFH has slowed based on the momentum calculation, so one may want to concentrate further evaluations on VHT and VCR.

Buy-Hold-Sell Recommendations: The following table is instructional for the investor interested in building an optimized portfolio with a tilt toward momentum. The number of shares to purchase for VCR, VHT, and VFH are recommended in the difference column as well as the shares to be sold out of the lower performing sector ETFs.
As implied above, building a portfolio around market sectors omits many asset classes that could enhance portfolio performance. With this background, one can include broad market ETFs such as VTI, VEU, and VWO, add in a few highly selected stocks and come up with a well-diversified "Mosaic" portfolio.

(
Disclosure: I am long VCR, VHT, VFH. I wrote this article myself, and it expresses my own opinions. I am not receiving compensation for it (other than from Seeking Alpha). I have no business relationship with any company whose stock is mentioned in this article.