After describing Chevron (NYSE:CVX) in my previous post as a "well-oiled machine" and calling Exxon Mobil (NYSE:XOM) the "king of the market cap," I would like to explain in today's post why I am convinced ConocoPhillips (NYSE:COP) is the third Oil and Gas stock worth adding to a well-diversified long-term dividend portfolio.
ConocoPhillips strategy
After its spin-off of Phillips 66 (NYSE:PSX) in 2012, ConocoPhillips is transitioning from being one of the six largest oil and gas supermajor companies to being the world's largest independent exploration and production company (E&P). Chairman and Chief Executive Officer Ryan Lance used the following words to describe Conoco's market positioning during the most recent annual shareholder meeting on May 14:
We believe we represent a new class of E&P investment - one that will strive to achieve the organic growth of an independent with the yield of a major. We have the diverse asset base, technical capability, world-class workforce and financial strength to deliver on our unique value proposition.
Conoco has a very long way to go, and the journey never stops. However, I believe they are well-positioned to succeed in delivering the promised high yield to investors. The current dividend yield of 4.17% is already nothing to scoff at. Any further increase would be very welcome news for long-term dividend investors.
Why is ConocoPhillips on my buy list?
1. Strategy aimed at maximizing margins and dividends
It's not just about the above company strategy statement or even the more detailed company information presented at the annual shareholder meeting regarding the specific strategic steps that ConocoPhillips is taking. It's the actions by ConocoPhillips that convince me that the company is taking the right steps to keep highest-margin projects, resources and operations to deliver increased returns to investors over the coming years.
I really like the strategy aimed at maximizing margins as opposed to chasing every last penny of revenue and tying up too much capital in activities bearing below-average returns.
2. Dividend
ConocoPhillips currently earns a dividend yield of a whopping 4.17%. The dividend has been paid out regularly for over 30 years. As part of the spin-off of Phillips 66, Conoco paid out an extraordinary $17.03 dividend in May 2012. Since then, it has continued to pay out regular dividends without hiccups.
However, the dividend payout ratio of 44.28% is relatively high and doesn't offer too much room for a sustainable increase of this ratio, given the current debt-to equity ratio of 0.44%. That is one major reason why Conoco needs to divest lower-performing assets to increase profit margins and return on assets, and generally stay very effective at managing capital expenditures and other costs.
Although I love dividend stocks, especially high-yielding dividend stocks, from a truly long-term investor's point of view, I would prefer that ConocoPhillips focus more on debt reduction and effective use of capital instead of maximizing the current dividend yield, which is, in my humble opinion, already high enough compared to percentages of other Oil and Gas companies, as well as businesses in other sectors.
However, I understand that this goal is not exactly in line with the company's strategy, which is instead aimed at maximizing the yield of the paid out dividend as opposed to keeping more cash reinvested in the company.
I am quite sure that the dividend-loving Warren Buffett is quite happy with the current ConocoPhillips company strategy on the dividend policy. Many other investors who need regular steady dividend income will also be pleased.
3. Favorable valuation of the energy sector
The Oil and Gas industry has been lagging behind the recent stock rally mainly because this industry is not viewed as being such a safe haven as some other sectors for investors who want to have really good sleep and are willing to pay dearly for safety. The energy sector equity curve is definitely more bumpy than, say, that of consumer staples or utilities, but the current P/E multiples are virtually double in defensive sectors. The average P/Es in the Oil and Gas sector fluctuate around 9 to 10 times current trailing earnings. This is not extremely low, but current multiples are definitely above long-term averages for the energy sector. However, such fair valuation in today's bubbly market full of inflated prices and elevated valuations is a nice refreshment and makes energy sector stocks a very sound investment now.
4. Fundamental value
Current ConocoPhillips share price is $63.31
Trailing P/E is 10.28
Forward P/E is 10.57
PEG Ratio (5-yr expected) is 2.79
Price/Sales is 1.21
Price/Book is 1.59
5. Financial indicators
Revenue: $59.80B
Profit Margin: 12.76%
Total Cash: $5.44B
Total Debt: $25.06B
Debt-to-equity ratio: 0.44
Operating Cash Flow: $14.47B
Return on Assets: 6.51%
Return on Equity: 12.60%
6. Berkshire holds ConocoPhillips
Interestingly, Berkshire Hathaway [(BRK.A) (BRK.B) cut its stake in ConocoPhillips in favor of Phillips 66 after the spin-off. Nevertheless, the recent May SEC Form 13-F filing revealed that they made no position changes to COP or PSX, so Warren Buffett now seems to be content with the current split of these positions.
Equally important, ConocoPhillips is one of the two major Oil and Gas companies that Warren Buffett holds in his portfolio, and he is not reducing his positions. He is not adding to them either, though.
The risks and challenges
1. Relatively high debt coupled with high capex needs
ConocoPhillips has been selling some of its assets, including in the form of oil fields, partly to decrease debt levels. The need to sell assets to increase effectiveness poses a challenge for ConocoPhillips by making it tough to grow revenue in the future. Indeed, the estimated earnings growth for the next five years is a relatively paltry 4.10% per year. As mentioned earlier, COP prefers to focus on margins more than on volume increases, which I support.
2. Oil prices may not grow in the future
The WTI oil futures indicate that investors are expecting real prices of oil to gradually fall. The longest available oil contract, the December 2020 NYMEX Crude Oil (CLZ20.NYM), is currently trading at $81.96, or 16% lower than the nearest June contract (CLM13.NYM), trading at $95.07.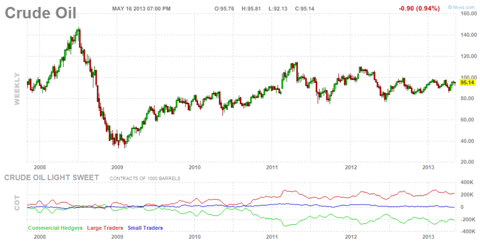 Less and less oil is being imported to the U.S. as we speak. What is most likely to happen in the next decade is a gradual fall in the price of oil, or a moderate rise, but one that would hardly make up for the inflation.
3. U.S. becoming a net exporter of oil products
The U.S. becoming an exporter of oil will significantly weaken the pricing power of the OPEC cartel and the U.S. will basically be able to dictate what price it will pay for the oil. If the Fed can buy billions of dollars' worth of U.S. Treasuries, why not buy/sell oil to better influence the inflation rate and prevent derailing any economic recovery, and to stabilize the inflation rate, which oil prices strongly influence?
It is important to note, though, that the U.S. is still a net importer of crude oil itself, even though it is already a net exporter of oil products. However, net crude oil imports as a percentage of the total U.S. crude oil trade have been declining as well.
4. The rise of natural gas
One can safely say that the first half of the 21st century will probably be an age of natural gas, which will replace coal and oil in some of their traditional applications and markets.
Continuing on the Warren Buffett connection to the Oil and Gas industry in general, and ConocoPhillips - and Phillips 66 - in particular, besides holding significant investments in these two oil and natural gas businesses, Berkshire also pursues other activities in the natural gas area. They are planning to completely overhaul BNSF diesel trains to run on natural gas.
So, Warren Buffett can't lose on his natural gas bet - natural gas prices will either rise to match those of diesel, in which case he will make loads of money on gas investments, or the prices stay where they are, generating substantial cost savings for the BNSF trains. This is a great example of synergy and the principles that I described in my first ever post at Seeking Alpha about natural hedging.
Not only diesel trains, but even other means of transport such as buses, trucks and even passenger cars can run on natural gas-based products. It is only a question of where the arbitrage between substantially cheaper natural gas and expensive diesel will make economic sense. At current prices, there are many such applications.
5. Electromobility megatrend
Electric vehicles of all kinds, including passenger cars, buses and trucks, could become a fast-growing segment. The speed at which these develop depends predominantly on the development in batteries in terms of capacity for longer distance trips, in terms of their cost per mile, and finally, in terms of their durability to match the lifecycle of the vehicles.
The electromobility trend may change the Oil and Gas industry in profound, yet not always expected and predictable ways. Therefore, it is important to choose companies that are well-diversified regionally, as well as in terms of natural resource reserves and exploration and production technology. I believe ConocoPhillips offers this and much more.
Conclusion
ConocoPhillips is a well-managed Oil and Gas company with a strategic goal to maximize profit margins and effectiveness in order to increase its already very attractive dividend yield of 4.1% as it strives to transition from one of the world's largest Oil and Gas conglomerates to the number one independent exploration and production company.
For long-term dividend investors who are searching for a high and growing dividend yield without taking on excessive risk, ConocoPhillips is an excellent choice.
Recommendation
I recommend scaling into ConocoPhillips stock in multiple smaller installments spread over the next 12 months. I have started my purchases in May.
Disclosure: I am long COP, CVX, XOM, BRK.B. I wrote this article myself, and it expresses my own opinions. I am not receiving compensation for it (other than from Seeking Alpha). I have no business relationship with any company whose stock is mentioned in this article.