Level 3 Communications (NASDAQ:LVLT) provides a broad range of integrated communications services. A general overview is as follows:

Over time some may have viewed our past articles as slightly critical of management. In 2011 our article titled, "Level 3 Communications: Is It Time For A Change In Leadership?" questioned whether a change should be made if performance (generally top line growth) was not improved. We posed the question again in a recent article than a few weeks later on April 11 the question was answered. LVLT issued a statement concerning leadership transition planning for the company. Jeffrey K. Storey was named as CEO and James Crowe was out not only as CEO but also as a Board member by not standing for reelection at the company's 2013 Annual Meeting. Is now the time to invest in a company undergoing a transformation and a change in leadership? We'll look at the following in an attempt to provide additional insight into the company and what lies ahead:
New CEO Jeffrey K. Storey
Financial performance & focus
Valuation
Conclusion
Jeffry K. Storey
This is not the first time Jeff Storey replaced an outgoing CEO in this industry. Williams Communications Group, Inc. emerged from Chapter 11 proceedings as WilTel Communications Group on Oct. 16, 2002. Howard Janzen resigned as president, CEO and as a director. The new board selected Jeffrey K. Storey to serve as president and chief executive officer and as a member of the board of directors. The board had this to say:
The board announced it is very pleased with the leadership, operational expertise and customer focus that Mr. Storey brings to the position. The board is very confident in his ability to execute the company's business strategy while maintaining WilTel's legacy of operational and customer excellence.
Leucadia National Corporation (NYSE:LUK) owned 44% of the reorganized WilTel and went on to acquire 100% of the company in November 2003. Leucadia appears to have done well as the sole owner of WilTel under Storey's leadership. The Company recorded a pre-tax gain on the sale of WilTel (to LVLT in 2005) of $243.8m. Part of the deal included 7.6m LVLT shares (split adjusted) which LUK sold a few months later for a split adjusted $51.60 per share recording a stock gain of approximately $56m. WilTel's revenues were growing at an annual rate of 10% when acquired. Jeff Storey was not included in the deal and remained at LUK as president.
LVLT ran into major problems integrating various acquisitions from 2005 through 2008. As the problems became public the stock plunged then on March 10, 2008, Kevin O'Hara, president, COO and co-founder, resigned without notice. Jeff Storey was brought in as president and COO as the company was experiencing the following:
An increase in the time it took to activate service for customers, hurting revenue growth
The company was taking longer to resolve customer network service issues
The company didn't have adequate provisioning capability to convert orders to revenue
The company lacked adequate internal controls
Growth stalled but the problems were resolved avoiding what would have been a disaster for the company. As past acquisitions were assimilated LVLT went on to acquire Global Crossing in 2011 without the drama associated with the smaller acquisitions of past.
Jeff Storey appears to be a good choice for CEO going forward given the long troubled history of LVLT. Walter Scott, Jr. summed up best why the time for change is here in the 2012 annual report and proxy:
Our company is also undergoing a transformation in terms of the type of customers we serve. We have moved from being primarily a wholesale provider to a company focused on serving the day-to-day business needs of enterprise customers… Jeff emerged as the clear and obvious choice to lead the company going forward. He knows the industry, having served as president of several companies over the course of 30 years in telecommunications. He knows the company, having brought to it a discipline and focus on operational excellence and a passion for the customer experience. And he has helped shift the focus of the company to the enterprise market, where we are continuing to take market share.
Financial Performance and Focus
We'll break this discussion into the following parts:
Guidance
Revenue
FCF (Free Cash Flow)
Debt
Guidance: LVLT guidance is more general in nature as opposed to ranges for revenue, EBITDA and other metrics. What they expect for 2013 is:
Sequential CNS (Core Network Services) revenue growth to be stronger compared to 2012
Low double digit Adjusted EBITDA percentage growth compared to the full year 2012
FCF positive, excluding payments related to interest rate swap agreements
Capital expenditures approximately 12 percent of total revenue.
GAAP interest expense approximately $665m and net cash interest is approximately $645m.
Management stated several times in the past their short-term goal is to grow CNS revenues at a sequential quarterly rate of 2%. Guidance has been incorporated in the financial model and longer-term projections linked at the end of this article.
Revenue: The Company's revenues are reported in two major groups; CNS revenue represents higher margin services and "Wholesale Voice Services" and "Other" revenue represents lower margin services. Wholesale Voice Services and Other revenue is trending down which is expected to continue given the focus on the higher margin CNS revenue. CNS growth is critical to LVLT's long-term success. When we refer to revenue going forward we mean CNS unless noted otherwise. CNS revenue is reported in the following segments:
North America -- Wholesale Channel
North America -- Enterprise Channel
EMEA -- Wholesale Channel; EMEA = Europe, the Middle East and Africa
EMEA -- Enterprise Channel
EMEA -- U.K. Government Channel
Latin America -- Wholesale Channel
Latin America -- Enterprise Channel
The company defines each channel as follows:
The enterprise channel includes large, multi-national enterprises such as financial services companies, healthcare companies, content providers, and portal and search engine companies. Medium sized enterprises and regional service providers who buy services regionally or locally, as well as government markets, including the U.S. federal government, the systems integrators supporting the U.S. federal government, U.S. state and local governments, academic consortia, and certain academic institutions. The U.K. government channel is also included.

The wholesale channel includes revenue from incumbent and alternative carriers, global carriers, wireless carriers, cable companies, satellite companies, and voice service providers.
The company is undergoing a long overdue transformation in terms of the type of customers served. No longer focusing on being a carrier's carrier or a wholesale provider but focused on serving the business needs of enterprise customers. Success or failure will be defined by growth in the enterprise channels over time. The following is as of Q1 2013.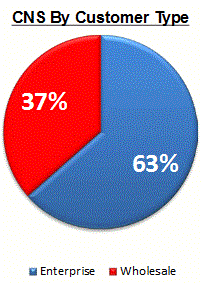 Last year the focus was on the integration of Global Crossing. Going forward this combination combined with new leadership and a focus on enterprise could act as a catalyst for accelerating revenue growth. Below are revenue trends for enterprise based on a year when integration was the main focus: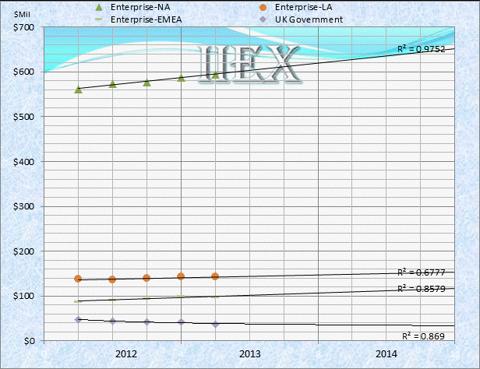 These trends should improve now that integration is well under way and management can spend more time on growing revenue.
FCF: FCF is the most attractive part of the LVLT story, and top line growth has a large effect on FCF. Below is our FCF projections associated with modest revenue growth: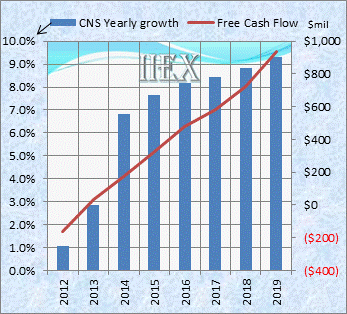 FCF starts to substantially ramp up with single digit percentage revenue growth going forward. This trend also represents what has never occurred in LVLT's history; sustainable and growing FCF with sustainable being the key word.
There are threats to cash but these issues are one-time charges assuming they are incurred and will not affect where FCF is going long term. LVLT has accrued $275 million for various legal proceedings and other liabilities on the balance sheet. This does not mean cash has been set aside so the amount accrued may have no effect on the balance sheet but will affect cash flows. Accruing these charges tell us there is a reasonable expectation LVLT will incur these costs in the future. The issues are:
Rights-of-Way Litigation
Peruvian Tax Litigation
Employee Severance and Contractor Termination Disputes
Brazilian Tax Claims
LVLT believes that it is reasonably possible that the Brazilian issue could result in a loss of up to $61 million in excess of the accruals established which if accrued would raise the total to $336m from $275m. Another issue is the interest rate swap obligations. The above FCF projection reflects a $33m liability in 2013 and the final $12m taken in 2014 for a total of $45m.
Debt: LVLT carries a high debt load of approximately $8.5 billion. They have always been able to refinance and extend the maturity dates. The debt schedule is:

Paying down debt has not been an option to date given FCF has yet to turn positive on a sustained basis although going forward this should change. Another measure of financial health is the leverage ratio, i.e., are they growing into the debt. We'll define the leverage ratio as net debt divided by EBITDA. The trend since the close of the Global Crossing acquisition is: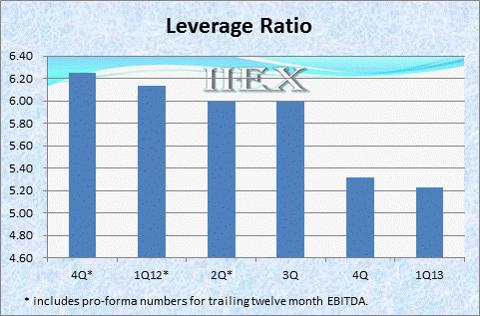 Given the lack of CNS growth over this period shows the focus on integration paying dividends in the form of lower leverage ratios. The leverage ratio is still high but trending in the right direction.
Valuation
The following fair value ranges are based on various CNS revenue growth rates. The range highlighted in yellow represent present assumptions reflected in the graph plotting CNS growth vs. FCF given earlier.

Fair values represent present value not twelve month targets.
Conclusion
Does LVLT represent an opportunity? This depends on one's tolerance for risk and investing philosophy. LVLT pays no dividend and probably won't for some time so those looking for dividend growth obviously would not find LVLT attractive. We'll break down our summary into the following and the reader can make a determination if the criterion meets their requirements.
Time frame
Catalysts
Price risk
Time Frame: This analysis is for a multi-year investment horizon not a short-term trade. As growth continues to improve FCF will grow substantially over the next five years and beyond, providing long-term value based on the price at the time of this writing.
Catalysts: There are several --
Focus shifting from the massive Global Crossing integration to growth. Leveraging the expanded global footprint (a worldwide customer set with owned network in more than 50 countries and reach to more than 70 countries), enhanced and expanded service portfolio (portfolio of transport, IP and data solutions, content delivery, data center, colocation and voice services, delivered globally) and expanded enterprise service capabilities (improved cost structure and performance achievable by combining the international, intercity and metro networks creating opportunities for improved growth).
A change in leadership at the top is usually made when the status quo is no longer acceptable but rather a change in vision, fresh ideas and transformation are needed. Jeff Storey seems to be the right CEO for the job ahead.
A change in a long held vision of being primarily a wholesale provider to a company focused on serving the day-to-day business needs of enterprise customers.
Sustainable and growing long-term FCF not obvious today given the history -- i.e., lack of organic growth in the past.
Price risk: The larger risk (growth) is given in the table under the valuation discussion. If growth does not materialize or if market confidence is low in their ability to grow (which has been the case up to now), the stock will likely fall below $20 per share. There are some positive signs within the numbers. Enterprise Core Network Services revenue grew 6.8 percent year-over-year, excluding UK Government revenue and on a constant currency basis.
Short-term risks are the accruals talked about earlier becoming short-term hits to cash. The market will react with the usual shock and surprise presenting buying opportunities assuming they are attaining growth. Why? Because these issues are one time occurrences and will have no effect on longer-term FCF if CNS revenue is growing.
A complete set of updated detailed financial data used in this article and longer-term projections can be found here.
Additional sources used in this article: Q1 2013 Financial Statements and LVLT 1Q13 Earnings Presentation
SEC Filings.

Disclosure: I am long LVLT. I wrote this article myself, and it expresses my own opinions. I am not receiving compensation for it (other than from Seeking Alpha). I have no business relationship with any company whose stock is mentioned in this article.