On Wednesday, May 22, Ford (NYSE:F) said it will shut down both of its Australian-based plants by the year 2016 as underperforming sales and high labor costs have weighed heavily on the Australian manufacturing sector's inability to compete with cheaper imports. In the wake of Ford's announcement regarding its Australian-based operations I wanted to not only examine the company's Q1 results, but also highlight some of the key catalysts behind my decision to consider a long-term position in this major U.S. automaker.
Performance & Trend Status: On Wednesday shares of F, which currently possess a market cap of $58.85 billion, a P/E ratio of 10.11, a forward P/E ratio of 9.02, and a forward yield of 2.67% ($0.40), settled at $14.97. Based on Wednesday's closing price, shares of F are trading 6.39% above their 20-day simple moving average, 11.38% above their 50-day simple moving average, and 27.40% above their 200-day simple moving average. These numbers indicate a short-term, mid-term and long-term uptrend for the stock, which generally translates into a buying mode for traders.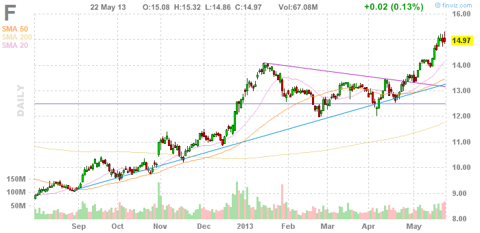 Solid Q1 Performance: On Wednesday, April 24, Ford Motor Company reported the results of what I believe to be a very strong first quarter. The company's Q1 EPS of $0.41 /share beat Street estimates by $0.04/share, and its revenue of $35.80 billion beat Street estimates by an impressive margin of $2.03 billion. The company was able to beat street estimates as performance in North America and Asia offset the company's underperforming sales in both Europe and South America. South America was mainly affected by the devaluation of the Venezuelan currency and Europe had endured higher than expected pension-related costs.
Key Catalysts Regarding Production: In the wake of the company's announcement that it would be shutting down its Australian-based operations, Ford Motor has decided to enhance production in terms of North American operations.
On May 22, it was also announced that 75% of its plants here in North America are operating on more than two shifts a day, which could equate to an additional 240,000 cars being produced by the end of this year. More cars, mean more money, and if Ford continues to remove the operations, which are underperforming (Australia), while enhancing the operations that have demonstrated stronger performance (North America and Asia), the company could be following a very important blueprint toward even better growth.
It should also be noted that Ford intends on shifting some its Fiesta model production to Thailand, in an effort to free up some much needed capacity in North America for a number of its better-selling models. In my opinion, the move, which was announced earlier this month, makes sense considering the fact that Fiesta-based models seem to sell much better in Asia then they do here in North America.
Dividend Performance: Since January 27, 2012, (which was the first time the company has paid a dividend since July 2006) Ford has increased its quarterly dividend only once by a total of $0.05/share. From an income perspective, the company's forward yield of 2.67% coupled with the possibility of a continued annual increase and a current payout ratio of 17.00%, could equate into a very viable income option for long-term investors in search of a moderate dividend plays located in the heart of the automotive sector. If Ford can continue to demonstrate strong earnings growth as was the case in Q1, and build on its current cash position, shareholders could begin to see a sustainable annual increase in the company's dividend.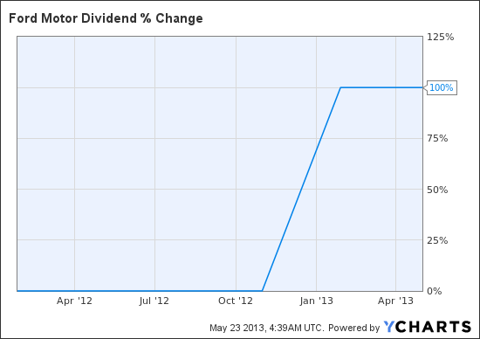 F Dividend data by YCharts
Conclusion: When it comes to those who may be looking to establish a position in Ford Motor, I'd continue keep a watchful eye on not only the company's dividend behavior over the next 12 months, but any key developments that may help enhance the company's production in both North America and Asia over the next 12-24 months.
Disclosure: I have no positions in any stocks mentioned, but may initiate a long position in F over the next 72 hours. I wrote this article myself, and it expresses my own opinions. I am not receiving compensation for it (other than from Seeking Alpha). I have no business relationship with any company whose stock is mentioned in this article.