Here are the highlights from today's report from the Census Bureau on new home sales in April:
1. Both the average sales price ($330,800) and the median sales price ($271,600) established new all-time record highs in April (see chart below). Compared to a year ago, the average price increased by 14.9% and the median sales price increased by 28.9%.
2. Sales of new single-family houses were at a seasonally adjusted annual rate of 454,000 last month. That's an increase of 29% from a year ago, and the highest sales count for new homes during the month of April since 2008, five years ago.
3. Inventory levels of new homes remain low relative to sales. For April, there was a 4.1 months supply of homes available at the current sales pace, which is the lowest months supply level for the month of April since April 2004, nine years ago.
4. Marketing time for new homes continues to improve and the median number of months for builders to sell a newly completed home was 4.0 months in April, the fastest marketing time for the month of April since 2006, seven years ago.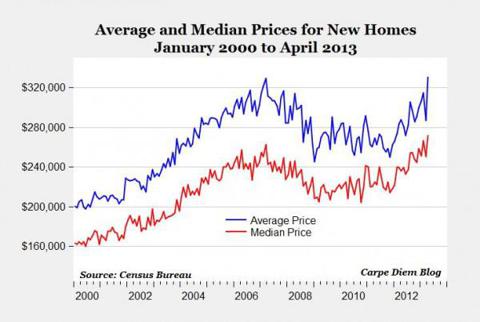 Bottom Line: More new homes were selling faster at higher prices in April according to today's report from the Census Bureau, providing additional evidence of a robust housing recovery in the U.S. As First Trust Advisors reported today, "The new home market, which is typically the last piece of the housing puzzle to recover, is clearly improving." With ongoing, solid gains in both home sales and median prices for both new homes and existing homes, we can look forward to a new continuing cycle of housing market recovery in 2013.