By Sumit Roy
Natural gas rallied after the Energy Information Administration reported that operators injected 89 billion cubic feet into storage last week, within the 87 to 93 bcf range most analysts were expecting. The injection was above last year's build of 77 bcf, but in line with the five-year average build of 89 bcf.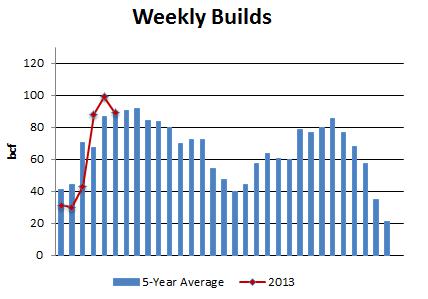 In turn, inventories now stand at 2,053 bcf, which is 691 bcf below the year-ago level and 78 bcf below the five-year average (calculated using a slightly different methodology than the EIA).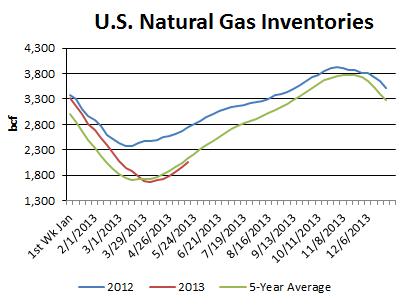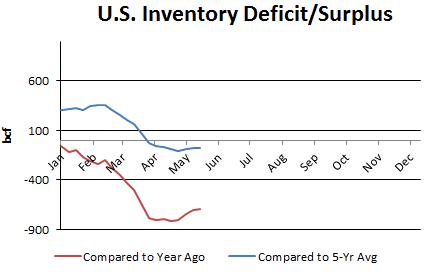 The weather last week was close to seasonal norms. The Edison Electric Institute said that utilities generated 71,124 GWh in the week ending May 18, 1.6% below the same week a year ago.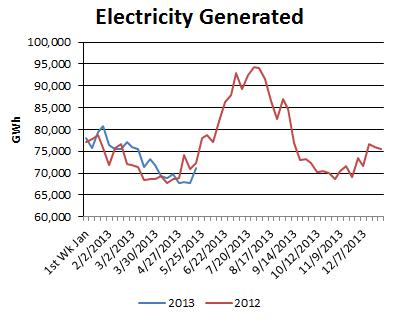 Looking forward, the NOAA's six- to 10-day outlook calls for much-warmer-than-normal temperatures across much of the country.
NOAA Six- to 10-Day Outlook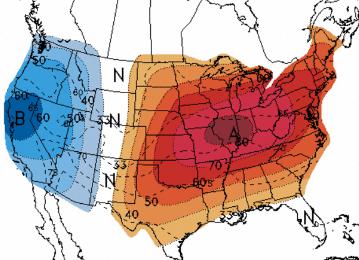 Meanwhile, the number of rigs drilling for natural gas in the U.S. rose by four last week to 354, still close to 18-year lows, according to Baker Hughes.
Natural Gas Rig Count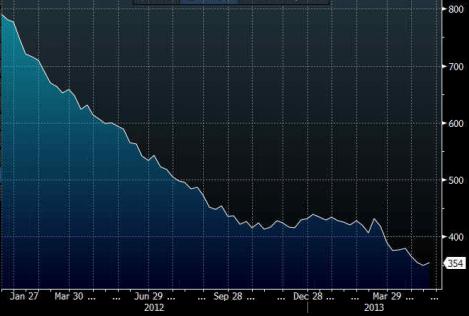 Natural Gas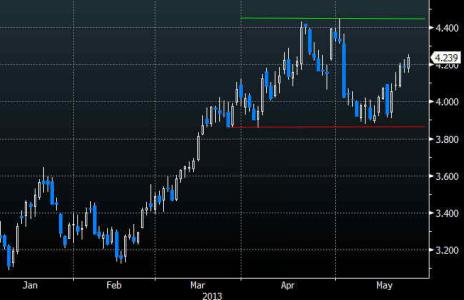 The latest inventory report from the EIA was neutral, as the deficit to the five-year average remained unchanged at 78 bcf. Natural gas has risen swiftly after successfully testing the $3.85/mmbtu support level last week. Prices are now poised to move to the resistance area near $4.40.
After declining for two weeks, the deficit against the five-year average remained unchanged last week as temperatures warmed to seasonal norms. Going forward, weather will become much hotter than seasonal norms, which should push the deficit higher. Indeed, the month of May may go by without registering a single triple-digit injection. That's only happened once in the last six years -- in 2012 -- amid elevated demand due to substantial amounts of coal-to-gas switching.
Clearly, despite a sharp decrease in coal-to-gas switching, this year's market is tight as well, owing to strong structural demand growth. A steady increase in the deficit against the five-year average should lead to a steady increase in prices. A current 78 bcf deficit puts inventories on track to top out at about 3,700 bcf by November. As the deficit increases, that target will concurrently decrease. In our view, natural gas consumers will not be comfortable with such low inventory levels, and will bid prices higher.
Bottom Line: While we are currently forecasting a gradual uptrend in prices through the summer, if the deficit widens more quickly than expected, prices could spike much higher.