What a difference a day makes. Wednesday proved to be a very tough day for dry-cargo shipping stocks. High profile stocks like Eagle Bulk Shipping (NASDAQ:EGLE) and Genco Shipping & Trading (NYSE:GNK) saw a good chunk of their recent gains evaporate. EGLE closed at $4.74 per share, down 11.57% for the day, whereas GNK closed at $1.77 per share, down 15.71%. But as day traders were having a dose of their own medicine, frequently overlooked Baltic Trading (NYSE:BALT) was sitting pretty, having just raised $20 million in gross proceeds from an overnight equity offering. After selling 5,581,928 shares to the public at $3.60 per share, BALT closed at $3.66 per share, down 9.63% for the day, but still above its offering price.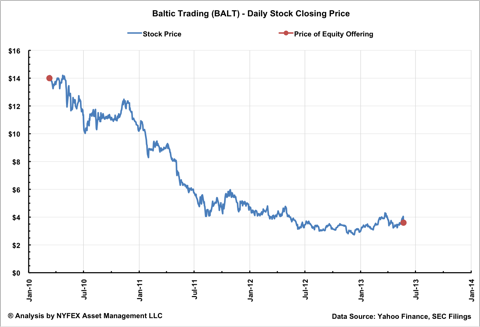 Baltic Trading is a subsidiary of Genco Shipping & Trading, and is separately listed on NYSE. It owns a modern fleet of nine vessels with an aggregate DWT capacity of 672,000 MT and an average age of 3.4 years as of March 31, 2013. GNK has a 24.8% ownership stake in the company, but through a dual class of shares, it controls the majority of voting rights. GNK also exercises full managerial control.
Both BALT and GNK trade their vessels in the spot market, or in spot index-related time charters. BALT does it by design, since it was formed with the intention of giving shareholders full exposure to the spot market. GNK does it by a shift in chartering strategy, a move I have always found controversial especially in light of its debt leverage.
But whereas GNK has been saddled with a massive debt load (its total debt outstanding at the parent level was $1,437 million as of March 31st -- please also note I have examined GNK's debt situation in my recent Seeking Alpha article), BALT had a relatively manageable $101.25 million in debt outstanding as of the same date. More importantly, BALT is not required to make debt repayments before November 2015.
What has attracted me to BALT is its value proposition. The stock has been trading at a discount to its Net Asset Value (NAV), as calculated based on fair market values and not accounting (book) values. Nobody knows when a cyclical recovery in the dry-cargo shipping industry will get under way, and the supply-demand fundamentals don't exactly look rosy. Yet if I want to execute a buy-and-hold strategy, I might as well acquire assets at bargain prices.
Baltic Trading offers exactly such value proposition. In the table below, I summarize the company's NAV before and after its equity offering. I believe yesterday's fund raising exercise was a win-win situation for both existing and new shareholders. New shareholders had the opportunity to acquire shares at a discount to their intrinsic value. And the company's balance sheet is now fortified to the tune of $18.7 million.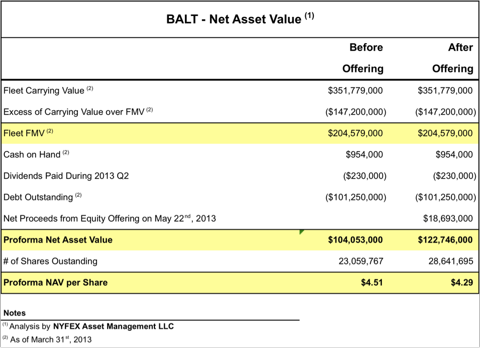 Investors who flocked to the likes of Eagle Bulk Shipping and Genco Shipping & Trading the last several trading days cannot make a similar argument. Their shares are trading at huge premiums to NAV. In fact, both companies' net asset values (based on fair market values and not book values) are negative. In addition, EGLE and GNK have pressing liquidity and solvency issues.
If there is a company-specific risk associated with Baltic Trading, is the perception that its Chairman Peter Georgiopoulos, founder of Genco Shipping & Baltic Trading, will try to meddle with the company to the detriment of shareholders. I don't find this scenario very likely, since the parent company GNK has pledged its 24.8% ownership stake in BALT as collateral for of its credit facilities, following its August 2012 agreement with its lenders.
In summary, Baltic Trading offers a unique value proposition to an investor looking to gain exposure to the dry-cargo shipping industry. It operates a modern fleet and has moderate levels of debt. Potential investors must brace themselves for continuing low earnings quality, since BALT has full exposure to the spot freight market. But the current entry point and overall risk-reward profile more than make up for lack of earnings visibility.
Disclosure: I have no positions in any stocks mentioned, and no plans to initiate any positions within the next 72 hours. I wrote this article myself, and it expresses my own opinions. I am not receiving compensation for it (other than from Seeking Alpha). I have no business relationship with any company whose stock is mentioned in this article.