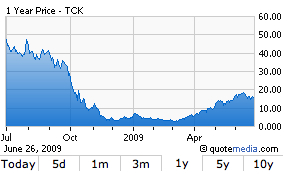 Geotechnical problems impacting production at the Highland Valley Copper (HVC) project will limit upside in Teck Resources Ltd. (TCK) stock, says UBS analyst Brian MacArthur.
Mr. MacArthur maintained his "buy" rating on Teck shares but lowered his price target from C$22 to C$21, after the diversified miner reduced its total copper production guidance from 725 million pounds to 690 million pounds in 2009 and from 870 million pounds to 755 million pounds in 2010. For the HVC project alone, 2009 and 2010 production is expected to fall to 258 million pounds and 187 million pounds, respectively.
Mr. Macarthur told clients:
We have revised our 2009/2010 EPS estimates from C$1.32/1.69 to C$1.27/1.45 to reflect the lower production and the additional stripping and remediation costs. We note that coal remains the largest driver of earnings and cash flow for the company.
Earlier this week, Teck said it expects access to some of the ore in the Valley Pit at Highland to be restricted for at least the next 18 months. The shortfall will be partially made up from lower grade ore from the Lornex and Highmont pits.