In a direct attack on its German rival SAP AG (NYSE:SAP), Barron's Mark Veverka says NetSuite (NYSE:N) plans to announce this week a government-approved suite of financial-accounting services and business apps for German companies and multinationals doing business there. SAP once owned this market, but it's been slow to migrate its offerings to software-as-a-service (SaaS) - hence the hole in the fence.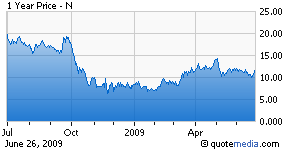 SAP's version of on-demand software, BusinessByDesign, initially targeted small businesses. This may have been a fatal mistake, because it's so distant from SAP's traditional corporate customer base. SAP has said its next growth area would be middle market - which is exactly the same group NetSuite is targeting with its launch. "We've viewed ourselves as the SAP of the mid-market, so to beat them on their home turf means a lot," NetSuite CEO Zach Nelson says. Don't forget that NetSuite's founder and #1 shareholder is Oracle (NASDAQ:ORCL) chief Larry Ellison, who has made it his mission to trounce rival SAP in every metric.
More than 50 multinationals and early-adopting German companies already use NetSuite OneWorld. Now they'll be able to run deep audit trails and account for such things as VAT, on government-approved software.