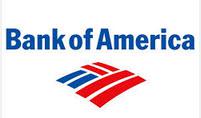 Executive Summary
Bank of America Corporation (NYSE:BAC) has been on a tear over the past year, up 90%. In my last article regarding the stock I suggested buying the dip when the stock was trading at $11.54 on April 18th. The reason for the dip was the company missed slightly on earnings. After digging into the report, I discovered several fundamental positives. In my previous article I gave several reasons the stock should snap back. The reasons were progress on cost reductions, compelling valuation, improving fundamentals and lower litigation risk. Since then the stock is up 15% in one month. Not a bad return on an annualized basis.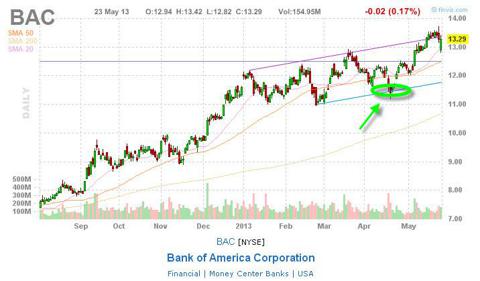 Now, I have discovered three new reasons not yet seen covered that could drive the stock back to historic levels. In the following sections I will explain these new developments in detail.
Income investors waiting in the wings to return
Last quarter, BAC received Federal Reserve approval for capital distributions after passing the stress test. They implemented an over $10 billion share buyback plan and upped the dividend to an annual payout of $0.04 cents per share giving the stock a 0.30% yield. This information has been covered. What has not been stated is the fact that this is the first of many potential increases to come.
At present, BAC is not on income investor's radar due to the fact the yield is still insignificant. Nevertheless, as BAC increases the annual payout and the yield rises, I expect income investors to begin buying up shares. BAC was once coveted by this group. Furthermore, with baby boomers retiring at record levels, this cohort of market participants will only grow is size. This bodes well for BAC over time.
The yield curve is steepening
The yield curve steepens when the gap between the yield on short-term bonds and long-term bonds increases. This makes the curve appear steeper. Banks borrow short and lend long. As the spread between the 10 year and 2 year bond yields widen, the bank's profit margins rise. The 10-2 year treasury yield spread is currently at 1.77%, compared to 1.68% the previous market day and 1.49% last year. This is also much higher than the long-term average of 0.90%. See chart below provided by YCharts.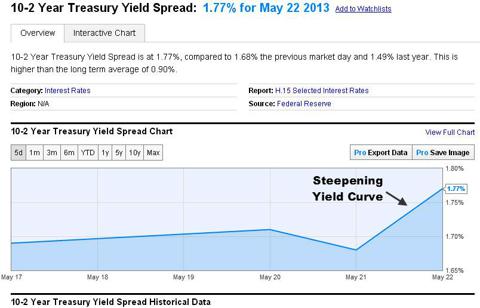 Another significant positive regarding a steepening yield curve is the fact it is a clue to the direction of the economy. When the yield curve steepens, it portends the economy is on an upswing. BAC had commercial loan growth of $54 billion, up 17% year over year last quarter. Based on these indications, BAC's profit margins should vastly improve in the coming months.
New regulations may drive smaller banks out of business
The new Dodd Frank regulations may drive some smaller regional and community banks out of business. The smaller banks may not be able to fulfill portions of the safety and soundness regulations based on stringent liquidity standards. This will leave an opening for BAC to pick up market share.
BAC still has plenty of room to run
BAC has a current price to book ratio of .60. Historically, BAC has traded for closer to two times book value. This implies a potential upside of approximately 200% from current levels if the stock can simply return to historical levels. This data squares well with the historical price performance of the stock. Being a contrarian, I see this as a sign of pent up value. See chart below provided by Finviz.com.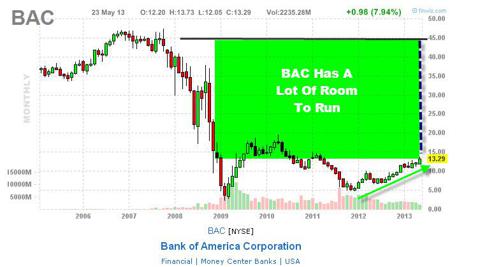 Downside risks
The Fed pulls QE too soon
As you are probably aware, the Fed's Bernanke just testified to Congress. The subject of tapering the Fed's $85 billion a month bond buying program was of primary interest. Bernanke stated the Fed would adjust its purchases according to economic indicators. If the Fed pulls QE too soon, this could be detrimental to the stock. The yield curve may flatten, squeezing the banks margins in the process.
Macroeconomic and geopolitical headwinds emerge
Most of Europe is still in recession. Furthermore, the most recent economic data out of China was negative. This was seen as the reason for the recent 7% nose dive in the Japanese market Thursday. If something goes awry in China, Europe or the Middle East the markets as a whole will be negatively affected. No stock will be immune.
Conclusion
BAC is still a solid buy right now. Although the bank has nearly doubled over the past year, BAC is still trading over two times below its historical price to book ratio. Moreover, earnings continue to increase. EPS is up over 100% this year and expected to grow by more than 30% next year.
BAC still has considerable upside potential, strong fundamentals and catalysts for growth. BAC has a fortress balance sheet and strong cash flow. This will provide the opportunity for additional share buybacks and dividend increases. The yield curve is steepening and the housing market is on the cusp of a full blown recovery.
Just a week ago, everything was going great and the market hit all-time highs. Here we are one week later and the macroeconomic and geopolitical picture has gone from overly bullish to overly bearish in an instant. Times like this often provide great opportunities to buy solid stocks at a discount. Nonetheless, it is always prudent to proceed cautiously when the markets enter the summer months. I plan on scaling in to a position, buying on any dips. The stock may be sold off indiscriminately based on currently unknown geopolitical or macroeconomic headwinds. My target price is $20 within the next twelve months.
Disclosure: I have no positions in any stocks mentioned, but may initiate a long position in BAC over the next 72 hours. I wrote this article myself, and it expresses my own opinions. I am not receiving compensation for it (other than from Seeking Alpha). I have no business relationship with any company whose stock is mentioned in this article.
Additional disclosure: This is not an endorsement to buy or sell securities. Investing in securities carries with it very high risks. The information contained within this article is for informational purposes only and is subject to change at any time. Do your own due diligence and consult with a licensed professional before making any investment.