Market Recap:
The market rebounded slightly on Thursday (only to lose gains late) on the back of better unemployment data and housing starts, and dip buyers showing up after a strong decrease in shares on Wednesday and to start Thursday. Unemployment claims came in at 340K versus 350K+ expectations. New Home Sales came in at 354K versus 325K expectations. Both signs of a stronger economy were welcomed a day after Bernanke spooked the markets with talk of curbing QE. While a curb would hurt the market, signs of a stronger economy underneath are a definite long-term positive that should be heralded over more free money.
The Dow Jones (NYSEARCA:DIA) dropped 12 points while the S&P 500 (NYSEARCA:SPY) decreased four points.
Stocks To Trade:
Today, we are looking at a bullish position in WisdomTree Japan Hedged Equity (NYSEARCA:DXJ) and WhiteWave (NYSE:WWAV).
The debacle in the Nikkei 225 on Thursday was an opportunity rather than a time to be scared. Why did the Japanese market decline 7%? Chinese manufacturing activity declined while Fed president Ben Bernanke commented that the Fed might cut its QE early. A great reason for a 7% decline, right? Chinese manufacturing activity dropped to 49.6 from 50.4. A drop, but not one of any considerable size. Further, while Bernanke commented he would taper QE if the economy improved, a lot of improvement still needs to occur. Data from March was very weak, and it's unlikely any changes come soon. Japanese stocks were also weakening on the rise of Japanese government bonds. Yet the rise in yields was due to concerns from China and The Federal Reserve. That volatility should remain due to Abenomics, but this pullback is pricing in way too much concern. Prime Minister Kuroda noted that the yields would have no impact on the economy.
We believe today's drop in the DXJ is an excellent place to enter the stock. Japan's easing program is even stronger than the Federal Reserve because it not only liquidates bond markets, but Japan can also buy stocks. This dip in Japanese markets will give way to a lot of positive opportunity. Abenomics is tricky. It requires the following: loose monetary policy, structural reforms, and strong global markets. When pain in China and the U.S. hit, it hurts Abenomics. Therefore, we have to ask whether this pullback is an opportunity or the volatility will continue. We lean towards the prior. Till now, yields have stayed low and Japan has attracted an incredible amount of money into its market. The key is this: foreigners are scrounging for yield. If the U.S. starts to lose footing as QE ends, where will money go?
Europe -- problems still exist. China -- their landing has been hard. Emerging markets are interesting, but very risky. Japan looks the most attractive place. That's why over $70B in money came into the markets in the past six months. Investors are looking for yield, and DXJ can offer that. We do agree that real results need to occur, but today's snapback was an overreaction to a situation that the BOJ controlled by liquidating the bond market. While they cannot do this every day, these types of jumps are part of the process. If Abenomics works anything like QE, Japan is destined for at least another 18 months of solid upside.
Use pullbacks like this for buying.
Position: Long, DXJ
Entry: Over $50
Targets: $52.50, $55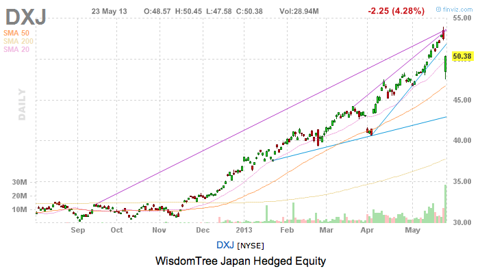 Additionally, we like the looks of WhiteWave Foods. Dean Foods (NYSE:DF) has just spun off the WhiteWave food business. WWAV has been a key part of the DF business as it's an organic milk business. WhiteWave accounts for Silk, Horizon Organic, and Land o Lakes. Dean Foods will still have a significant amount of shares in WWAV at 34M, and the company will sell those shares over the next 18 months. However, DF loses a high growth portion of its company with the WWAV spin-off. WWAV is expected to see 8-9% growth in revenue in each of the next two years, and we believe that it is an exciting new company with lots of growth potential. Organic foods are very exciting as well as new types of milks like almond, soy, and coconut. As international markets demand more healthy milks and economics improve, they can demand a higher quality product with a higher premium. Just look at the run in Hain Celestial (NASDAQ:HAIN) over the past three years. The stock has increased 250% in the past three years, and we like WWAV to make a similar move over the next three.
Organic food sales are expected to grow 10% from 2013 to 2014 to a $40B business, and growth rates like that should continue. Demand for higher quality food continues to be important for the company, and we do not see this trend stopping. WWAV is currently sitting with a 21.5 future PE and 1.4 price/sales ratio. For a high growth name like WWAV, we believe its low price/sales ratio is quite attractive. In the company's latest earnings, things looked great:
As I noted earlier, our top line growth continued to be strong in Q1 with sales level over 9% from the prior year to $608 million. Volume growth continues to fuel our top line with growth across all of our product categories during the quarter. This growth was driven by our leading brands, which continue to resonate with consumers' interest in natural nutritious and great tasting products that are responsibly produced. These trends together with outstanding marketing continue to support a robust volume driven top line.

Our North American segment sales increased 10% in Q1 led by strong double digit growth in our plant based beverages and coffee creamers platforms. Our European segment also performed well with 7% sales growth in the quarter despite the ongoing difficult economic climate in Europe.

Now turning to our platform results for the quarter, sales of North America plant based foods and beverages grew 13% in Q1, driven primarily by volume. Increased consumer preferences for healthy and sustainable products drove 14% category growth, led by our Silk brand. Within the category Almond continues its torrid growth at over 55% which led to modest cannibalization and volume declines in soy. Our almond business is quickly approaching the size of soy mill and enjoys a similar margin structure.

As with our Soy franchise, we are the market leader in Almond with a 54% share at the end of Q1. We also hold a 67% share of the rapidly growing coconut milk sub-category. We are building the Silk brand to be synonymous with plant based beverages and we believe that we can continue to drive its robust growth.
The company has dominance in all the right areas, and even showed great growth in the tough European market. For outlook, the company noted:
With that review of our operating improvement plans, now let's turn our forecast. We expect the core growth of our leading brands and recent innovation launches to drive a sales growth rate in high single digits for Q2 and for the full year consistent with previous guidance. Combining the sales growth with continued progress on cost reduction initiatives, we expect total operating income growth in the low-to-mid teens for Q2. On a full year basis, we anticipate operating income growth in the mid-teens, again as previously forecasted.

We continue to estimate approximately $55 million in corporate expense for 2013 and are maintaining our full year capital expenditure forecast between $150 million and $160 million. Our tax rate should range between 34% to 35% for the full year.

With our coming spin-off from Dean Foods', our employee's equity length long term incentive awards will convert into WhiteWave awards, which is projected to result a modest increase to diluted shares outstanding over of the balance of the year based upon current market prices.

Based upon the above considerations, we expect adjusted diluted earnings per share between $0.14 and $0.16 for Q2 and for the full year we are maintaining our guidance between $0.68 and $0.72 adjusted diluted earnings per share.
The key here is that the company continues to see high growth around 8-9% per year, along with 10-12%+ growth in operating income, showing strong margins as well. WWAV looks great moving forward, and we believe it has the staying power in an industry that is growing at alarming rates.
Investment: WWAV, Long
Market Outlook:
Tomorrow, the market will trade for its last day before the long holiday weekend. The only major economic report will be Durable Orders. Overseas, we get German GDP, Business Climate information, and Consumer Confidence. Data out of Europe has been solid as of late, so it will be nice to see some follow through in German data tomorrow. Overall, though, it will be a light day with a lot of traders/investors taking the day off and a lot of action already occurring for the week.
Charts courtesy of finviz.com
Disclosure: I have no positions in any stocks mentioned, and no plans to initiate any positions within the next 72 hours.
Business relationship disclosure: The Oxen Group is a team of analysts. This article was written by David Ristau, one of our writers. We did not receive compensation for this article (other than from Seeking Alpha), and we have no business relationship with any company whose stock is mentioned in this article