Pfizer (NYSE:PFE) is the world's largest research-based pharmaceutical company. It discovers, manufactures and leads the global market in prescription drugs and healthcare products. The company is struggling with deteriorating sales due to the loss of patent protection of its bestselling drug Lipitor, which offset the strong continued growth of their Lyrica, Prevenar 13 and Celebrex drugs. While total international sales declined due to patent expiration and a strong U.S. dollar, the growth in emerging markets bounced back with a 20 percent year-on-year jump in operational sales, compared with 9 percent in Q3Y12. China and Russia have continued to be the major drivers amongst emerging countries. While volumes increased significantly, pricing pressure in emerging markets shows a negative impact and needs to be carefully watched in coming years.
The company had been aggressively cutting costs during 2012 to diminish the impact of patent expiration, and the results were visible in a decline in marketing and administrative costs as well as R&D expenditures as percentage of revenues.
Historical Price:

Click to enlarge
Source: Y charts
The above chart shows the performance of Pfizer and three of its competitors, Merck (NYSE:MRK), Novartis (NYSE:NVS) and Sanofi (NYSE:SNY), since the beginning of FY13. The stock prices of these three companies have clearly outperformed Pfizer's price appreciation of 5 percent with changes of 11.36 percent, 8.6 percent and 16.31 percent, respectively. It is important to note that these stock prices are not reflecting the financial performance of these four companies in the previous years; it just gives the historic performance of Pfizer compared to its competitors.
Financial Analysis:
In order to understand the company from an investment point of view, it is important to know how well the management of a company creates value for its shareholders. To measure that, a DuPont analysis can give you quite a clear picture.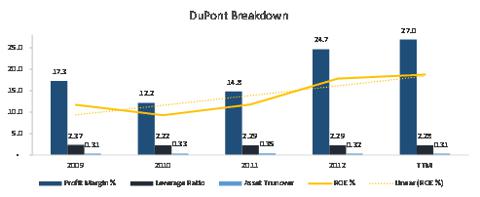 Click to enlarge
Source: Morningstar
The above chart illustrates a breakdown of the company's ROE into three parts: Net Margin, Asset Turnover and Financial Leverage. There are two important points to be noted from this analysis. Firstly, the ROE is showing an upward trend in the long run as indicated by the linear trend line. Secondly, the ROE is supported mostly by net margins and the company has maintained its ROE without increasing its financial risk, which is reflected by the low financial leverage ratio maintained by the company. You can see a minor drop in asset turnover that is due to decreasing sales in 2012, in this case not a big deal.
Multiple Analysis:
Multiple analysis gives you an idea about how a company is performing relative to its competitors and industry. This can give you a clear picture of whether the company is undervalued or overvalued.

Source: Morningstar
The above table represents the valuation of the company as compared to its competitors and the overall industry using key valuation metrics. The P/E, P/B and P/CF ratios of the company are remarkably below the average P/E, P/B and P/CF of competitors and the industry average. That evidently indicates the company is undervalued as compared to its competitors. And higher P/S sales indicate the strength of the company, meaning it supports the solid growth of the company. The company's dividend yield is also consistent with the industry. This analysis greatly indicates a strong upside potential for investors.
Pfizer Pipelinesnapshot: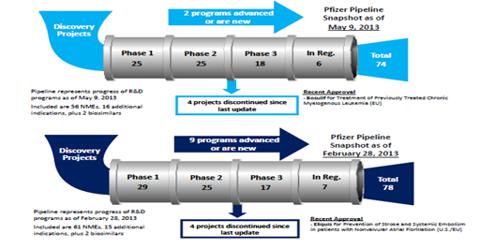 Click to enlarge
Source: Pfizer.com
The above figure indicates the projects of Pfizer according to phases. We can see that six projects are currently in registration phase and 18 are in phase 3, which is a good sign because this will help it to recover its sales from patent expiration. Though, we can see a recent discontinued project in the registration phase but this is just part of the game in pharmaceutical companies. So, we cannot analyze the company based on this judgment.
Conclusion:
Despite Pfizer's deteriorating sales, the company has been able to maintain its profit margins by reducing its expenses. The financial strength of the company and the cheap valuation as compared to its competitors on the basis of multiple-based approach will serve as key drivers for stock price appreciation. Therefore, on the basis of my analysis, I recommend a 'buy' position for the long term. Investors in the short run might have to witness undesirable volatility, but in the long run, the stock will prove to be profitable.
Disclosure: I have no positions in any stocks mentioned, and no plans to initiate any positions within the next 72 hours. I wrote this article myself, and it expresses my own opinions. I am not receiving compensation for it (other than from Seeking Alpha). I have no business relationship with any company whose stock is mentioned in this article.