While it goes against conventional thought, dividend cuts may be an upside catalyst for some stocks. The market often prices in the likelihood of a dividend reduction well before a company actually does. The reduced payout has the result of providing companies with extra cash flow with which they often either pay down debt or reinvest in their business.
One such stock that has surged since its dividend cut is Exelon (NYSE:EXC). With its Q4 earning results, Exelon announced a reduced quarterly dividend, from $0.525 to $0.31 per share, starting with the Q1 2013 payment. At current prices, Exelon yields about 3.60%.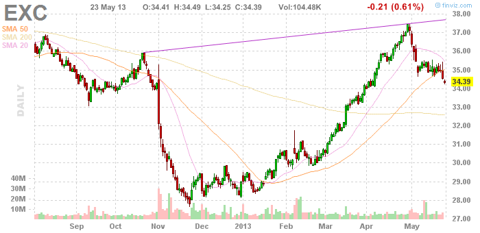 If one were to look closely at the chart above, you would see that most of Exelon's decline actually came before Q4 2012. Exelon had forewarned of a possible dividend reduction during its Q3 2012 conference call. As a result, Exelon fell 22%, from about $36.00 to about $28.00. In addition, it was plain obvious that Exelon's previous dividend level was unsustainable as Exelon was using short-term debt to cover its free cash flow shortfall.
However, why is Exelon now up 15% YTD? While most of this can be explained by the broader rally in utilities (NYSEARCA:XLU), which are up 11% YTD, some of it has to do with improving fundamentals at Exelon.
On May 1, Exelon reported its Q1 2013 results. For the quarter, Exelon saw net income of $602M, unchanged from Q1 2012. Adjusted earnings per share were $0.70, down 18% from $0.85 last year. Net income benefited from the effects of a full quarter of income from the BGE acquisition while EPS was hurt by an increase in shares outstanding. Most of the earnings weakness came from declining margins from its generation units, due to higher fuel costs and lower realized prices. In addition, Exelon faced higher maintenance and depreciation expenses as a result of its large capital spending program.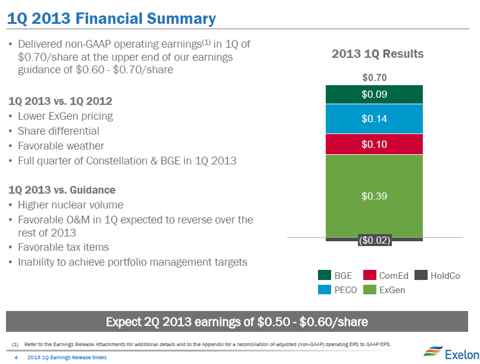 While Exelon's Q1 2013 numbers were weak compared with Q1 2012, they were an improvement from Q4 2012 levels. When compared, margins increased in the quarter due to increased higher power demands, lower operating expenses, and the effects of hedges. Q4 2012 results were also impacted by the effects of Hurricane Sandy.
The effects of the lower dividend can clearly be seen in Exelon's cash flow estimates. Exelon will save around $550M due to the lower dividend in FY 2013. This is about the same amount as net debt retirements, which will total about $500M in 2013 ($900M in debt issuances and $1.4B in debt retirements). When adding in Federal subsidies, Exelon's FY 2013 operating cash flow now fully covers both its dividend and capital spending needs. This is an improvement from FY 2012, which saw Exelon with a cash flow deficit.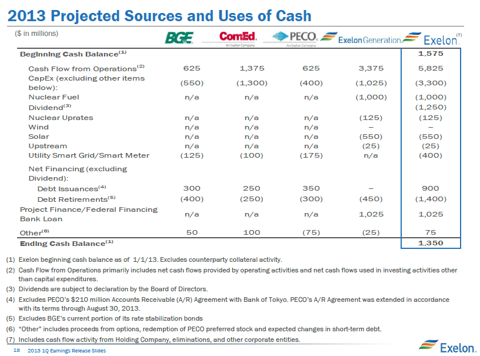 Conclusion
Exelon's stock price performance is very similar to the recent increase seen in Pitney Bowes (NYSE:PBI). Pitney Bowes's share price has mostly rebounded from its post dividend cut decline as the market reacted positively to its recent Analyst Day.
The market has now completely shrugged off Exelon's lower dividend. I suspect this may be partly due to expected increased profitability, as natural gas prices have rebounded, calming fears about the viability of nuclear power in the US. I would, however, not suggest starting a long position in Exelon. In terms of P/E, it is overpriced when compared with its peers. In addition, its dividend is well below average for utilities.
Disclaimer: The opinions in this article are for informational purposes only and should not be construed as a recommendation to buy or sell the stocks mentioned. Please do your own due diligence before making any investment decision.
Disclosure: I have no positions in any stocks mentioned, and no plans to initiate any positions within the next 72 hours. I wrote this article myself, and it expresses my own opinions. I am not receiving compensation for it (other than from Seeking Alpha). I have no business relationship with any company whose stock is mentioned in this article.