Overview
Amgen, Inc. (NASDAQ:AMGN) incorporated in 1980 is a global biotechnology company that discovers, develops, manufactures and markets human therapeutics based on advances in cellular and molecular biology. Headquartered in Thousand Oaks California, the biotech major employs approximately 18,000 worldwide.
Amgen operates in one business segment - human therapeutics with products primarily in the areas of supportive cancer care, nephrology and inflammation.
The biotech major is led by Robert A. Bradway who is the chairman of the Board since January 1, 2013 and Chief Executive officer since May 2012.
Business
Amgen's principal products Neulasta/Neupogen, Aranesp, Enbrel, Epogen, Xgeva and Prolia account for approximately 90% of revenues. Other marketed products include Sensipar/Mimpara, Vectibix and Nplate. Amgen concentrates sales in developed markets and derives 77% of its revenue from United States. It's going to be some time before Amgen significantly expands its operations in developing markets.
Product Sales 2012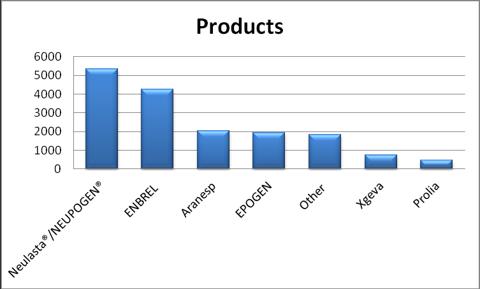 Click to enlarge
Demography 2012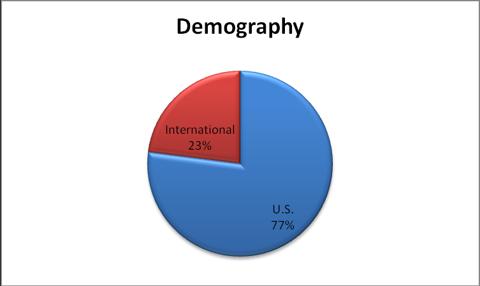 Click to enlarge
Growth, Margins and Financials
Data source: Morningstar, Gurufocus
Revenue has grown steadily over the past ten years and Amgen's compounded annual revenue growth rate during 2003-2012 is a healthy 8.4%. Per share earnings grew faster than revenue primarily because of the aggressive share buyback program conducted by Amgen. In the last three years, Amgen repurchased $16.7 billion worth of common stock.
Revenue Vs. Tangible Book Value Vs. EPS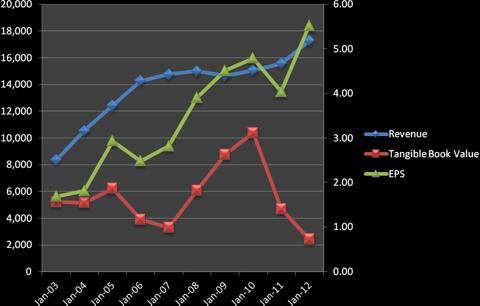 Click to enlarge
| | | | |
| --- | --- | --- | --- |
| CAGR | (2003-2012) 10yr | (2008-2012) 5yr | (2010-2012) 3yr |
| Revenue | 8.40% | 3.57% | 7.10% |
| Tangible Book Value | -8.14% | -20.42% | -51.62% |
| EPS | 14.06% | 9.07% | 7.35% |
Tangible Bookvalue = Total Assets - (Intangibles+Goodwill) - Total Liabilities
Total Assets Vs. Total Liabilities Vs. Long-Term Liabilities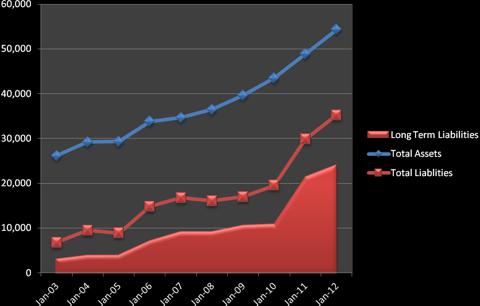 Click to enlarge
| | | | |
| --- | --- | --- | --- |
| CAGR | 10yr | 5yr | 3yr |
| Total Assets | 8.44% | 10.48% | 11.74% |
| Total Liabilities | 20.08% | 21.71% | 34.28% |
| Long Term Liabilities | 25.64% | 27.22% | 48.67% |
A quick look at the charts reveal that Amgen has been steadily accumulating debt, which is in turn used to fund its share buyback programs. The historically low interest rates is helping lot of companies use debt for stock repurchase.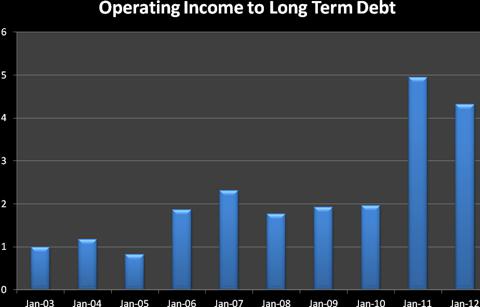 Click to enlarge
To understand the rate at which long-term debt is rising, look at the ratio of operating income to long-term debt. In 2003, the ratio was 0.99 and in 2012, it touched 4.3. The increase in debt levels is the primary reason behind the fall of tangible book value. In all likelihood, Amgen might continue increasing debt and reduce shares outstanding as long as interest rates remain attractive.
Owner Earnings and Free Cash Flow
Owner earnings and free cash flow have steadily ticked up in the past ten years, though they moved lower in the past couple of years.
Owner Earnings = Net Income +Depreciation, Depletion and Amortization -Capital Expenditure.
Owner Earnings Vs. Free Cash Flow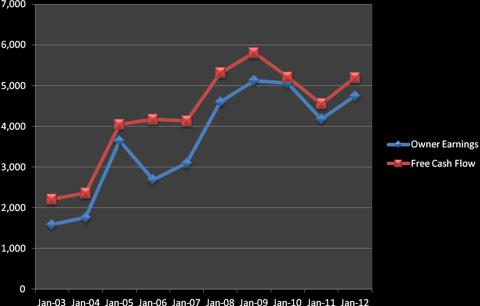 Click to enlarge
| | | | |
| --- | --- | --- | --- |
| CAGR | 10yr | 5yr | 3yr |
| Owner Earnings | 12.91% | 0.79% | -3.21% |
| Free Cash Flow | 9.96% | -0.58% | -0.13% |
Margins
Amgen has done a commendable job in keeping its margins intact while growing its revenue at a healthy rate. If the company wants to repeat its past success, it needs to hold on to its margins as long as it can. Amgen is on the verge of knocking the doors of big pharma companies in terms of size and it's not going to be an easy job to maintain +30% operating margin, as they have been concentrating only in developed markets for a very long time.
The future success will entirely depend on Amgen's ability to hold on to its above average margins while expanding and not through their ability to increase EPS through financial engineering. Good financial managers are an asset to any company and Amgen scores heavily in this area but the real challenge is going to be on the operations front.

Click to enlarge
Source: Fidelity.com
Gross Margin Vs. Operating Margin Vs. Net Margin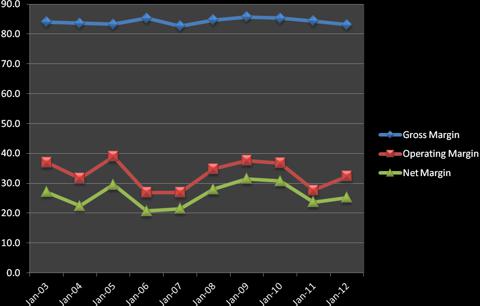 Click to enlarge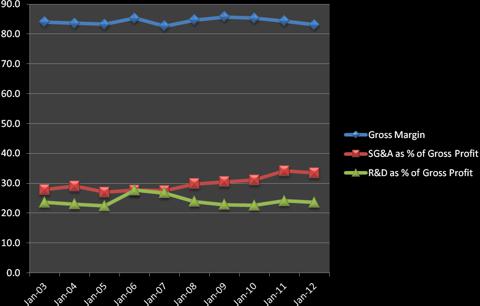 Click to enlarge
Property, Plant and Equipment
Amgen operates a number of commercial and clinical manufacturing facilities and the primary manufacturing facilities are located in the United States, Puerto Rico and the Netherlands.
Total CAPEX in 10 yrs
CAPEX 10-yr Avg
2012 Revenue
9083
908.3
17,265
Average Capex as % of 2012 Revenue
5.26%
The ten-year average capital expenditure is $908 million, that is 5.26% of its 2012 Revenues. The Ten-year average capex of Pfizer (NYSE:PFE), Johnson & Johnson (NYSE:JNJ) and Novartis (NYSE:NVS) is in the 3-4% range of 2012 revenues ,while biotech rival Gilead with $9.7 billion revenue spends less than 2%. This is one area where Amgen has some work to do.
Valuation
Instead of using discounted cash flow model for valuation, I have projected EPS for year 10 with different growth rates. Using the estimated EPS, the share price is then calculated for P/E ratios 10, 15 and 20, which are then discounted to present value (using discount rate of 7%).
Discount Rate
Term
Current EPS
7%
10
5.52
Growth Rate
EPS on Year 10
Present Value Per Share when P/E is (on year 10)
10
15
20
8%
11.92
60.58
90.87
121.16
7%
10.86
55.20
82.80
110.40
6%
9.89
50.25
75.38
100.51
5%
8.99
45.71
68.56
91.42
4%
8.17
41.54
62.31
83.07
3%
7.42
37.71
56.57
75.42
2%
6.73
34.21
51.31
68.41
Achieving an EPS growth rate in excess of 8% for the next ten years is not at all easy and looking at the table above, the stock looks expensive at $120 and a bargain at less than $70.
What you may like about the company
· Above average margins.
· Active Financial Managers.
· Concentrated product portfolio.
· Exhaustive Annual Reports
What you may not like about the company
· Major portion of revenue comes from developed markets, mainly United States.
· EPS growth rate might slow down and start growing in relation to revenue growth. (EPS grew much faster than revenue in the past ten years).
· Historical Capital Expenditure is on the higher side.
Disclosure: I have no positions in any stocks mentioned, and no plans to initiate any positions within the next 72 hours. I wrote this article myself, and it expresses my own opinions. I am not receiving compensation for it (other than from Seeking Alpha). I have no business relationship with any company whose stock is mentioned in this article.