Long-term investors in auto stocks will be only too aware of the sensitivity of these stocks having no doubt experienced large losses during the Credit Crunch. However, as the US recovery gathers pace, those investors brave enough to hold onto their shares, or even top up at the lows will now be reaping the rewards. One particular stock that I like is General Motors (NYSE:GM). Before analyzing this stock in further detail, I think it is first necessary to look at the Auto industry and history of GM and understand what has underpinned the market in recent years.
Auto sales are a great barometer of the economic climate. This was highlighted in 2008, during the once in a generation Credit Crunch. This time of great uncertainty and lack of financing made consumers either unwilling or unable to spend on new cars and as a result, sales for all major car producers fell significantly. Sales in September 2008 plunged 16% for GM and this was the best within the industry, with sales at peers such as Ford (NYSE:F) falling an astonishing 34%. Not surprisingly, this bad news hit share prices, and also put into question the short-term ability of these companies to fund day-to-day operations. This became evident in November 2008 when GM warned that it would not have the liquidity to run its business in 2009. This led to the bailout by the US government, which granted GM $17.4bn in government loans. Over this extremely uncertain period, GM was slashing jobs, freezing wages and even reducing wages for many of the higher earning employees in an effort to save the business. This all provided a negative signal to the market about whether the business could actually carry on and this was intensified during early 2009 when GM raised their government funding request to $30bn and also posted losses of $30.9bn.
By June 2009, General Motors had filed for "Chapter 11 Bankruptcy Protection" and out of this, the government injected further funds for a 60% equity stake in the business, leading to General Motors to be mockingly nicknamed "Government Motors." The aim now for GM was to trim and streamline the business further and make sure it could survive on much lower US auto sales going forward, before eventually re-listing on the NYSE. Shareholders of the "old GM" did not receive a share in the new business.
Fast forward to November 2010 and GM carried out one of the biggest IPOs in history, re-listing on the NYSE and raising $20.1bn with shares launched at $33; the top end of targets. As can be seen, it was quite an eventful 2 years for General Motors and many investors had been stung by the business. The drama for investors was not quite over though, as the share price almost immediately plummeted and only now, in May 2013 are initial investors in profit!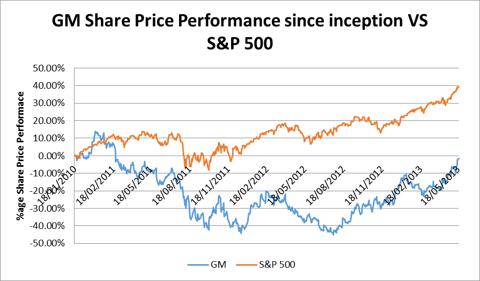 Click to enlarge
Source: Yahoo Finance
So what is attractive about this stock?
Given all that has happened, it does seem legitimate to question the decision to buy such a stock. There have been both macro and micro changes that make this stock attractive.
US Auto Industry
The US Auto industry is currently in a phase of recovery, highlighted by US auto sales, which have risen from the lows of 10m vehicles a year to levels now currently on par with pre-credit crunch sales of over 15m vehicles per year.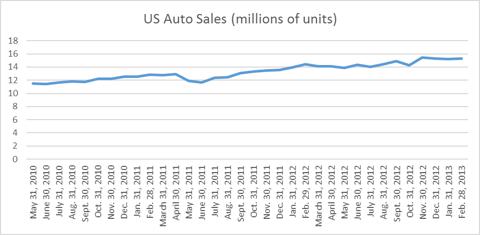 Click to enlarge
Source: ycharts
The US Auto Sales data is a very good indicator for likely revenue growth and earnings potential for the automotive industry and the positive trend upwards should support companies like General Motors.
Aging Fleet
The average age of a light vehicle in the US is currently 11 years compared to an average of only 8.4 years in 1995. This has been trending upwards, due in my opinion to two main reasons; firstly light vehicles are better made today and so last longer, and secondly the recent economic downturn has dissuaded people from upgrading their cars and so they have held on to their vehicles longer than first anticipated. This aging fleet provides a huge opportunity for GM. As consumer confidence grows, it is likely that consumers will look to upgrade or replace old items that they have put off, namely cars. This should be supportive of US auto sales data increasing further from the 15million a year mark and approaching the 16 or even 17million a year mark.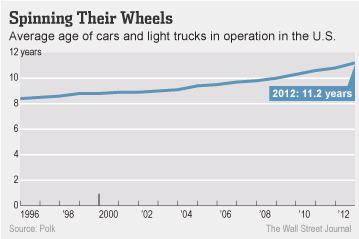 Source: http://blogs.wsj.com/economics/2013/02/16/number-of-the-week-aging-fleet-could-boost-car-sales/
International Opportunities
The bar chart below shows the number of vehicles per 1,000 people in the US, UK and China.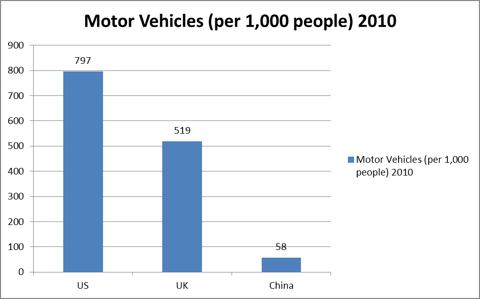 Click to enlarge
Source: The World Bank
This chart highlights the huge opportunity within countries such as China. As the country continues to develop and the middle class grows, the number of cars per 1,000 people will increase, and the effects for GM could be staggering. China, already accounts for more auto sales than the US, and so if this number of 58 cars per 1,000 rises even slightly, the number of units sold will increase rapidly. GM already has a strong presence in China and in 2011 43% of their total auto sales were derived from the BRIC nations (Brazil, Russia, India and China).
Strong Brand
GM has very powerful brands. Over the past decade, they have streamlined this to focus on fewer, more profitable brands. Although hard to quantify, a strong brand leads to customer loyalty, repeat business and an element of pricing power. Brands such as Chevrolet, already extremely popular in the US, are likely to grow in Europe and Asia over the near term, partly on the back of the sponsorship deal signed with Manchester United (NYSE:MANU). Although it seems expensive for General Motors to be the official kit sponsor, the coverage it will give the Chevrolet brand should not be underestimated. Manchester United is a global franchise with over 659 million fans globally, many in Europe and Asia, and so this sponsorship deal will raise the profile and brand awareness significantly.
Financials
There have been some encouraging trends since the launch of the new GM, and if these positive trends continue, it should be supportive of improving share price. Sales increased in China by 11.3% from 2011 to 2012. China is going to be pivotal in the long-term future growth of China and it is encouraging to see they are growing sales in this market.
Since the formation of the new company, revenue has increased YoY, however net income and earnings per share growth have been more choppy and this has probably held back the share price.
| | | | |
| --- | --- | --- | --- |
| | 2012 | 2011 | 2010 |
| Revenue ($M) | 152,256 | 150,276 | 135,592 |
| Net Income ($M) | 4,859 | 7,585 | 4,668 |
| Diluted Earnings per share ($) | 2.92 | 4.58 | 2.89 |
Source: 2012 Annual Report
GM does not pay a dividend currently and is actively re-investing in the business and also undertaking Capex in order to continue to grow their business. Given the globalization of the auto industry, as well as the trend towards more economic, fuel efficient cars I am encouraged to see that GM is actively looking to improve its business and make sure it can meet the changing consumer demands.
Summary
General Motors has had a turbulent 5 or so years and many investors have suffered. Through all this uncertainty and change, the business has emerged as a more efficient, streamlined company with reduced costs and less staff, as well as a more focused product line and clear corporate strategy. Whilst the stock may be considered too risky for some investors, for those brave enough, this stock could provide strong returns through its ability to grow sales in key markets such as China, as well as exploit the rising number of domestic car sales as consumers have better access to credit, more confidence and a desire to replace an aging vehicle fleet.
Disclosure: I have no positions in any stocks mentioned, and no plans to initiate any positions within the next 72 hours. I wrote this article myself, and it expresses my own opinions. I am not receiving compensation for it (other than from Seeking Alpha). I have no business relationship with any company whose stock is mentioned in this article.