Natural gas has been in a free fall for almost a year now. Speculators have been trying to call a bottom for some time, but the price just kept falling and falling. At least up until the last few months.
The good news is that the bottom looks to be in and I see natural gas soaring over the next six to eight months.
Why do I say this? Take a look at the chart below. The Commitment of Traders report for natural gas shows how large speculators have been adding short positions.
Commitment of Traders report for natural gas, large speculator, previous five years: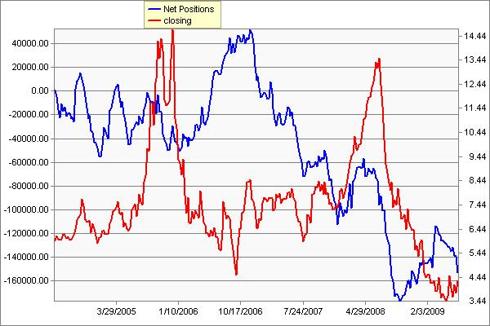 The key to my belief that natural gas is ready to take off lies in the fact that the price has stopped falling, even as the large speculators were adding short positions.
Look at the period in late 2007 when the price started rising even as short positions were added. See how natural gas goes on a tear from December '07 until peaking in June '08? The price jumped from $7 to almost $14 in just under seven months.
The kicker is that the bearish position that has built up now is almost 40 percent larger than we saw back then. The net number of contracts short at that time was around 110,000 contracts and now we are looking at an approximate 150,000 contract net short position.
Turning our attention to the weekly chart, you can see that natural gas has moved back above its 13-week moving average. See how the 13-week kept the price in check all the way down from the fourth quarter of '08 through the first quarter of '09? Now natural gas has moved above this trendline and may very well use it as support over the coming quarters, much like it did in the rally in early '08.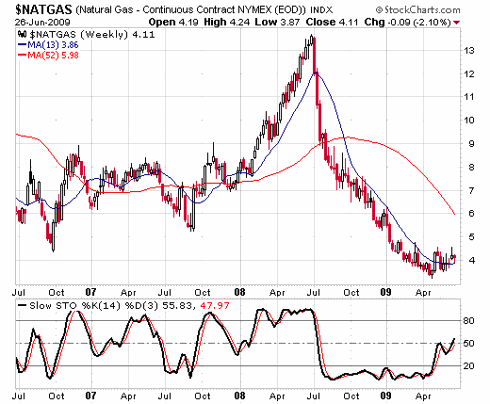 This is an intermediate term play. The volatility is likely to continue over the short term, but if you handle the volatility correctly, the reward could be huge. The first level of resistance will be in the $5.50 level and then at the $9 level.
My recommendation would be to buy multiple contracts and close out in thirds. Take the first profit at the first resistance point, and then take another third off the table in the $8.75-$9.00 level. Let the final third ride as long as you can or until the price falls below the 13-week moving average again.